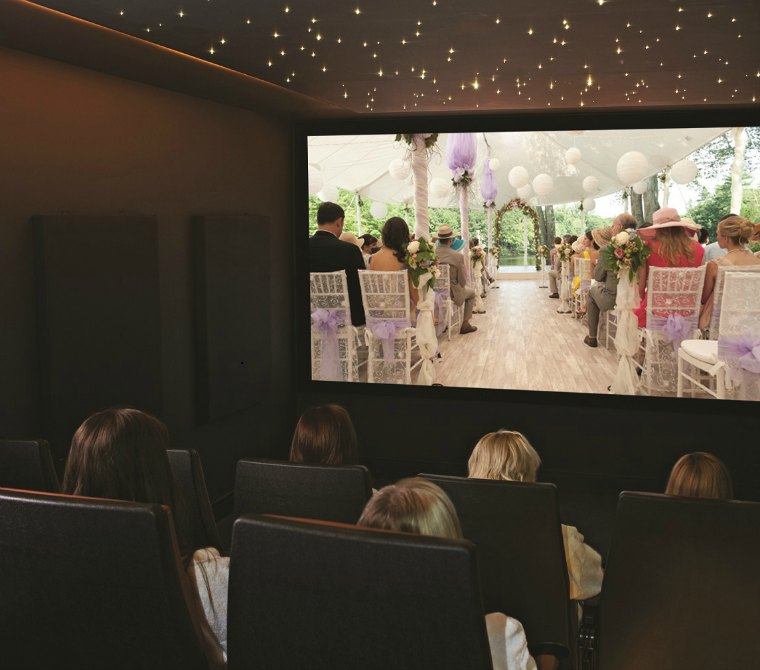 Food & Flicks
Date night
£39
Films screened each Monday evening

3 metre screen with HD projection and surround sound

Sample Two Course Menu

Complimentary popcorn
To book call 01423 844824
Film buff
& foodie heaven
Join us for dinner followed by a film - the ideal for a catch up with friends or a romantic evening.
Each Monday we screen a popular or critically acclaimed film. A 6.30pm dinner sitting in Clocktower Restaurant is followed by the screening at 8pm.
SCHEDULE:
4 May:  Mrs Lowery & Son (PG)
Staring Vanessa Redgrave and Timothy Spall, this is the beautiful, delicate, and amusing story of the brittle but vital relationship between L. S. Lowry and his bedridden, unhappy and controlling mother. Engrossing and entertaining and beautifully acted.

For the Matinee Performance followed by Afternoon Tea at Clocktower  click here
11 May:  Joker (15)
Highly acclaimed film with excellent critic and public reviews. A mentally troubled comedian, Arthur Fleck, is disregarded and mistreated by society. He then embarks on a downward spiral of revolution and bloody crime, a path which brings him face-to-face with his alter-ego, the Joker.

18 May:  Le Mans '66 (12A)
BAFTA and Golden Globes award nominee staring Christian Bale and Matt Damon. A racing car driver and car designer build a revolutionary race car for Ford, challenging Ferrari at the 24 Hours of Le Mans in 1966. A roller-coaster of funny, sad and edge of your seat thriller with some fantastic acting - a must see on a big screen with big sound.
25 May: Little Women (U)
This Oscar and BAFTA winner tells the story of Jo March as she reflects back and forth on her life, telling the beloved story of the March sisters - four young women each determined to live life on their own terms.
For the Matinee Performance followed by Afternoon Tea at Clocktower  click here
1 June: The Good Liar (15)
Staring Helen Miren and Ian McKellen - a consummate con man sets his sights on his latest mark, a the recently widowed millionairesse. But this time, what should have been a simple swindle escalates into a cat-and-mouse game with the ultimate stakes.
8 June: Sorry We Missed you (15)
Highly acclaimed film directed by Ken Loach. Hoping that self-employment through gig economy can solve their financial woes, a hard-up UK delivery driver and his wife struggling to raise a family end up trapped in the vicious circle of this modern-day form of labour exploitation.
15 June: Cats (U)
Stars studded with James Corden, Judi Dench, Jason Derulo, Idris Elba, Jennifer Hudson, Ian McKellen, Taylor Swift, Rebel Wilson and Royal Ballet principal dancer Francesca Hayward and featuring Lloyd Webber's iconic music. The film re-imagines the musical with spectacular production design, state-of-the-art technology and dance styles.
For the Matinee Performance followed by Afternoon Tea at Clocktower  click here
22 June: Bait (15)
Modern-day Cornish fisherman Martin (Edward Rowe) is struggling to buy a boat while coping with family rivalry and the influx of London money, Airbnb and stag parties to his harbour village. The summer season brings simmering tensions between the locals and newcomers to boiling point, with tragic consequences.
29 June: A Beautiful Day in the Neighbourhood (PG)
Staring Tom Hanks, this feel-good film is based on the true story of a real-life friendship between Fred Rogers and journalist Lloyd Vogel.

For the Matinee Performance followed by Afternoon Tea at Clocktower  click here
6 July: The Personal History of David Copperfield (PG)
Emmy winner and Oscar nominee, this is a re-imagined Charles Dickens' classic for the modern day - an ode to grit and perseverance through the comedic lens of its award-winning filmmakers, giving the Dickensian tale new life for a cosmopolitan age with a diverse ensemble cast of stage and screen actors from across the world.

For the Matinee Performance followed by Afternoon Tea at Clocktower  click here
Terms and Conditions: Subject to availability. Film screenings are subject to change. Food and Flicks
To book call 01423 844824 or email sales.admin@ruddingpark.com
Also available as a gift voucher for one - click here to view