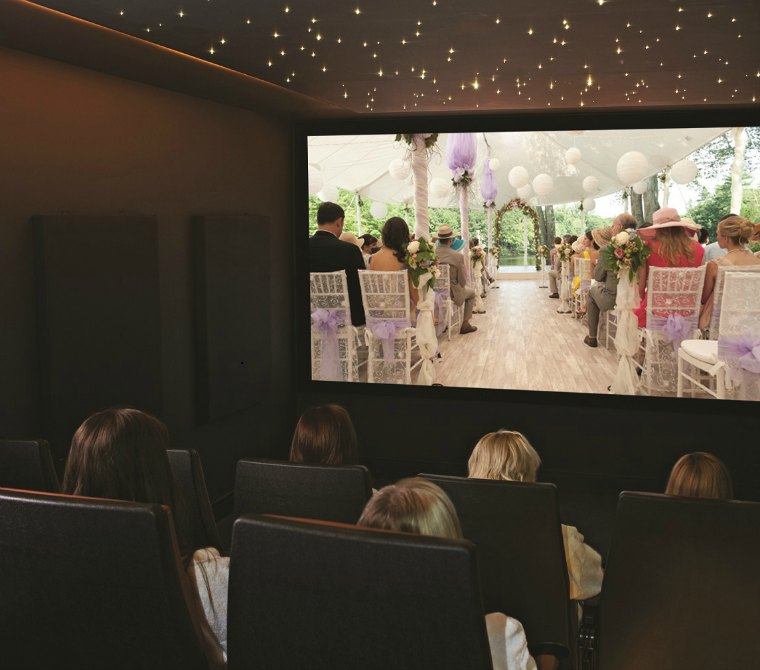 Food & Flicks
Date night
£36.50pp
Films screened each Monday evening

3 metre screen with HD projection and surround sound

Sample Two Course Menu

Complimentary popcorn
To book call 01423 844824
Film buff
& foodie heaven
Join us for dinner followed by a film - the ideal for a catch up with friends or a romantic evening.
Each Monday we screen a popular or critically acclaimed film. A 6.30pm dinner sitting in Clocktower Restaurant is followed by the screening at 8pm.
SCHEDULE:

25/06/2018 Baby Driver (2017) 15  
BAFTA Award-winning film. After being coerced into working for a crime boss, a young getaway driver finds himself taking part in a heist doomed to fail.
02/07/2018 The Greatest Showman (2017) PG  FULL - also showing 10/09/2018
09/07/2018 Manchester by the Sea (2016) 15  
Award winning film - A depressed uncle is asked to take care of his teenage nephew after the boy's father dies.
16/07/2018 The Beguiled (2017) 15  
Remake of a classic, with Nicole Kidman. The unexpected arrival of a wounded soldier at a girls school during the American Civil War leads to jealousy and betrayal. 
23/07/2018 Victoria & Abdul (2017) 12  
Abdul Karim and Queen Victoria forge an unlikely and devoted alliance and the queen begins to see a changing world through new eyes.
30/07/2018 Sully: Miracle on the Hudson (2016) 12  
Award winning story of an American pilot who became a hero after landing his damaged plane on the Hudson River in order to save the flight's passengers and crew.
06/08/2018 Wind River (2017) 15  
A Wildlife Officer and FBI agent find their lives are in danger as they try to solve the mystery of a teen's death.
13/8/2018  Three Billboards Outside Ebbing, Missouri (2017) R  
Academy award winner Frances McDormand and Academy Nominee Woody Harrelson star in this darkly comic drama about a mother who challenges the local authorities to solve her daughter's murder when they fail to catch the culprit.
20/8/2018 Darkest Hour (2017) PG
Award winning Gary Oldman stars as Churchill, facing some huge decisions as he plots to stop the Nazi advance.
27/8/2018 Their Finest (2017) 12
Award winning film set in 1940. The British ministry turns to propaganda films to boost morale at home and realise their scripts could use a woman's touch. Staring Gemma Arterton, Bill Nighy, Sma Clafin and Richard E Grant

03/09/2018 Lean on Pete (2017) 15
Winner of 7 awards, a beautiful portrayal of a young boy as he embarks on a perilous journey in search of his long-lost aunt, his only companion the stolen racehorse-Lean on Pete.

10/09/2018 The Greatest Showman (2017) PG  
Award winning film, telling the story of a visionary who rose from nothing to create a spectacle that became a worldwide sensation.
To book call 01423 844824 or email sales.admin@ruddingpark.com
Also available as a gift voucher for two - click here to view