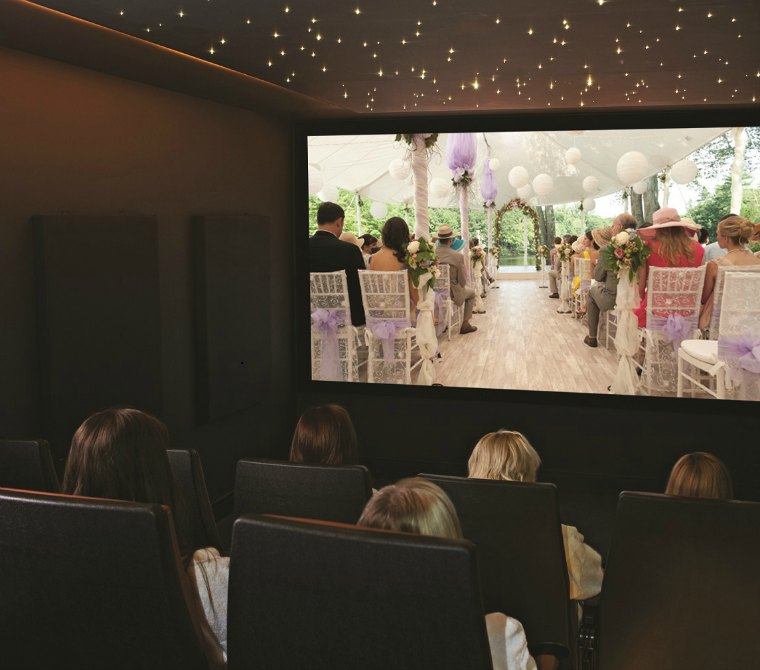 Food & Flicks
Date night
£36.50 UNTIL 31 MARCH & £37 FROM 1 APRIL
Films screened each Monday evening

3 metre screen with HD projection and surround sound

Sample Two Course Menu

Complimentary popcorn
To book call 01423 844824
Film buff
& foodie heaven
Join us for dinner followed by a film - the ideal for a catch up with friends or a romantic evening.
Each Monday we screen a popular or critically acclaimed film. A 6.30pm dinner sitting in Clocktower Restaurant is followed by the screening at 8pm.
SCHEDULE:
17/06/2019 Finding Your Feet (12A)
This star-studded film and winner at the Palm Springs International Film Festival tells the heart-warming tale of Lady Sandra Abbott (Imelda Staunton) who discovers that her husband is having an affair. She seeks refuge with her estranged, bohemian sister Bif (Celia Imrie) but is like a fish out of water until she is persuaded to join Bif's dance class.

24/06/2019 Widows (15)
Directed by Steve McQueen, this BAFTA nominated film is set in contemporary Chicago. Amid a time of turmoil, four women with nothing in common except a debt left behind by their dead husbands' criminal activities, take fate into their own hands, and conspire to forge a future on their own terms.
01/07/2019 American Animals (12A)
Multiple award winner, this highly acclaimed crime drama finds four bright and well-off college students plotting to steal some rare books from their university's Special Collections Library in a misguided quest for personal glory. Initially teetering on the edge of comedy the humour quickly sours on the day of the robbery. With echo's of the 1963 classic "Great Train Robbery", this supremely watchable and poignant film has a tight plot and, based on a true story, features interviews with the original four students.
08/07/2019 Bohemian Rhapsody (12A)
The foot-stomping celebration of Queen, their music and their extraordinary lead singer Freddie Mercury, who defied stereotypes and shattered convention to become one of the most popular entertainers on the planet.
15/07/2019 Vice (15)
This BAFTA and Oscar winner (2019) staring Christian Bale, Amy Adams, Sam Rockwell and Steve Carell is an unmissable and hilarious film - one of the and most relevant films of 2018. The untold and epic true story of how Dick Cheney, a bureaucratic Washington insider, quietly became the most powerful man in the world as Vice-President to George W. Bush, reshaping the country and the globe in ways that we still feel today.
22/07/2019 Peter Rabbit (PG)
Multiple award winner, this is a highly acclaimed and very funny film finds the mischievous and adventurous hero taking on the starring role of his own contemporary comedy. Peter's feud with Mr. McGregor escalates to greater heights than ever before as their fight to gain control of McGregor's coveted vegetable garden and the affections of the warm-hearted animal lover who lives next door extends to the Lake District and London. A funny and heart-warming film with James Corden voicing the character of Peter.
29/07/2019 Mary Queen of Scots (15)
Portrays the turbulent life of the charismatic Mary Stuart. Queen of France at 16, widowed at 18, Mary defies pressure to remarry and instead returns to her native Scotland to reclaim her rightful throne. By birth, she also has a rival claim to the throne of Elizabeth I , who rules as the Queen of England. Determined to rule as much more than a figurehead, Mary asserts her claim to the English throne, threatening Elizabeth's sovereignty. Rivals in power and in love, the two Queens make very different choices about marriage and children. Betrayal, rebellion and conspiracies within each court imperil both Queens–driving them apart, as each woman experiences the bitter cost of power.
05/08/2019 The Favourite (15)
Multi-award winning film staring Olivia Coleman, Emma Stone and Rachel Weisz. In early 18th century England, a frail Queen Anne occupies the throne and her close friend, Lady Sarah, governs the country in her stead. When a new servant, Abigail, arrives, her charm endears her to Sarah.
12/08/2019 Bohemian Rhapsody (12A)
The foot-stomping celebration of Queen, their music and their extraordinary lead singer Freddie Mercury, who defied stereotypes and shattered convention to become one of the most popular entertainers on the planet.
19/08/2019 Artic (12A)
A gripping tale which builds suspense and nerve-frying tension without the over-the-top Hollywood formulae.  A man stranded in the Arctic after a helicopter crash must decide whether to remain in the relative safety of his makeshift camp or to embark on a deadly trek through the unknown.
26/08/2019 The Guernsey Literary and Potato Peel Pie Society (12A)
London, 1946. Juliet (Lily James), a charismatic and free-spirited writer receives a letter from a member of a mysterious literary club started in Nazi-occupied Guernsey. Her curiosity piqued, Juliet decides to visit the island. There she meets the delightfully eccentric members of the Guernsey Literary and Potato Peel Pie Society, including Dawsey (Michael Huisman), the rugged and intriguing farmer who wrote her the letter. As the secrets from their wartime past unfold, Juliet's growing attachment to the island, the book club and her affection for Dawsey will change the course of her life forever.
02/09/2019 The Greatest Showman (PG)
Hugh Jackman leads an all-star cast in this bold and original musical filled with infectious show stopping performances that will bring you to your feet time and time again. Inspired by the story of P.T. Barnum and celebrating the birth of show business, the film follows the visionary who rose from nothing to create a mesmerising spectacle.
09/09/2019 Stan & Ollie (15)
Steve Coogan and John C. Reilly star as Laurel & Hardy in the untold story of the world's greatest comedy act. Stan & Ollie wonderfully portrays the unique and precious partnership of the legendary duo as they set out on a tour of Britain in the twilight of their career. Whilst they face an uncertain future the charm and beauty of their performances shine through, making each other and their audiences laugh, re-connecting them with legions of adoring fans, old and new. With stunning performances from Coogan and Reilly, critics are calling Stan & Ollie 'absolute perfection'.
16/09/2019 Fisherman's Friend (12A)
Highly acclaimed film; a fast-living, cynical London music executive (Danny Mays) heads to a remote Cornish village on a stag weekend where he's pranked by his boss into trying to sign a group of shanty singing fishermen. He becomes the ultimate fish out of water as he struggles to gain the respect or enthusiasm of the unlikely boy band and their families, who value friendship and community over fame and fortune. As he s drawn deeper into the traditional way of life he s forced to re-evaluate his own integrity and ultimately question what success really means.
23/09/2019 Red Joan (12A)
The story of Joan Stanley, who was exposed as the KGB's longest-serving British spy. A Soviet and communist party sympathiser becomes employed as a British government civil servant, and gets recruited by the KGB in the mid 1930s. She successfully transfers nuclear bomb secrets to the Soviet Union (Russia), which enables them to keep up with the west in the development of atomic weapons, and remains undetected as a spy for over a half a century. Staring Judi Dench.
30/09/2019 Tolkien (12A)
A moving and beautifully acted film about the formative years of the orphaned author J.R.R. Tolkien as he finds friendship, love and artistic inspiration among a group of fellow outcasts at school.
07/10/2019 Can You Ever Forgive Me (15)
Nominated at the Oscars, BAFTA and Golden Globe Awards, Melissa McCarthy gives a impressive performance in the true story of Lee Israel, someone falling into crime to pay the bills. The story is told from Lee's angle, without dressing it up or looking for empathy and sympathy for the perpetrator. It is not embellished too much to make it overly dramatic (as Hollywood too often does). Richard Grant gives an excellent performance as her ne'er do well friend and accomplice.
Terms and Conditions: Subject to availability. Film screenings are subject to change. Food and Flicks
To book call 01423 844824 or email sales.admin@ruddingpark.com
Also available as a gift voucher for one - click here to view