'Garden to Glass'
At Clocktower Brasserie
Inspired by ingredients in our Kitchen Garden, we've been experimenting in the mixology lab to bring you our new cocktail list. A celebration of home-grown, zero-waste and sustainable ingredients. All cocktails are vegan and gluten free.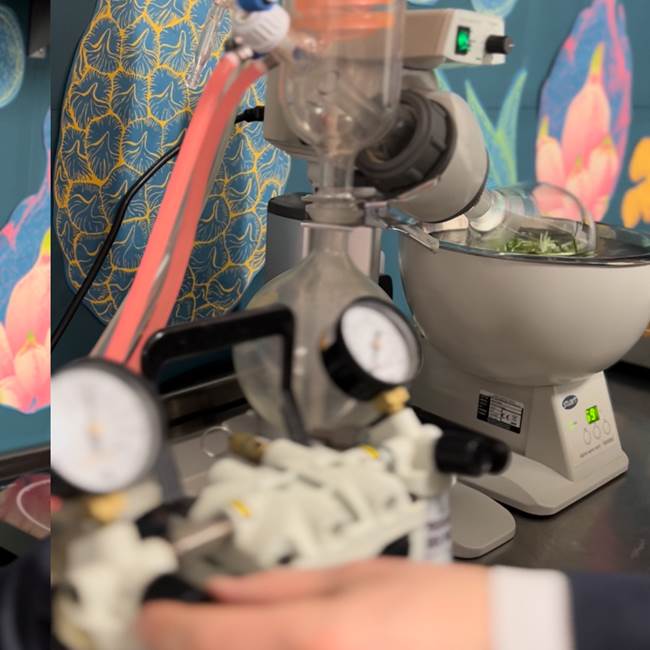 Rhys founded and later became the Master Distiller for Wayfinder Spirits where he made gin for over 30 restaurants, hotels and businesses. He developed gin alongside many Michelin star chefs creating custom spirits to compliment their dishes. Previously to distilling he managed several innovative and award winning cocktail bars including The Treehouse, Wayfinder's Retreat and the Harrogate's institute that is Montey's.
In 2013 he decided to cycle from Harrogate to India to raise money for charity. This and many other travel adventures fostered a love of natural rustic cooking. He spent months living in Cinque Terre getting to know the local orange farmers and A year in India researching different types of chilli's. Both of these adventures ended up directly influencing Wayfinder's signature gin.
He worked for several years as a graphic designer, digitally commuting from many countries such as South Korea, Holland, Georgia and Iran.
Jordan joined Rudding Park, and as a three-time national cocktail competition winner has brought a wealth of experience and passion. He has a keen interest in distillation and flavour science, having made over twenty expressions of gin for the on and off trade. This includes collaborating with the oldest active distilling family in England to create Hayman's Hopped Gin, producing The Wigmore gin, and developing the first Chiltern gin, in Wayfinder.
As a drinks industry consultant, Jordan has also worked with Fentimans, Farzi Cafe, and The Langham London on product launches and creating seasonal, low-waste and sustainable cocktail menus.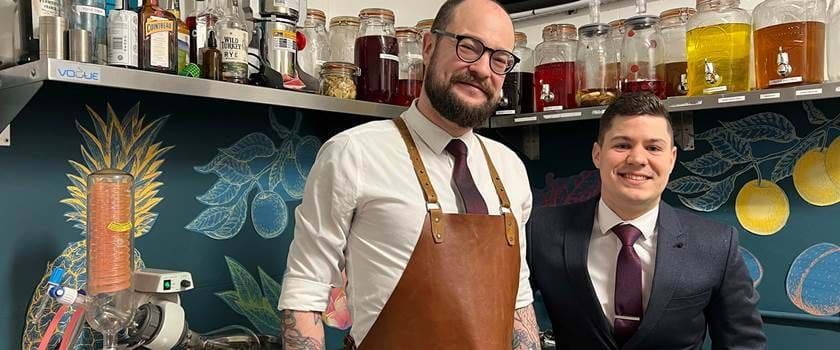 The creators behind the Cocktail List, Rhys and Jordan, tell us the inspiration behind each cocktail: 
Earth & Root:
Lagotto (Lagotto official bread of truffle hunting dog)
Drawing on our experience in distilling we developed a Truffle vermouth and took inspiration from the classic Manhattan cocktail to blend a sophisticated whiskey drink. We use a couple of drops of a truffle infused oil to heighten the nose of the cocktail, perfect for relaxing after dinner.
Soilmates
We love to experiment with flavours you might not expect to find in cocktails and here we combine the earthy tastes of ginger and beetroot. To extract the flavour of the beetroot we use a traditional method of preservation called a 'shrub', breaking down the beetroot with sugar, salt and pink peppercorns for 48 hours.
We then add a variety of vinegars and other liquids to extract the true flavour. Shrubs were used on homesteads to ensure you could still get nutrients from the fruit or vegetables months after harvest. The vibrant colour and gentle flavour of this cocktail will make it a hit on summer afternoons.
Square Root
If the Lagotto is our version of the Manhattan, this is our riff on a vodka Martini. We make our own vermouth, with dandelion & burdock as the stars of the show. This subtle mix needed a slight 'spice kick' to really make it shine so it is garnished with home-made pickled ginger, cut into squares.  
We Carrot-bout You
This non-alcoholic sipping drink – perfect enjoyed after dinner – is super healthy. The combination of carrot juice, agave nectar and ginger blend together perfectly. For the garnish, we pickled carrots in our secret purple vinegars creating a beautiful and delicious 'edge'. 
Flower & Herb
Hey! Mr Hastings
Many years ago Jordan and I worked in a London cocktail bar where we'd invent new drinks every day. It was here we met the super talented Matthew Hastings. The three of us went on to start Wayfinder's distillery. Matt is now the Master Blender for Nc'Nean whisky and this drink is a salute to him. We started with the idea of a whisky highball and decided to heighten it by creating our own mint and green tea cordial. The result is a long refreshing drink that could easily convert guests who might normally shy away from whiskey.
Eye of Saffron
This cocktail is for people who love Daquiris but want to try something a little more adventurous. This afternoon-sipper has exciting floral notes. 
Saffron is the most expensive spice, so to extract the most flavour we place 0.05g of saffron into a white rum and use nitrous oxide in pressurised containers to rapid infuse the rum.  We also make a cardamom syrup for this cocktail and, to ensure consistency we use the sous vide method.
Heart of Gold
Using the same rapid infusion method as for 'Eye of Saffron', we make a hibiscus gin, blended with elderflower liqueur to create the base for this delicate gin cocktail.
We use egg white, or a vegan alternative to add protein, lemon to break apart the bonds on the protein and a rosemary syrup to re-join them. By shaking the cocktail through ice, straining it and shaking it without ice, we can build a foam on top of the cocktail giving the drink an enjoyable texture. This style of drink is called a 'sour'.
Under the Boardwalk
For this non-alcoholic cocktail we took inspiration from long walks by the sea, capturing that fresh feeling of growth within the drink.
We discovered a beautiful non-alcoholic botanical spirit made by Pentire and use their Adrift spirit which pushes flavours of rock samphire, sage, citrus and seaweed. Utilising mint and green tea cordial, we created a complex cocktail that can stand up against any alcoholic drink. To further the idea of growth we garnish the drink with pea shoots, so the drink physically looks like it's alive. 
Tree & Vine:
Ciruela's Slipper
This cocktail is for the Negroni lover and best described as if a Margarita and a Negroni had a child together! We reduce Taittinger Rosé by boiling it with plums, which creates an exciting new ingredient. For the garnish, we julienne orange peel and suspend the peel in the large ice moulds to make a visually exciting garnish. The larger ice block has less surface area so will dilute at a slower rate.
Mortal Kombucha
This cocktail is probably the best example of our low waste policy. We use lots of coffee and used grinds, which are normally thrown away. However, there is still a lot of life left in the grinds so we rest them in a low sugar water for 24 hours to extract the remaining caffeine and flavour. We use a SCOBY (symbiotic culture of bacteria and yeast) which eats the sugar and the caffeine and ferments, creating a coffee kombucha. We then shake this with rum, chocolate and almond to create a unique cocktail, perfect after dinner.
Bounty Hunter
Jordan and I are unashamedly Star Wars fans and every menu we've written together has a cocktail dedicated to that universe. We wanted to write a Tiki style drink but with a modern twist. We started with a Vodka, Pineapple and spiced syrup drink, delicious in itself. We then used modern techniques to make an alcoholic coconut foam, which sits on of the cocktail. The idea is to have a cocktail inside the cocktail. For garnish we dust it with our secret chocolate spice blend finishing the drink with an incredible nose.
Thank You, Berry Much
Think of this cocktail as a non-alcoholic version of an Aperol Spritz meeting a Pimms Cup.
We wanted the fresh flavour of raspberries so we created a cordial to extend their shelf life. Mixed with a slightly bitter non-alcoholic spirit and finished with soda, this cocktail is very accessible and refreshing on a summer day. To give the cocktail a visual POI we mandoline dragon fruit and dehydrate them for 48 hours to make dragon fruit crisps which look beautiful and intensify the flavour.
Why not book a table at Clocktower Brasserie and discover the new cocktail list?