Summer Hot List
Check out our top picks of things to do in and around Harrogate
The Harrogate area has something for everyone, there's a wealth of places to visit and a myriad of things to do. Here we share our top picks of things to see and things to do in the in the area.
Harewood 
Nearby Harewood is one of the Treasure Houses of England. The House was built in the 18th century and has art collections to rival the finest in Britain. Visitors can enjoy exhibitions of contemporary art, rare Bird Garden, Farm Experience and over 100 acres of exquisite gardens to explore.
With a range of diverse events from 'Classic Ibiza' which returns to Harewood on 20 July for an unforgettable evening of classic Ibiza anthems under the stars; to 'Why Craft Matters' an exhibition which runs until 1 September 2019 and aims to challenge preconceptions about the role craft can play in culture, identity and society, you are sure to find something which which appeals.
The Valley Gardens
English Heritage Grade II Listed Valley Gardens are situated in regal Low Harrogate, which along with woodland, known as The Pinewoods cover 17 acres.
There are a wide variety of outdoor games such as tennis courts, pitch & putt golf course, crazy golf, boating pool, paddling pool and a children's play area.


RHS Harlow Carr
Very much part of the Yorkshire countryside, RHS Garden Harlow Carr is a delight in every season. As RHS Garden Harlow Carr, marks the 70th anniversary of the development of the gardens this year, Harlow Carr Library is displaying previously unseen photographs from the RHS Lindley Library Archives from 21 June to 16 July 2019.  There are a whole host of events throughout the summer.
Fountains Abbey and Studley Royal Water Gardens
From humble beginnings the magnificent abbey was established by devout monks seeking a simpler existence. The atmospheric ruins that remain are a window into a way of life which shaped the medieval world.
Green lawns stretch down to the riverside, a perfect spot for a picnic. Riverside paths lead to the deer park, home to Red, Fallow and Sika deer and ancient trees.
One-of-a-kind, this special place is now recognised as a World Heritage Site.
Theatre
Harrogate's Theatre and Convention Centre play host to a variety of performances throughout the summer including a unique production of The Great Gatsby (11-20 July) which will take place across various spaces around the Theatre with the audience moving around with the performance.

The Royal Hall, Harrogate's Kursaal was completed in 1903, the creation of Britain's greatest theatre designer, Frank Matcham and the architect Robert Beale.
The building was completely closed to the public in 2001 when structural problems were discovered and remained closed until April 2008 following a major £10.8m restoration project.
The Royal Hall is now open to the public on selected days from 10am-4pm to enjoy the splendour of this stunning Edwardian theatre. No booking is required. Guided tours are held at 11am and 2pm each Open Day - the minimum suggested donation is £3 per person. Open days are 21 and 25 June, 23 and 24 July and 22 and 28 August.
Visit website Harrogate Theatre and Convention Centre
Newby Hall
One of Britain's finest Adam Houses, Newby Hall is an exceptional example of 18th century interior decoration. Built in the 1690s by Sir Christopher Wren the house also features award winning gardens. On Sunday 21 July, Newby Hall will be surrounded by vintage and classic cars, for the North's biggest one-day car show – the annual Historic Vehicle Rally.


Slingsby Gin Experience
Book a place on one of Slingsby Gin's gin experience open sessions or gather up your friends and book a private group experience where you can sit back with a Slingsby G&T in hand, whilst being taken through the fascinating history of gin. They have over 150 gins to choose from and over 30 different tonics on offer.
12 of the botanicals used in making Slingsby's Gin are sourced from our Kitchen Garden. You can see the botanicals marked out on our garden map to show where these are grown.

If you can't make the Spirit of Harrogate Experience, you can try Slingsby Gin at Clocktower or Horto Restaurant at Rudding Park.
Great Yorkshire Show
The Great Yorkshire Show (9 –11 July) is an iconic three-day event and one of the biggest agricultural events in the English calendar. Every year, more than 130,000 visitors and over 8,500 animals converge on the Great Yorkshire Showground in Harrogate, conveniently located adjacent to the hotel, to compete, socialise and celebrate.
This will be the 161st Great Yorkshire Show, showcasing the best of British farming, food and the countryside as well as first class entertainment.


Knaresborough
Knaresborough is full of surprises, a warren of medieval streets and stone staircases that weave their way up and down the hill.  The town centre is perched on the cliffs above the River Nidd and the imposing railway viaduct across the Nidd Gorge offers an amazing view to visitors as they arrive by train. Knaresborough Castle sits above the river and gorge, in a commanding position with spectacular views.
Down by the river you can enjoy an ice-cream or take part in the traditional English pastime of 'messing about on the river' by taking a boat ride.
The Nidd Gorge is a beautiful wooded landscape just upstream of the town, rich in wildlife and following the winding course of the river Nidd.  The Nidd Gorge makes a great spot for walks, picnics and wildlife watching for all the family.

The Great Knaresborough Bed Race has been held every year since 1966, always on the second Saturday in June.  It is a pageant of decorated beds, passengers and runners, combined with a gruelling athletic contest around a course of 2.4 miles. It is organised by volunteers from the Knaresborough Lions to raise funds to meet local charitable and community needs.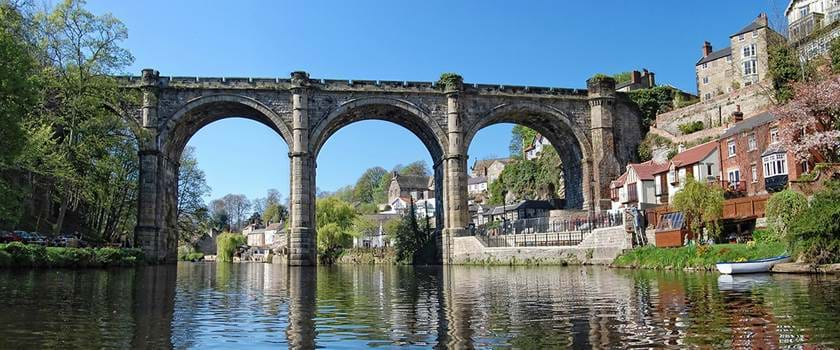 Stockeld Park
There's plenty to keep the whole family busy this summer at Stockeld Park, where magic is made and adventures begin! From 20 July to 2 September they are hosting their Summer Adventure which includes; The Enchanted Forest (which this year features a Dino Hunt), numerous large outdoor playgrounds, go-karts to rise, an outdoor roller-skating rink, a yew tree maze to explore and indoor and outdoor inflatables.  Fun for all the family.


Bettys
Bettys is synonymous with Harrogate and is always popular with visitors and this year celebrates its Centenary. The methods used to make their cakes, bakes and confections have been passed down from generation to generation since the first Bettys opened in 1919. Today's star bakers and master chefs at their award-winning Craft Bakery are part of a century-old family of artisans.
And remember, if Betty's is just a little too busy, we have a pretty impressive afternoon tea at Clocktower too!
If you are still to discover Harrogate, summer is the perfect time.  Why not check out our seasonal offers and start to plan your visit.