Time for a Change
Introducing Clocktower Brasserie
If you've visited Rudding Park before, chances are you have dined at Clocktower. Whilst lockdown hit the hospitality industry hard, the one silver lining was the opportunity to take a fresh look at what many consider the heart of the hotel and create an exciting new offering - Clocktower Brasserie.
Yorkshire based interior designer and mother of two, Claire Horsley of 'Feather & Horsley' has been working with Rudding Park for over 16 years. Here Claire shares the inspiration behind the interiors at Clocktower Brasserie.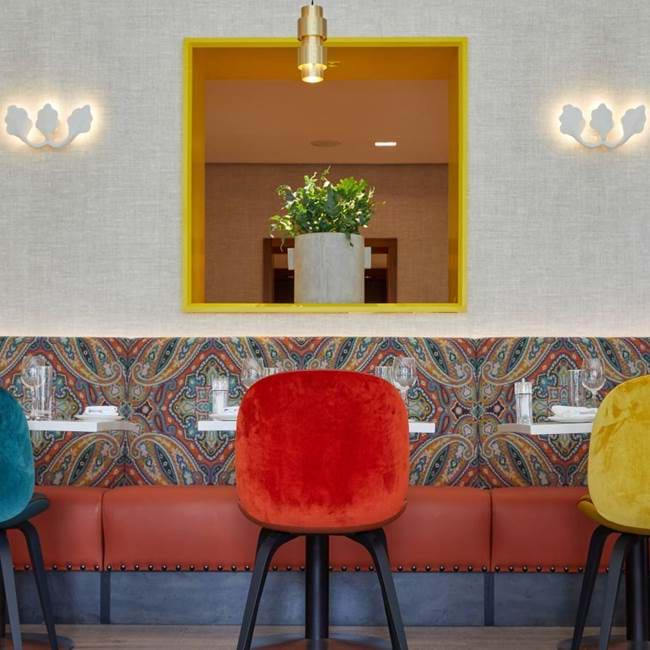 The initial concept was to create a more sociable brasserie feel by re-orientating the space to give views onto the garden. Two central back-to-back banquettes break up the mass of the room and a bespoke inset rug anchors the scheme.
The space now needed to feel good to be in at all times of day, not just in the evening. This meant lighting was key to making the scheme work. Natural light from floor to ceiling windows onto the garden is enhanced with a wide yet subtle variety of different light sources to create areas of light and shade which set the scene.
Breakfast – The room becomes a natural extension of the Conservatory. Light, airy and comfortable.
Lunch – The lighting lifts the more joyful colour elements which tie the scheme together. Bold flashes of shocking pink and fouro orange along the inset rug and curtains, fun tuk tuk yellow alcoves and an uplifting mix of coloured chairs give energy and add to the overall aesthetic.
Evening – A more elegant use of lighting creates an intimate atmosphere.  The neutral fabric walls are subdued and pools of light wash the white table tops. The glow from two oversized gold lighting hoops suspended above the central banquettes accentuate the beautiful almost edible looking hand-made screens by Margit Wittig.  Art and objects on the open shelving and in the alcoves add personality and character. Artisan plaster like leaf wall lights give low level light continuing the flow from the next door Conservatory.
Whilst the overall palette of the scheme is restrained the essence is still classical.  The herringbone carpet design is a reinterpretation of Yorkshire tweed cloth. The white tables as already mentioned are a reinterpretation of the traditional white table cloth and the vibrant bursts of colour bring life and a sense of fun to appeal to all age groups.
When you think of a Brasserie you think, open seven days a week, all-day table service, no table cloths, tables pushed close together, hanging lights. Glamourous yet relaxed; a perfect place for a date, a special occasion, a business lunch or just a quick steak and a glass of wine after a long day. Together with a new menu, including daily specials, it's time you discovered Clocktower Brasserie.

Claire was interested interior design for as long as she can remember. From tree house and den building as a child to stencilling every available wall as an 80's teenager. She loves the way spaces can be transformed instantly.
After completing a Fine Art degree, Claire joined the family travel business and set to work redesigning all things stuck in the 1970's!  This included an overhaul of travel agent shops, a hotel and banning brown coach interiors! Domestic projects followed along with work for other retail shops.
In 2000 Claire moved to Yorkshire in 2000, just as her sister in law (Sue Feather, also a designer) moved to London. Sue had been working for Rudding Park for a number of years and her stamp and sense of style is still visible including the Squint sofa and bubble chair in the new library, which she keenly specified and are probably the most loved things in the hotel!  Sue thought Claire might enjoy a new challenge and so with her departure, Claire was asked to help with the redesign of a newly created function room (the Jupiter Room).
Whilst in London, Sue worked for London Furnishing until she moved back to Yorkshire. At this point, both busy raising young families, interior design took a bit of a back seat. However, Rudding Park doesn't stand still and in 2005 plans for a new bedroom extension, cinema and small treatment spa were afoot temptation got the better of them so Horsley and Feather (or team housewife) was born.
Of course since then, things have moved on with the addition of a luxury destination spa, which opened in 2017.
Claire explains, the design is very much a result of a collaboration with the Rudding Park design team. Owners, Simon and Judi Mackaness and Peter Banks the Managing Director are heavily involved in all aspects of decision making. Everything comes under scrutiny and is discussed in weekly meetings by the team.
The schemes have to be both beautiful and practical and where possible, within budget!