World Record Breaking Wedding
Rudding Park recently found itself in the news, as the host venue for one of the largest weddings the UK has ever seen.  Amy Ewing and Alex Simmons from Leeds married on Monday 23 February 2015 with 97 ushers and 136 bridesmaids. Their wedding broke two World Records.
We thought it would be great to get an insight into the inspiration and organisation behind the World Wedding Record and caught up with Abbi Lewis, the owner of Confetti & Lace and Yorkshire Menswear in Leeds to find out more…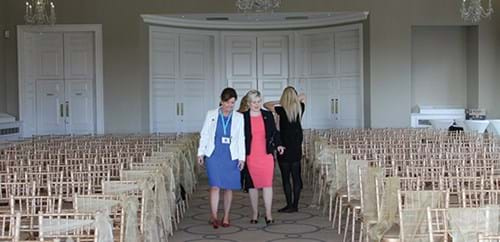 Abbi (left) and Sally Barber (right) running through plans for the day
I have always been fascinated by the Guinness World Records and thought it would be amazing to run a competition to win a wedding and become a record breaker. I initially approached wedding planner Sally Barber from Priceless Weddings to see what she thought of my idea, followed by some of my key suppliers to see if they would like to be involved and the response I received was an overwhelming yes!
So the next job was to find a wedding venue.
I always wanted it to be at Rudding Park but knew it wouldn't be easy to ask any venue to host this event with over 250 people! I approached the top ten in our region some of which responded very quickly but Rudding Park was always top of my list and I wanted to hold out for the best!  It took some patience, pitching and being persistent (I was married there four years ago and couldn't fault the venue, the setting, staff, food and service it was amazing!) and eventually had the 'yes' call from Nicola, at Rudding Park. I recall it was a Friday and I opened a bottle of Prosecco to celebrate!
It was now time to find the Bride and Groom.  I ran a competition on social media to find an engaged couple who could effectively win their wedding in return for having so many ushers and bridesmaids in an attempt to break two world records! The 'stand-out' and most eager with lots of friends and family was Alex Simmons (local radio/TV presenter) and his fiancée Amy Ewing. When I made the call both were on loud speaker and deafened me with their cheers!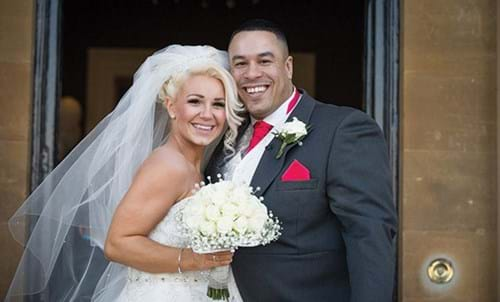 Mr and Mrs Simmons, the happy couple!
So now we had our bride and groom it was time to crack on with the dresses and menswear – there really was no time to waste.
I selected the colour of the bridesmaids dresses in consultation with Amy.  It was a stunning Pomegranate, unique to our designer, Alfred Angelo. It suits most skin tones and really stands out. We had matching ties and hankies made in the same colour Duchess Matt Satin (matching the bridesmaids dresses).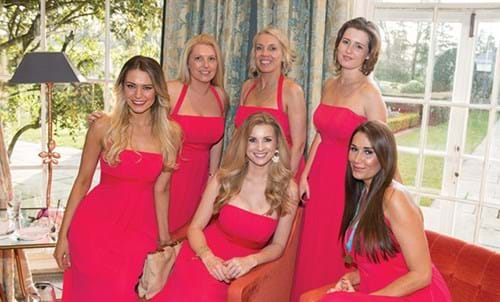 Six of the 136 bridesmaids in their pomegranate Alfred Angelo gowns
For this wedding Chris Kirby my Manager at Yorkshire Menswear measured 100 groomsmen (3 couldn't make it on the day) and he carried out all the fittings.
We sent all the measurements to the designer, based in America in November and they arrived three weeks before the wedding. Each dress took a minimum of half an hour to fit and we made lots of visits to Amy's house in Leeds for 'group' fittings!
Originally I asked Cameron Ross our menswear supplier for 60 suits which would have broken the record but Alex knew so many more that I went back and grovelled for 100 – good job we are Cameron Ross's top independent retail outlet, plus I'm good friends with them so they said yes!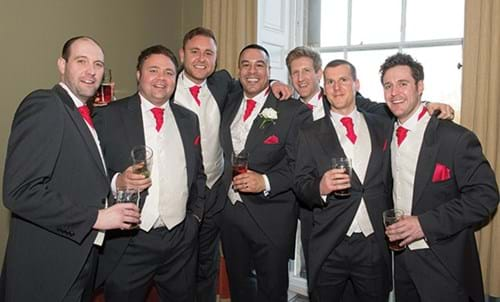 Then several meetings and five months later the wedding was upon us.  In the meantime at Christmas I had a call from Alex to tell me they'd found out Amy was pregnant and would be five and a half months at the time of the wedding!  Luckily her size 12 gown fit (with it being a ball gown style) but I did have lots of 'back-up' dresses on standby too, just in case.  Amy looked beautiful in her 2015 Disney inspired gown called 'Tiana' also by Alfred Angelo.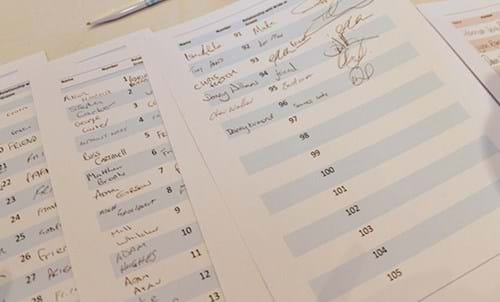 The Ushers Register, only 1 more to go!
We nervously waited for all the bridesmaids and ushers to arrive on the big day – some had flown in especially from Australia and New Zealand.  We couldn't get final confirmation of numbers until after the ceremony where the independent witness, Michael Newby, Director of Visit Harrogate had counted everyone and verified the numbers, confirming we had beat the existing records – that was an exhilarating moment I will never ever forget!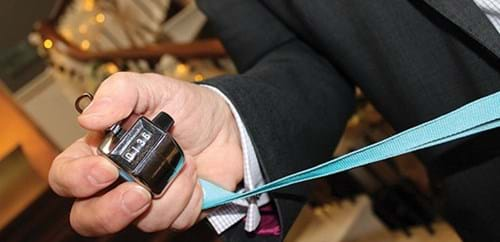 Michael and his official clicker to count the Ushers and Bridemaids
On the day reporters and press from local TV and national press joined us.  It was great going live on ITV Calendar News at 6.20pm with an interview with the happy couple (and capturing the moment Amy threw her bouquet). We were all over the news and that very evening had front pages online with the Daily Express, Mirror and The Daily Mail and the 'double word record breaking wedding' made the national tabloids the following day!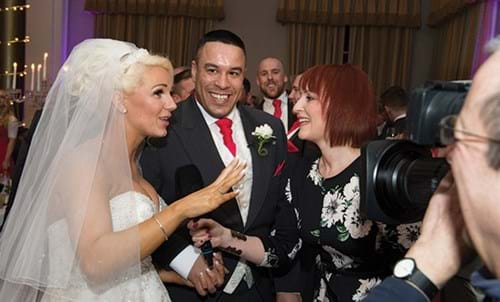 The Bride and Groom were interview by Charlotte Leeming for BBC Look North
What can I say… it was an incredible day for Amy and Alex and the World Wedding Records were the icing on the wedding cake!"
A World Record Breaking Wedding by Numbers
679 Usher garments in total (from Cameron Ross in Scotland)
250 people present
136 Bridesmaids (previous record 126)
97 Ushers (previous record 47)
90 Bridesmaid fittings in three weeks
45 Hours of sewing
15 Initial applicants
10 Pregnant bridesmaids (and 1 pregnant bride!)
7 Pieces in each Usher outfit
1 Happy Couple
So we've heard from Abbi about her initial idea, but in order to pull it off she needed a team who would make the day a reality. Sally Barber from Priceless Weddings, who co-ordinated the World Record Wedding gives us a few top tips.

Sally with Craig Hope, Rudding Park Conference and Banqueting Manager
Being approached to organise a wedding for over 130 Bridesmaids and almost 100 Ushers was a wonderful feeling. I live, breathe and sleep weddings so I would have been distraught had someone else been asked and not me.
Was I daunted by the prospect? Not at all. With my experience and love of the industry I was hugely excited and couldn't wait to get started.  A few of my top tips when planning a wedding:
There is no right or wrong!
You might want to plan your wedding in six months (makes the decision making about venue, dresses, food etc. much quicker!) or want to leave it six years (so you can save up) .  All couples have different circumstances, do what feels right for you.
Back up your lists!
You will no doubt have lists about lists!  If these are done digitally, make sure they are all backed up, just in case your laptop/pc breaks in the run up to the wedding.
Don't just think about what to pack, think about what you want to bring back.
You may have made a list of what you need to pack to take to your venue, but there are often lots of keepsakes left over after a wedding, because people think someone else will pick them up. Ask someone to be responsible for collecting items (the menu, favours, home made decorations) etc.
Don't write thank you letters in advance.
This won't give you the opportunity personalise you letters and make reference to things that happened during the day
It's all about the vows
The most important part of the day is the vows and to bring two people together in marriage.  If problems arise there is always a solution, you will realise this on your wedding day, if you haven't already!  I promise!