A Taste of Rough Sleeping
Being patron of Simon on the Streets, a charity who offers street-based support for those in need across Leeds, Huddersfield and Bradford, I decided to invite my contacts in the food industry, colleagues, friends and family to join me for 'a taste of rough sleeping' in Leeds to help the fundraising efforts which they so desperately need.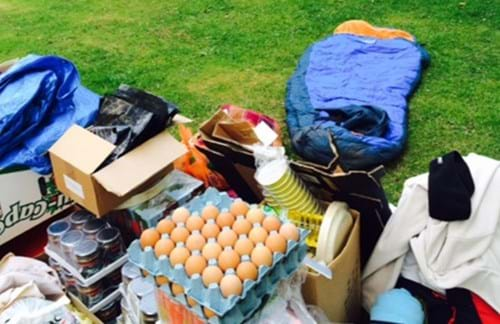 The lull before the sleepers arrive…
I was delighted when 38 sleepers turned out to sleep in the grounds of Leeds Minster. As a little thank you to everyone who took part, each participant was given a goody bag on arrival. A big thank you to Aagrah, Curry Cuisine. Rudding Park, Meze Publishing, Courtyard Dairy, Amalli Spice, Taylor's Tea and Chippindale Eggs for providing the goodies – they were all well received.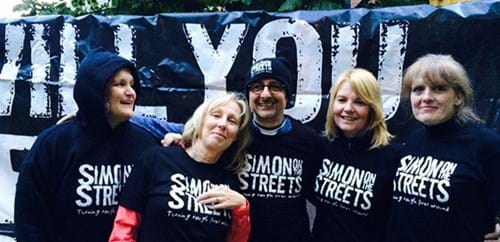 Supporting Simon on the Streets and wearing it! Pictured from left to right Steph Moon, Elaine Lemm, Lionel Strub, Wendy Preston and Gilly Robinson.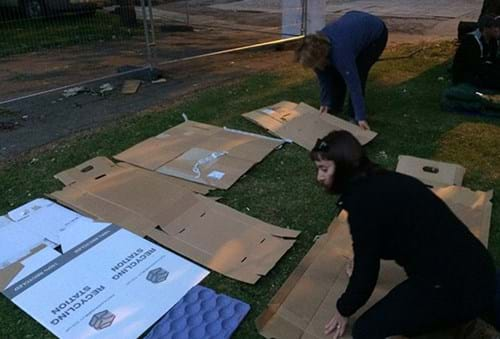 After setting up camp, Aissa Gallie, Jamie Ross and Jenny Hopkins who work for Simon On The Streets welcomed everyone. A short film was then played to show how the independent charity gives emotional support for people with complex needs and issues of rough sleeping.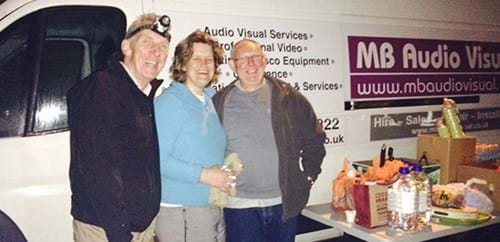 Colin and Mike from MB Audio were heroes for the night, doing a great job of preparing the kitchen and setting up the film.
Dean Sills (Lead Actor) and Steve Calls (Director) who are currently making a new homeless film in Bradford called 'The Tears In The Dust' also joined us for night.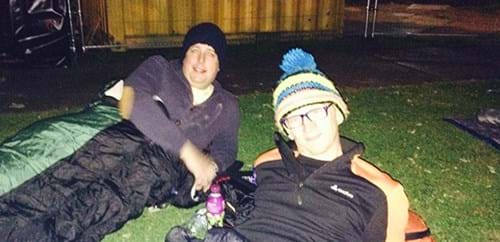 Great networking was had by all – Paul Mackie from Goldsborough Hall chats to Matthew Wilkinson from Rudding Park.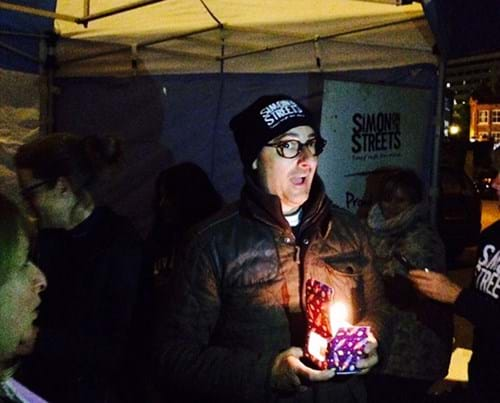 It was one of our sleepers' birthday so he got a little surprise!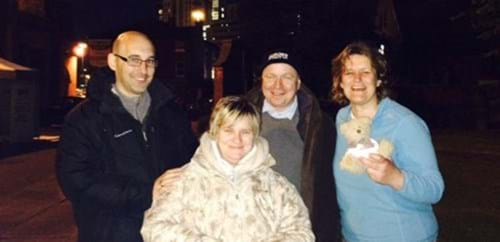 It was great to catch up with the Cavendish Pavilion team David and Karen Waye (Head Chef and Assistant Manager) and Director of the Devonshire Group Simon Rhatigan and not forgetting the Cavendish Teddy Bear!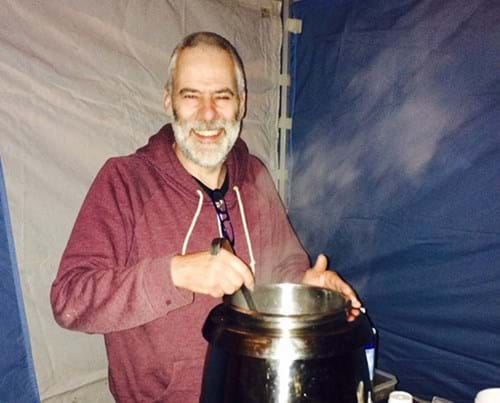 Just before it was time to bed down under the stars, Giles Sciolti from Sciolti Chocolates made everyone delicious hot chocolates with sprinkles and the works.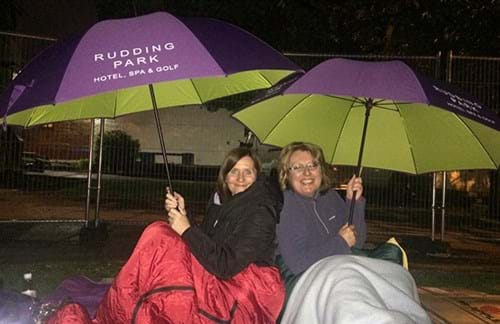 Nicola and Carol were ready for all weather – we like your style ladies!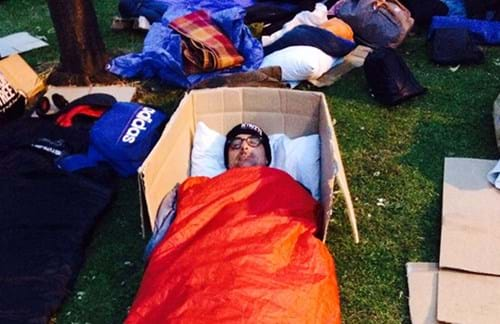 And some people got more comfortable than others!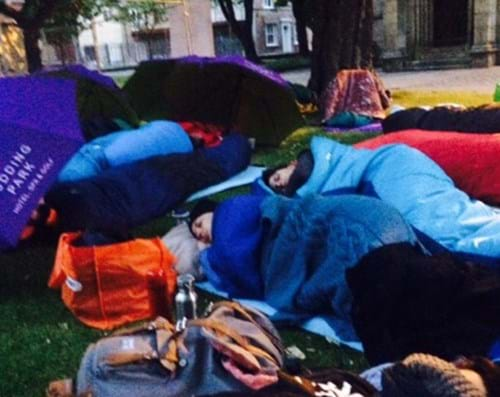 Deborah and Lindsay from Provence took a well earned nap next to Caroline Bell from Shepherds Purse Cheese.
And Head Chef Glenn and Sous Chef Gareth from The Charles Bathhurst Inn arrived just in time to join in  – they soon got 'a taste of rough sleeping!".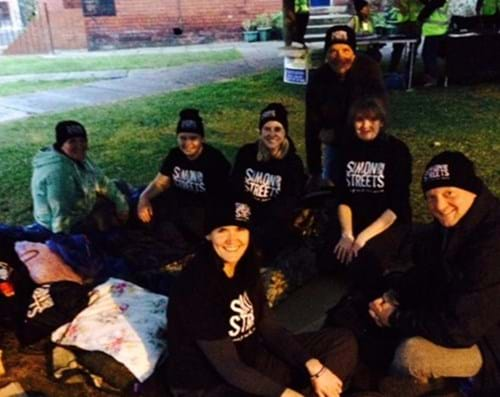 Well it is official the team from Chippindale Eggs really are 'good eggs!' providing us with Yorkshire's finest eggs for a great bacon and egg butty.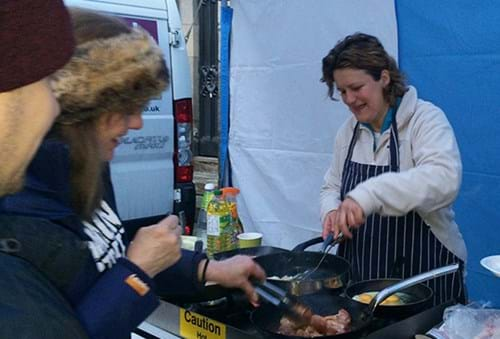 Lisa, Gilly, Wendy, Elaine and I get cooking! James Sturdy from Sturdy Foods had a day off today, last time I slept rough James helped make the bacon butties, but today he got a lie in!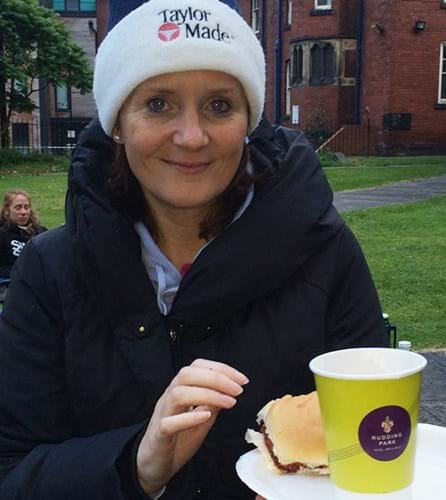 Nicola enjoyed a freshly brewed Yorkshire Tea with a bacon and egg butty.
Thomas the Bakers of Helmsley kindly donated the bread and delicious Danish pastries which also went down a treat.
Thank you to everyone who supported the event, over £8,000 was raised which is fantastic (and donations are still coming in!). 'A taste of rough sleeping'  was not about trying to replicate what sleeping rough would be like, as we could never do that in one night. It was an evening of fundraising for Simon on the Streets with lots of foodie friends!
A massive thanks to all the team at Simon On The Street.  Helen, the General Manager, missed the event this time, but just to let you know Aissa, Jamie, Jenny and the rest of the team did you proud.
My last thanks go to my little sister Nan, who was the first to volunteer.  Thanks Nan.
The next event that I will be involved in for the charity is a dinner at Leeds City College where I will be cooking with three of the sleepers; Chef Tutors Anton, Alana and Daniel from Leeds City College. This event will be held on 25 June at Leeds City College and the food will be served by the students. Find out more
I'm off for a lie down now! Zzzzzz
Steph  x