Riotous Fun, Tears and Joy!
Dear Wild Cooks,
When you are invited to an awards dinner for people who have overcome amazing obstacles or have been so selfless and supportive of others you know you will be touched by emotion The Stray FM Local Hero's event was no different. What a night incredible in many ways.
Stray FM have had their awards at Rudding Park for a couple of years and it begins a week of banqueting for large numbers that would make even the most competent of chefs have butterfly's!
Matthew Wilkinson and his team take it in their stride. The kitchen is ready , the front of house service is  slick and efficient and could not believe my luck sat next to a great friend and regular guest at Rudding Park – Rosemary Shrager.
Here we are pictured taking a few moments before the evening began to look at the beautiful marquee a truly stunning setting for this event. Rosemary has two new series coming up on TV this year so I cannot wait for that.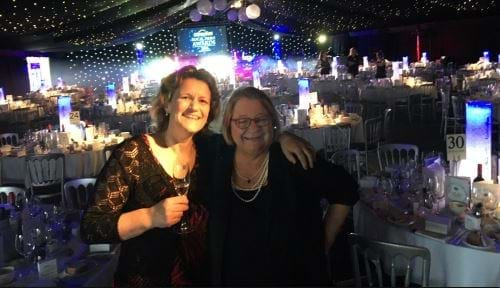 But there where others on our table including two local policemen and their wives and another TV star.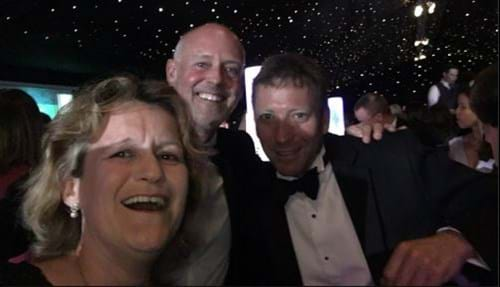 Julian Norton the Yorkshire Vet was lovely and even let me take a cheesy selfie! With DJ David Whittle from Stray FM.
That was not enough we also had Jon Mitchell the ITV weatherman too on our table and along with David we had Will Smith one of the two hosts of the evening along with Nick Hancock.
So the table was set and the evening began with a stunning Dinner we began with…
Wild mushroom tartlet to start with salsify and watercress salad and tarragon oil 
+ 
Yorkshire rump of lamb with crispy courgettes, salsa Verde, dauphinoise potatoes, new seasonal asparagus and wilted spinach with a red wine jus. The lamb just melted as you ate it something that I know Is very hard to do for a large number of people – the kitchen really pulled it off. 
+ 
Pudding was a white chocolate and red berry torte, champagne sorbet and chocolate shard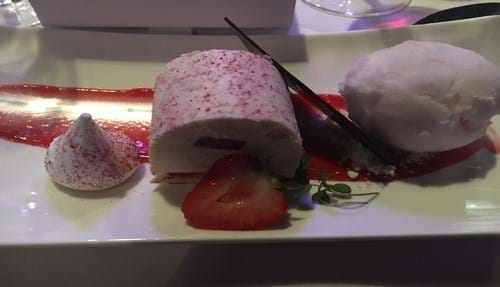 We were having so much fun then came the awards and after a lovely meal and a couple of glasses of wine I knew this would pull at the old heart strings and I found this year was no exception- I honestly think there was not a dry eye in the house.
People are amazing, and I love how they are honoured at this event it has such a feel good factor and really is an awards event to be proud of from a very young lady who had overcome cancer treatment to then go to see Ariana Grande Concert in Manchester and be involved in that devastating experience she stood up there and accepted her award with a lovely smile, Mum and Dad where in tears as was everyone on my table!
The Bravery and courage of all the nominees and winners was so impressive another story that really touched me was the Sporting achievement award when this young man who had cerebral palsy took it upon himself to set up Adversity United a group f young people who live with disability's to play a sport they love together. What a great young man to do this whilst studying for his A levels at the same time – So gracious and inspirational.
Then I ceased my moment and I even got a 2 min chance to sneak backstage and interview Matty and Rosemary with Will for our Stray FM Food and Drink show. Listen here. 
Here is a toast to a great night and with Rosemary at my right side it was riotous I promise – she is a lovely lady and I once did a great deal of recipe testing for one of her books- that lady can cook!
Great to see so many local faces and catch up with good friends from Harrogate and beyond.
Steph