The Greatest Show on Turf – the 2016 Great Yorkshire Show through the chefs' eyes
The 2016 Great Yorkshire Show through the chefs' eyes
This year's Great Yorkshire Show had it all – not one but two Cookery Theatres, a new highly successful Food Hall and the comfort of the regular Game Cookery Theatre in the Country Pursuits area.
Wow what a show! Over the three days, some of Yorkshire's finest chefs, from all walks of life, presented game dishes and a plethora of Yorkshire's finest food including this year's Journey of food suppliers. There was lots of laughter and cookery tips along the way. Every year I learn something new and see old friends and meet new ones to it really is a "Great" Yorkshire show through and through.
First in the cookery theatre were Lady Noi from Chaophraya Leeds and her young assistant Fon. Their fresh Thai curry paste used fresh ginger, garlic and various spices for a duck four seasons curry.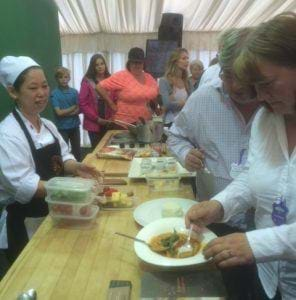 Lady Noi and audience members
I asked Fon about working in Thai kitchens and how it compared to the European set up of a Head Chef and Sous Chef with Chef de Parties and Commis. She explained Lady Noi is highly respected in the kitchens at Chaophraya and  has earned the status of "Lady". This means she is a chef who takes no ****! Direct and to the point and the audience loved it!
I would not have liked to get on the wrong side of Lady Noi myself!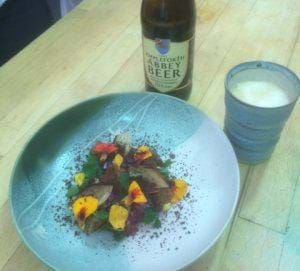 Smoked venison with Ampleforth beer
Our next chef to take to the stage was Tommy Banks, a Michelin starred chef, from the Black Swan at Oldstead.
Tommy and his assistant chef Ryan Darley cooked up a stunning dish of smoked venison tartar with ramson capers, wood sorrel and burnt onion. I taught Ryan years ago and it was great to see him doing so well in a Michelin establishment.
The dish was served with some Ampleforth beer to complement the smoky flavor of the venison. Tommy Banks is representing the Yorkshire region on this year's Great British Menu. We wish him the best of luck – I am really delighted for him, although as he said "It is the hardest thing I have ever done…"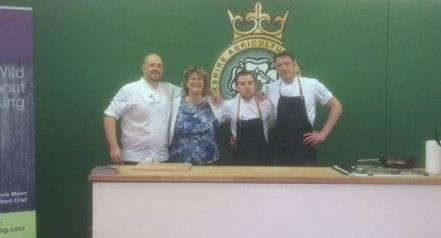 Cookery friends old and new! L-R Dan Graham, Stephanie Moon, Ryan Darley & Tommy Banks
After their demo it was the turn of Dan Graham Head Chef at the Talbot Hotel.
Dan produced three summery dishes. His roast duck dish went down very well with the audience. It was no surprise the strawberry frozen yoghurt was also a hit on the hot summery day.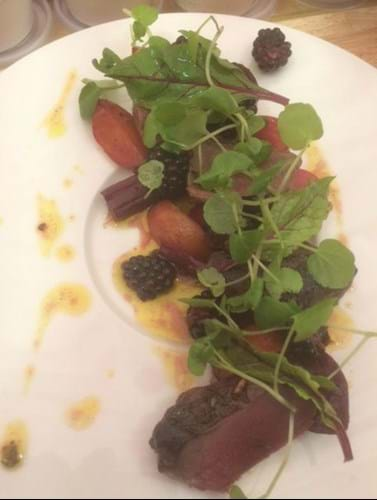 Dan Talbot's Roast Duck
One of the busiest chefs in York has to be Matt Hunter from The Star Inn The City, a restaurant that regularly serves over 700 covers a day.
Matt and assistant chef Kevin demonstrated two seasonal dishes. This light crab dish with edible flowers looks and tasted fresh and lovely.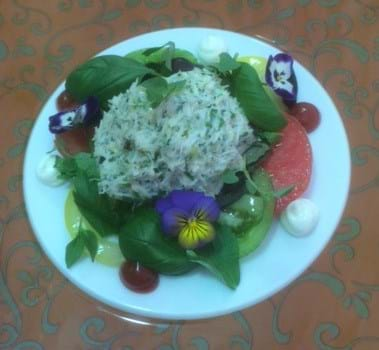 Crab with edible flowers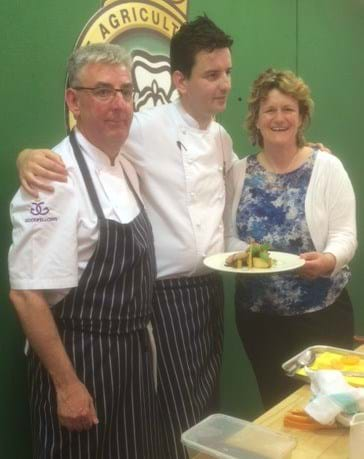 Kevin, Matt and Steph get bombarded for photos from all angles!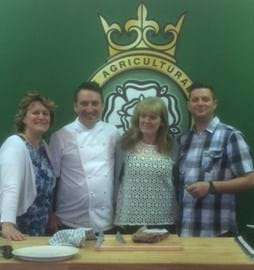 Rogues gallery! Steph Moon; James Mackenzie, Head Chef from the Pipe & Glass Inn; Gilly Robinson, Head Tutor at Malton Cookery School and Simon Crannage, Executive Chef at Swinton Park
Next was another Michelin starred chef, James Mackenzie, who I have been friends with for years. I was delighted to see him awarded Pub Chef of the Year from the Craft Guild of Chefs earlier this year – a national award to only the best!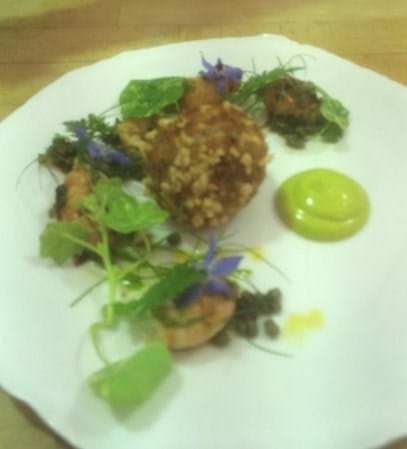 James' Rabbit Rissoles, Loveage Mayonnaise and kitchen garden leaves and flowers
My niece Meg, commented after James' demo "He was amazing!" Another of your fans, but don't that go to your head, James!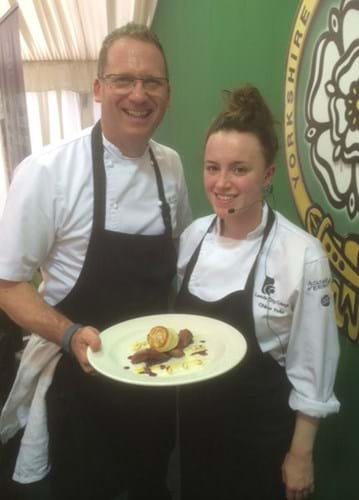 Matthew Benson Smith and Chloe
When I came to Rudding Park many years ago, I took over from Matthew Benson Smith as Head Chef of Clocktower Restaurant. Our careers have often crossed over and it is always a pleasure to see him again.
As a chef trainer, Matthew mentors young chefs at Rudding Park and locally.
Leeds City College student Chloe dejointed and roasted a pigeon for Matthew very competently. He made a puff pastry parcel with the leg meat and served it with peaches, almonds and cauliflower puree.
Simon Crannage and I are two chefs who again have known each other for a long time. We used to work together and have been good friends ever since. Simon brought his love of game to a stunning venison dish. The meat came from Swinton Park where Simon is Executive Chef.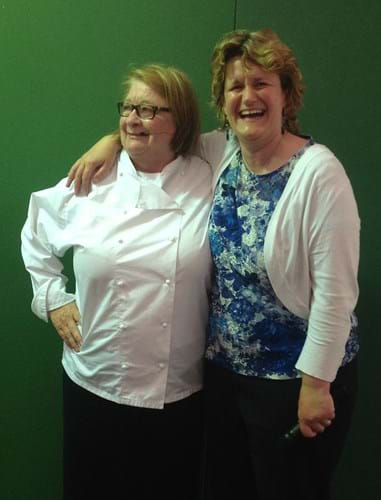 Rosemary Shrager does me the honour!
Rosemary Shrager is a legend in these parts and I honestly think if she got up on stage and folded tea towels she would still have the biggest audience around her! The crowd piled in to witness Rosemary in full flow with brave frontman Simon Whitehead from Parkfield Ferrets. Simon brought rabbit for Chef Shrager to prepare and with her trusted helper Gilly they made a lovely casserole.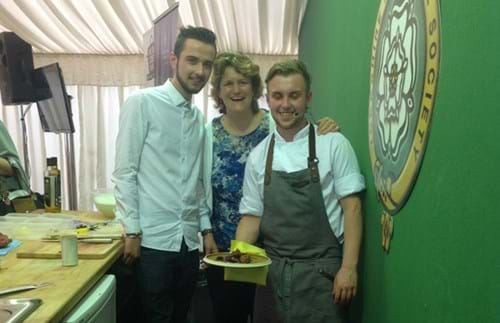 Ronnie Simpson & Alex Golding of Horto with Stephanie Moon
Ronnie Simpson came to Rudding Park a couple of years ago and has not looked back! This bright young talent is going great guns. Ronnie is working in Horto, a new pop up restaurant at Rudding Park. Ronnie has worked on a number of dishes included on the current menu.
As Ronnie explained, Horto is Latin, meaning kitchen garden. Most of the produce is from the Rudding Park Kitchen Garden and prepared under the watchful eye of Head Chef, Murray Wilson.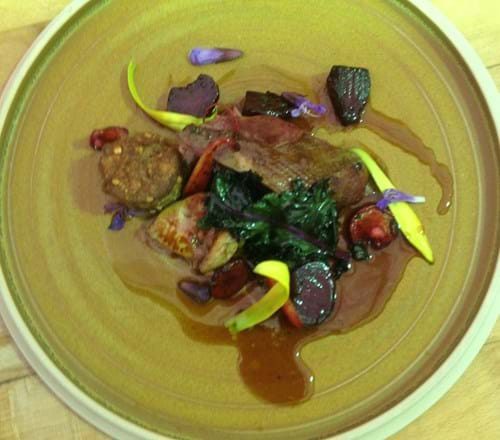 Pigeon in Xerxes vinegar sauce
Ronnie cooked the Horto dish of pigeon, salt baked beets and kitchen garden produce, served with a Xeres (or sherry) vinegar sauce. This fortified wine makes a classic sauce or dressing; its rich, almost nutty flavour tasted fathoms deep – nice one Ronnie.
That ends the line up for today cannot wait to see what tomorrow brings.
Steph x
Click here to read Steph's post from the second day of the Great Yorkshire Show