Wonderful, Wonderful Copenhagen…
So why Copenhagen? Well why not?
What was going to be an easy hop over from Leeds Bradford Airport quickly became a trek when they cancelled our flight and we had to set off from Manchester! Apart from that the trip was smooth and trouble free.
There was lots and lots of rain in Copenhagen, in fact I think we had about an hour a day free from rain and it was very cold but we were ready for that.
Let me tell you about the good stuff! The Danish people are lovely and they all without question speak impeccable English. They are uber stylish and everything seemed very "cool" wherever you went.
So here is the evidence that although weather was grim the experience was anything but! My breakfast the first day was one of the nicest things I ate in the city.
Thin buttered rye bread with sliced raw avocado sprinkled with chopped chives, chilli, black pepper, lime and olive oil with lemon zest. The avocado was at its best and the breakfast left me feeling full and healthy. The latte was nearly as good as at the Clocktower restaurant!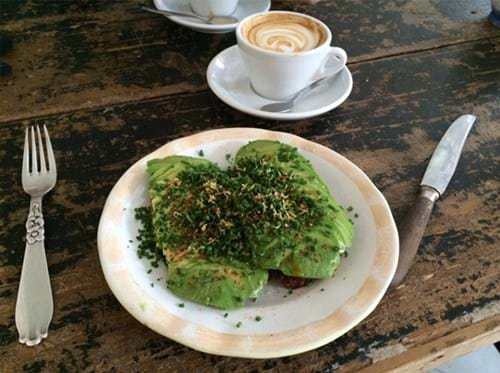 Delicious avocado and rye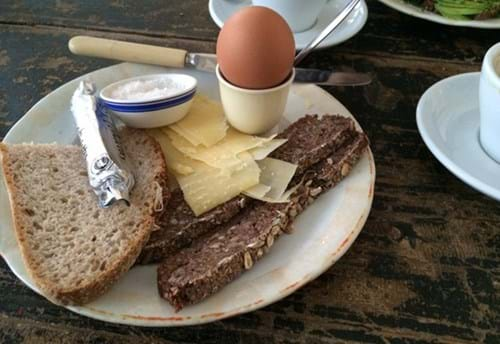 The other breakfast offerings were simple but equally as pleasant – crackin Danish cheese Grommit! What looks like a sliver Quality Street is actually butter, we only used half that amount. Danish bread is full of seeds and tastes amazing but you wouldn't want a lot of it!
After such a super start to the day the rain stopped for a while, enough time for a stroll by the water and a good chance to take in some of the scenery.
Everyone said "Oh you must go to the Tivoli Gardens Steph!" and to be honest, that and the Mermaid was all I knew about Copenhagen as a city, leaving Noma out of it! (by the way have you seen our earlier blog from years ago when I met and cooked with Sam Miller the former Sous Chef from Noma?)
The scenery was a feast for the eyes with a variety of charming sights to see. The lady in one of the brightly coloured huts in the left of the photo who sold us a woolly hat recommended a trip over the river to Christiana. It was the last day that the main hall was open, shutting at 4pm in order to cook a meal to say thank you to nearly 1,000 residents in the area.
I know how much careful planning and prep goes into mass catering, the biggest marquee event at Rudding Park is for 860 people, so I can respect the magnitude of this and how big the hall had to be, so intrigued we went for a look!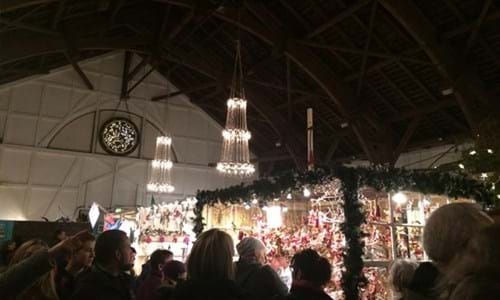 What an amazing building all oak lined. Christiana is famed as a commune still going today, with up to 800 residents and plenty of children living there too.
The area is a little like Camden town in London; very alternative and interesting to see. The hall was crammed with hundreds of people looking at stalls selling all sorts: art, pottery, music and street food with live bands playing. The experience was fun and the place was rammed!
(The flags are a far cry from Yorkshire's Tour De France offerings but they did remind me of happy days last summer!)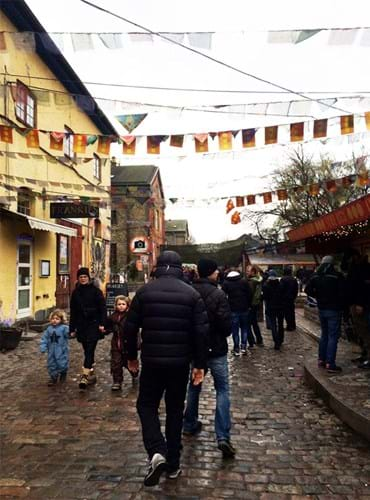 This area has separate rules to the rest of Denmark apparently.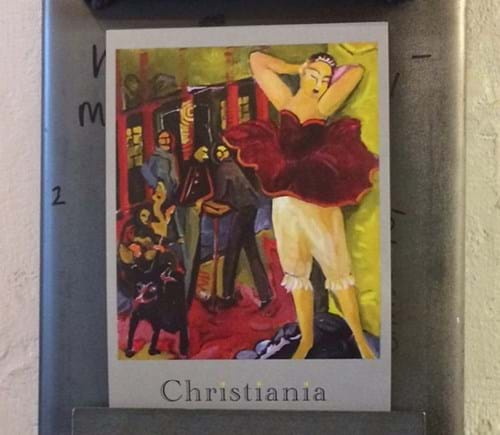 Waving goodbye to Christiana, like I say perhaps one of Copenhagen's less obvious tourist traps but certainly worth a visit!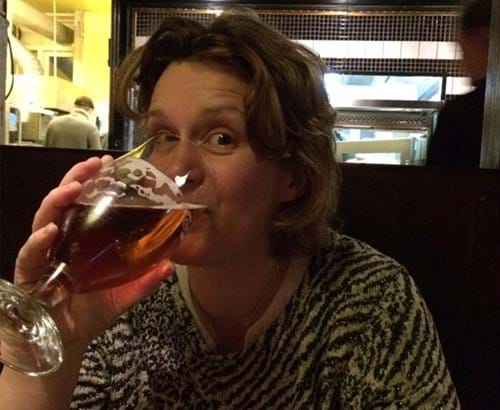 Time for a beer folks – when In Carlsberg country it would be rude not too – but this is not Carlsberg as we know it!
More of a weak Black Sheep than a Carlsberg, this brew is what the Danes drink. Made by Carlsberg and their beer of choice. It reminds me of when I lived in Australia, Australians drink the Victoria Beer and send the Brits the Fosters! I enjoy a beer now and again and this was a dark and handsome brew, very dusky and easy to drink! The bar had tables with Beer taps in the centre of them where the guests could easily pour their own drink!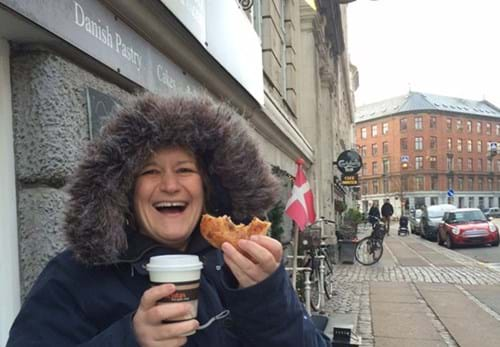 The next day perhaps the more usual breakfast in Denmark.
The day was spent sight seeing on a tour bus that covers the city well, and it was raining so much you needed this cover believe me!
Danes have their Nation's Flag everywhere, in fact we visited a shop just for flags where the man assured us football tournaments and the Eurovision Song Contest keep him going!
I had forgotten about Denmark hosting Eurovision in Copenhagen. According to my newly found flag friend the stadium went massively over budget and was not popular in the city, although tourism did well. Who could forget the bearded Conchita Wurst who won that year?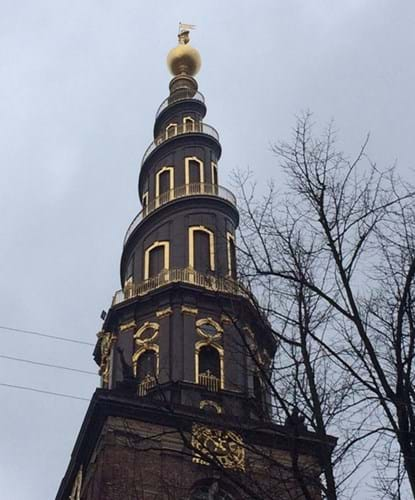 This Church spire is called "Church of our Saviour and or as they say in Denmark 'Vor Frelsers Kirke'. It is in the Baroque style and that corkscrew style spire really is incredible.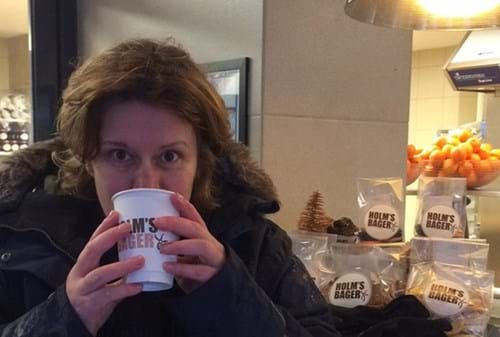 Yes you guessed it more rain! Trying to dry out in a nearby bakery. The shop was full of people drinking hot chocolate looking out at the maelstrom outside!
From one wet woman to quite another!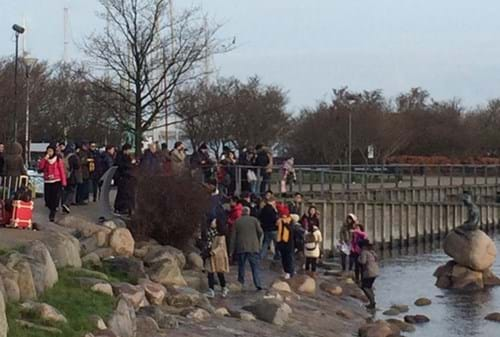 The crowd gathers to take photos of the mermaid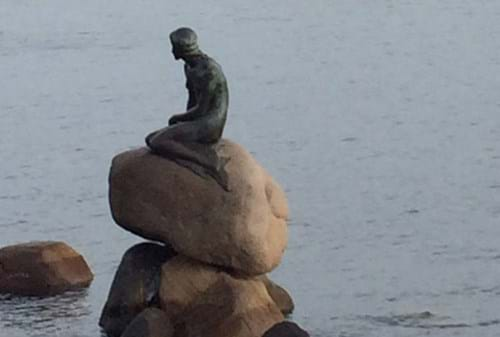 She looks cold in there, and is perhaps one of the most humble statues based on The Little Mermaid fairy tale by Hans Christian Anderson.
This tiny whisp of a statue is one of Copenhagen's most famous tourist photo opportunities – as you can see she is a popular lady! She has been there since 1913 and has been graffiti stained and used by activists as a platform, but she is standing the test of time – good for her!
After a great day sight seeing we went to dinner in a restaurant that was ok but nothing special but whilst there we were recommended to visit the Cocktail bar over the way called Strøm. This bar was amazing and the cocktails stunning!
Strøm is an award winning bar apparently set up by two Englishmen who came from London. Their ideas are quirky and fun.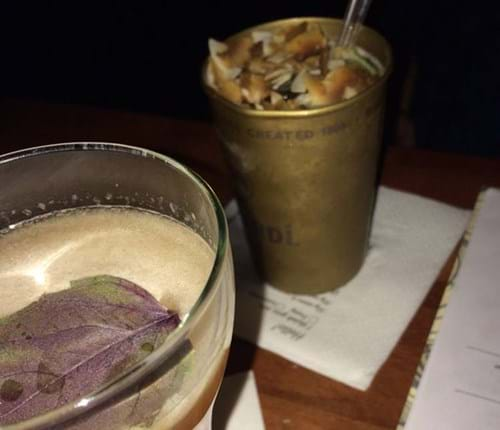 A great way to end a super time in Copenhagen.
I know the boys on the bar at Clocktower will be interested in this menu!
The last day before we came home we finally got to the Tivoli gardens, Denmark's answer to Disneyland. Children and adults seem genuinely excited to go here and I can see why.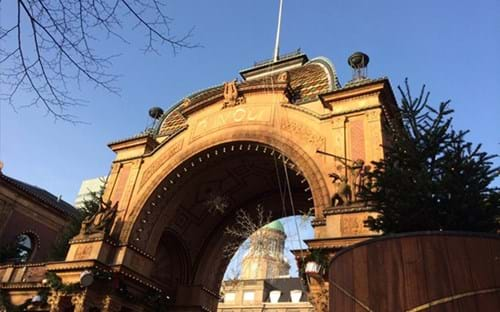 The imposing entrance is quite a statement.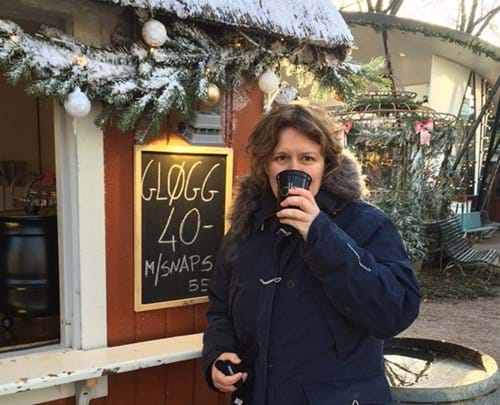 In the freezing air this stall selling 'GlØgg' or mulled wine as we call it seemed like a very good idea!
Copenhagen is famed for its recycling and conservation. In which other city in Europe could you see Red squirrels running around? Pictured here in the Botanical gardens.
Squirrel video
To sum Copenhagen up in a few words… Wet, expensive, fun, relaxing and very very cool.
I hope this shows there is more to Denmark than bacon and Lego! I will go back but perhaps in the summer time.
Steph x