Work Perks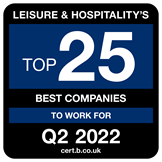 As well as competitive salary, training and lots of opportunity to grow, we recognise the importance in nurturing a happy and healthy team and have pulled together an exceptional – very long – list of 'work perks' to really look after you, both at home and at work to support your wellbeing
Health & Wellbeing
Health & Wellbeing
Westfield Health
After successful completion of three month probation, permanent employees are enrolled on a Westfield Health Plan where you can receive wellbeing support, such as a 24 hour advice line and counselling.  You are also able to claim contributions towards optical, dental, chiropody, chiropractor, consultations and therapy treatments.
https://www.westfieldhealth.com/
24/7 employee assistance line 
All Rudding Park employees are eligible to access the Hospitality Action's Employee Assistance Programme (EAP) is an assistance line supported by a comprehensive care package of services and benefits that takes a holistic approach to employee welfare. Like the industry it serves, the assistance line is open 24/7, 365 days a year and includes a translation service for over 170 languages.  The benefits available include access to personal counselling, legal guidance, addiction support, debt advice, parenting helpline, elder care helpline and a whistleblowing service.
https://www.hospitalityaction.org.uk/
Cycle to Work Scheme
Rudding Park is part of the cycle to work scheme and permanent employees can use a unique link to apply through Rudding Park. By enrolling on the scheme through a recognised retailer (using the Rudding Park unique reference) and following approval through payroll, salary sacrifice then commences over the hire period (usually 12 months). The salary sacrifice is made prior to Income Tax and National Insurance contributions and, as a result, employees pay less of both.
https://www.cyclescheme.co.uk/
Mental Health First Aid
Mental health first aid is a training program that teaches people how to help others by recognising and supporting colleagues who may be developing a mental health problem, experiencing a worsening of an existing mental health problem or in a mental health crisis.  This internationally recognised course helps to create a more positive workplace culture.  The aim is to support and direct employees to the appropriate professional - there are a number of staff within Rudding Park who are trained Mental Health First Aiders and these can be identified through line managers or lists on noticeboards.
Sickness
The company recognises that there are often times where were are off for unplanned sickness. The company offers company sick pay on length of service. Terms and Conditions apply. We also offer support with managing absence and wellbeing.
Flexible working arrangements
We understand the importance of work life balance and consider flexible working where possible, subject to the needs of the business.
Rudding Park Team Well-Being Programme
An programme designed to help keep your body and mind in optimum health.

Meals on duty
We provide free nutritious meals whilst on duty.


Financial Planning
Financial Planning
Company Pension Scheme
All permanent staff 22 and over are auto-enrolled after completion of 3 months employment with the company in line with statutory regulations. If under 22 you have the right to opt in to the scheme. The pension scheme is with Standard Life. Employees must put in a minimum of 5% and company will put in an additional 3%.
24/7 employee assistance line 
All Rudding Park employees are eligible to access the Hospitality Action's Employee Assistance Programme (EAP) is an assistance line supported by a comprehensive care package of services and benefits that takes a holistic approach to employee welfare. Like the industry it serves, the assistance line is open 24/7, 365 days a year and includes a translation service for over 170 languages.  The benefits available include access to debt advice and legal guidance.
https://www.hospitalityaction.org.uk/
Holidays
Holidays
Annual holiday allowance
Upon commencement of permanent employment you are entitled to 30 days company holiday (including bank holidays). After 3 years of continuous employment this increases to 31 days, after 4 years it increases to 32 days and after 5 years it increases to 33 days. These figures are pro-rated for part-time employees.
Long Service Holiday Bonus
Additionally after 10 years, 15 years, 20 years etc. of continuous employment you will receive a one off bonus of an additional 5 days holiday to be taken in the next holiday year.
Salary Sacrifice
The company also operates a holiday buy back scheme where staff who have completed 3 years continuous employment can purchase up to an additional 5 days holiday each year with the cost being deducted from their monthly salary via salary sacrifice.  
Discounts
Discounts
A wide range of generous discounts at our restaurants, spa and hotel, including a friends and family accommodation rate.
Celebrations
Celebrations
Awards
We love celebrating successes and do so through 'Rudding Rewards', Employee of the Month, Employee of the Year and the Long Service Awards.
Social events
A range of social events are organised throughout the year such as bbqs, rounders matches, the annual family fun day, quizzes and lots more.
Volunteer Scheme
Volunteer Scheme
Rudding Park is always keen to support the local community. As one of the largest employers in the Harrogate area, with over 250 employees, we have a great team with a diverse range of skills and together a real sense of passion to do our bit.
This passion to make a difference was the inspiration behind the Rudding Park Volunteer Scheme. The scheme provides the Rudding Park team with the opportunity to partner with a local charity who they visit once a month over the period of a year to support in any way they can.
The Rudding Park Volunteer Scheme is a 'win win'.  It's a fantastic chance for us to support a range of worthwhile causes at the same time as investing in the personal development of our team. It's a chance to:
Make a difference
Be part of a community
Learn and develop new skills
Gain confidence
Meet new people
Change of scene
Sense of achievement
Obtain insight into how other organisations work
Take on a challenge
Have fun!