From a contractor's yard to kitchen garden, renowned garden architect, Matthew Wilson, panellist on Radio 4's Gardeners Question Time and presenter of the Channel 4 series 'Landscape Man', worked with the Rudding Park team to design the true food hero at Rudding Park.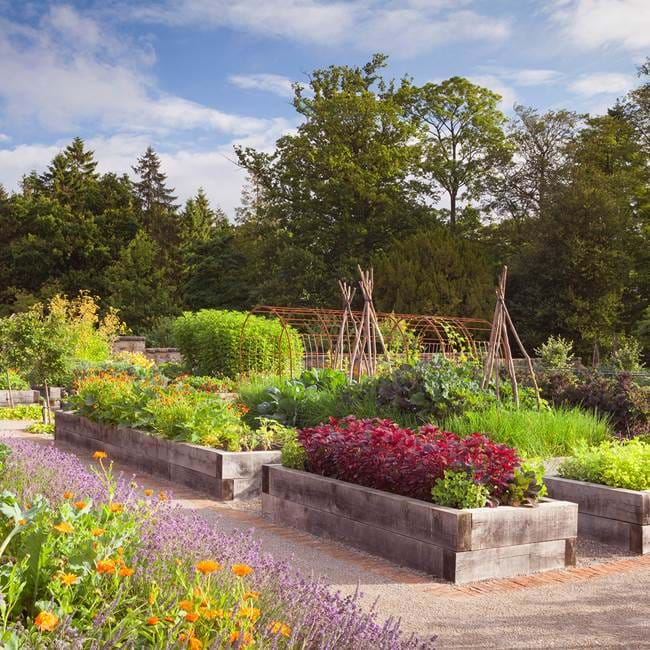 Rudding Park Kitchen Garden sits adjacent to the walled garden for the Regency House and the traditional Head Gardener's Cottage. 
At first glance the garden could be an art installation with the geometric shapes of the 52 raised beds (made from English Oak trees, Quercus Robur from the grounds at Rudding Park) contrasting with the soft planting and traditional setting. When designing the garden, Matthew ensured every measurement and angle was considered and checked to create the final effect but it is the plants themselves that are the stars,
Matthew's top three tips when creating a kitchen garden:
Use raised beds to control the soil environment, the beds warm up quicker in Spring and they are easier to handle as there is no need to bend down.
Surrounding raised beds with gravel helps to manage pests such as snails and slugs
Grow things you want to eat rather than things you feel you should grow.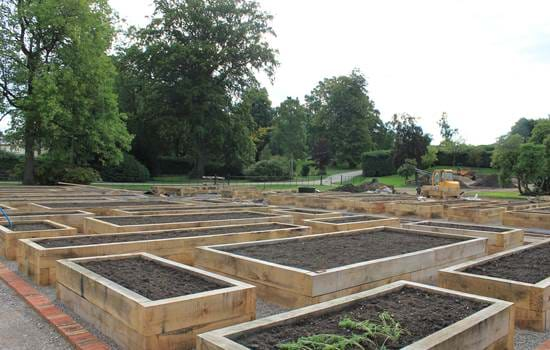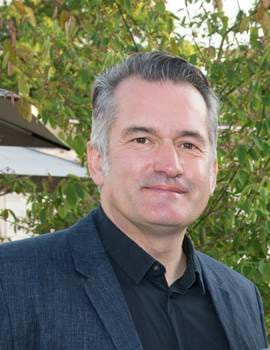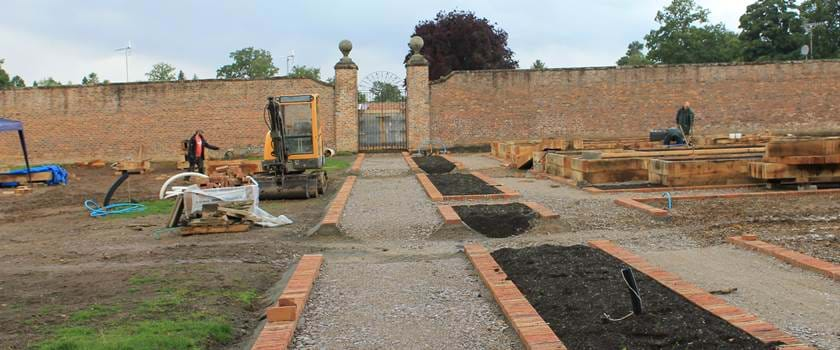 The Kitchen Garden supplies over 500 different herbs, salads, vegetables, edible flowers and fruits so the chefs can create dishes packed full of flavour with quality heritage varieties usually hard to get hold of and fruits best enjoyed within minutes of picking. With such a short walk to the Rudding Park kitchens you could say we have zero food miles from plot to plate.
Both restaurants; Horto, our 3 AA Rosette contemporary fine dining restaurant and Clocktower champion locally sourced food and the Kitchen Garden allows our team of chefs to work with Adrian Reeve, our Kitchen Gardener to select the freshest, seasonal ingredients and incorporate them into the menus on a daily basis.
The garden also provides the most wonderful backdrop for events and the Breeze House, adjacent to the Kitchen Garden, can be reserved for small private parties, afternoon tea, lunch and dinners and is also licensed for wedding ceremonies.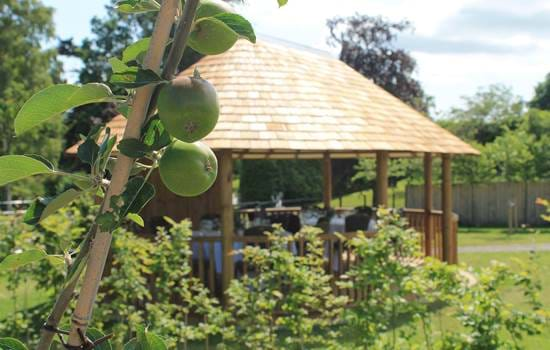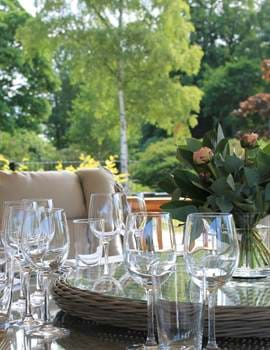 We caught up with Kitchen Gardner, Fiona Slight for a few highlights of what we can expect to see in the garden this season.
Creating an edible garden may seem daunting to some, but with regular pruning, watering and fresh soil, your garden is capable of growing anything.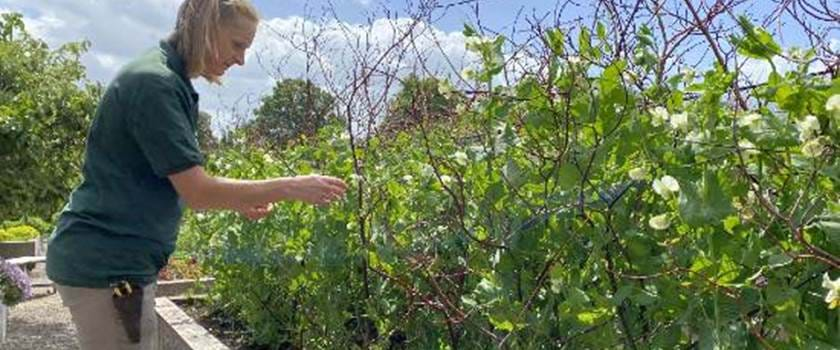 Elephant Garlic belongs to the onion genus and is not a true garlic, but actually a variant of the garden leek.
Adrian's top tip: Elephant garlic likes full sun and moist conditions, though not waterlogging in winter. It won't tolerate overcrowding from other plants and needs to be planted at least 20cm away from any neighbour to grow successfully.
From plot to plate: use Elephant Garlic in a soup or as a puree, alternatively, it complements celeriac and potato.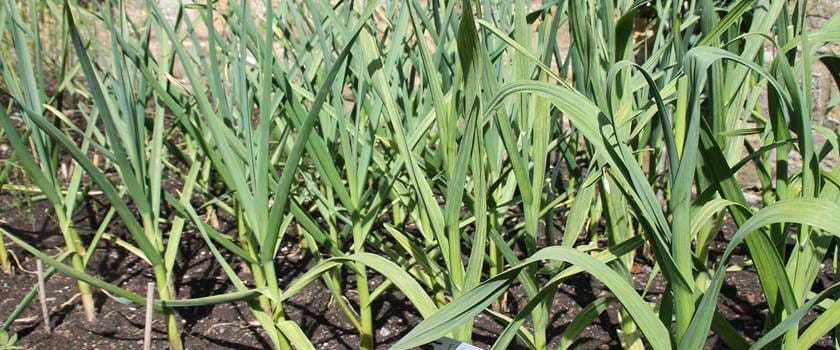 Beetroot 
The deep purple roots of beetroot can be eaten boiled, roasted or raw, delicious alone or combined with any salad vegetable.  We grow about ten distinct varieties including golden, cylindra and crapaudine.
For best results, sow beetroot little and often, harvesting the roots when they are young, tender and the size of a golf ball. 
From plot to plate: cook, then dress the beetroot in Yorkshire rapeseed oil and add some toasted linseed and vinegar.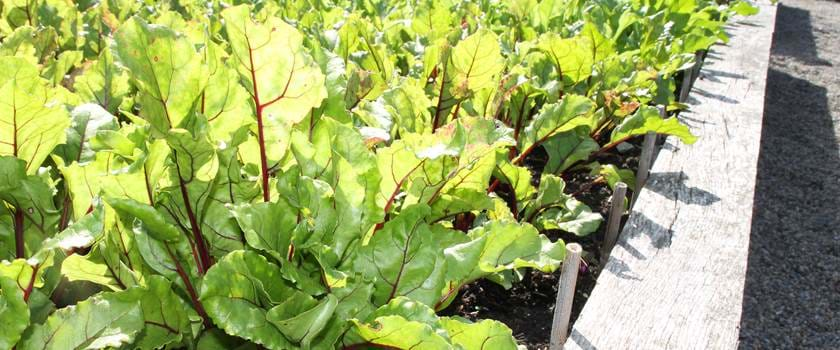 The greenhouse houses a variety of fruit and vegetables including tomatoes, chillies, turmeric, wasabi and yuzu
Wasabi is a plant of the Brassicaceae family. It is similar in taste to hot mustard or horseradish rather than chili peppers as it stimulates the nose more than the tongue.
From plot to plate: The wasabi plant has two edible parts, the leaf and the root. The leaves are great in salads, great with chicken teriyaki or fresh seared tuna with sesame. The root has a horseradish kick and its best use of course, is sushi. After grating on a wasabi grater, use and serve instantly, as it loses its peppery kick really fast (most wasabi packets you buy with sushi in the supermarkets are actually made with horseradish not wasabi because of this).
Yuzu is a citrus fruit and plant in the family Rutaceae. Yuzu fruits, which are very aromatic, are eaten as a fruit and are a common ingredient in Japanese cooking, where the aromatic zest, as well as juice are used much in a similar way to lemons.
From plot to plate: Yuzu is a fantastic citrus fruit and you can buy yuzu juice in bottles from specialised supermarkets, which is cheaper than buying fresh which are only around October/November time.
The taste is amazing - a cross between a lemon, lime and tangerine, sharp and citrusy yet floral. Great in dressings for salads or shellfish, Horto has featured a yuzu tart with white chocolate ice cream dish on the menu and currently yuzu juice is used in a pear puree, as part of the pear and sea buckthorn course.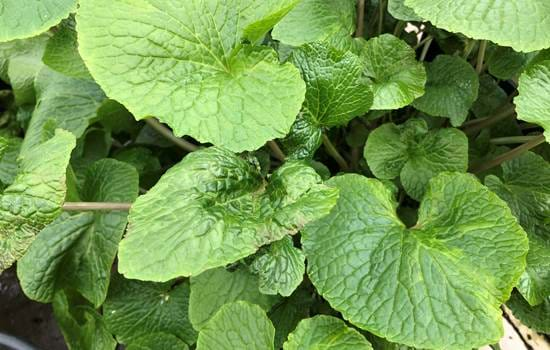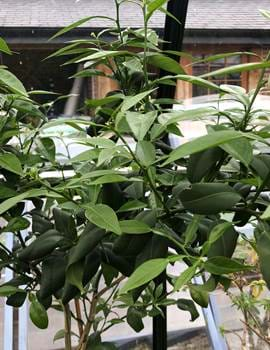 Chard
Like other green leafy vegetables Chard is a popular feature of healthy diets.  Used in cooking for centuries, it has many common names, such as silver beet, perpetual spinach, beet spinach, seakale beet, or leaf beet.

Adrian was awarded First Prize for his Swiss Chard at last year's Harrogate Autumn Flower Show and this highly nutritious plant will be making a welcome return to the Kitchen Garden this season. 
From plot to plate:
Chard is good in salads. As some types have bright pink, orange, white or red stems it can really bring colour to a salad. When cooking chard I like to wilt it down in an emulsion of butter and chicken stock, super tasty and leaves a nice glaze on the leaf.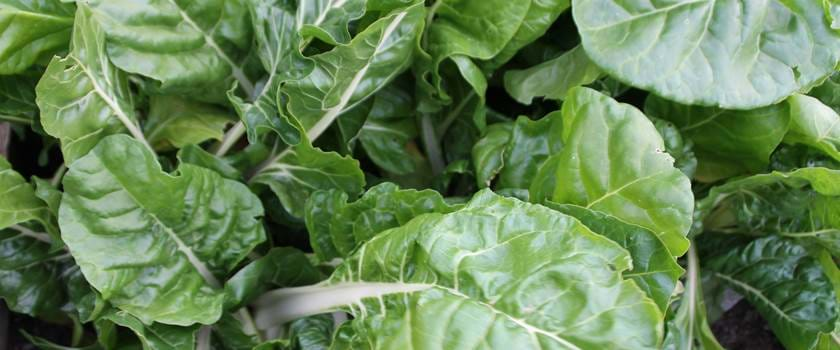 As a key provider to the hotel restaurants, the Kitchen Garden is constantly pruned and re-planted to ensure produce is at its best and yields can sustain two busy kitchens.
Crop rotation is vital to ensure the kitchens receive seasonal produce at its best; benefits of regular crop rotation include soil fertility, weed control and pest control, all of which keep our produce fresh and tasty.  We improve the soil with manure from our own garden.
If you would like to grow your garden knowledge, our Kitchen Garden is open from May to September.