In the Gardens
Monthly Inspiration with Fiona Slight our Head Gardener
January 2021 - Fail to prepare, prepare to fail!
January weather getting you down? Here are five things I do to take my mind off those dull dark days, and to ensure things are raring to go when the weather improves and we have more motivation to get outside.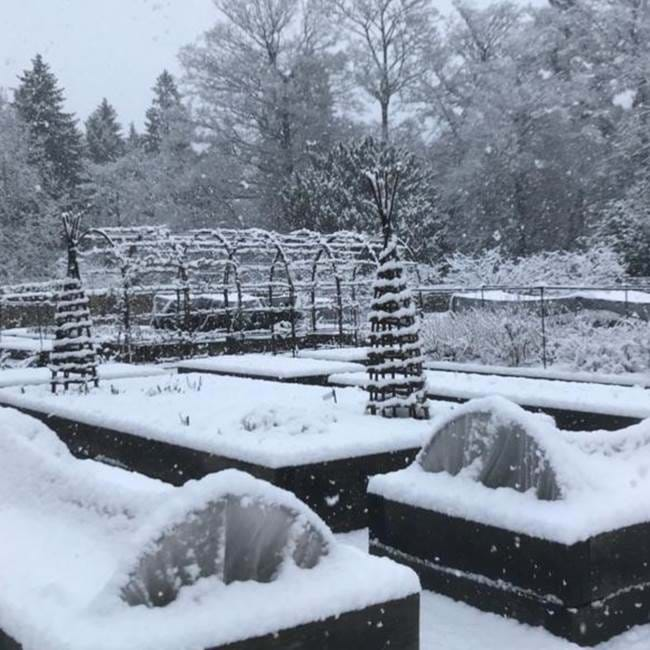 Grow what you like


At home, I only grow what I know we want to eat.  Choose your favourite fruit and vegetables and if you think any of them will be difficult to grow, have a go anyway!  Research well before starting, as this gives you a far better chance of success.  If you have room, soft fruit is always an easy and very productive choice.  Soft fruit can be very expensive even in season, so if you can grow your own, not only have you reduced food miles, you've saved money too.  Most soft fruit freezes or preserves really well and has a multitude of uses at any time of year.


Get organised
Decide when and where things are going to grow, think about successions and using your space to grow the maximum number of vegetables - especially important in a small space. Don't just think about summer, try to plan ahead for winter crops that will be ready to harvest in early spring the next year. 


Be floral - Remember to add some flowers too. Not only are they pretty, they entice pollinating insects and many types of predators that will help to protect your precious crop.  Flowers such as Violas, Nasturtiums, Sweet Alysum and Sweet Rocket are also edible and help to finish off a plate of food beautifully. Sweet peas (not edible) and Dahlias fit in a Kitchen Garden really well, and also provide beautiful blooms for cutting.


Clean - Tidy out your shed, wash pots, clean labels to re-use, clean tools. If everything is clean and ready to go, it saves time later in the year when you are most likely too busy to do it.  Clean your green house if you have one, it makes a big difference in winter and early spring to have clean glass to let in optimum light levels.  Use garlic candles, which are a more environmentally friendly way to kill off any overwintering pests, such as aphids and red spider mite that may be lurking in there.


Reflect - Take stock of your garden, slowly wander round looking at what you have, are you still using the fruit you put in? Does anything need lifting and dividing in Spring, such as Rhubarb.  Do you have any room for a fruit tree?  If so, order a bare root tree, they are much cheaper, and you get a lot more choice than you do with container grown trees.  Lastly, how can you entice more wildlife in to your garden, this is not only more beneficial to the environment, but can help with controlling unwanted pests in your garden. 
Remember, better weather and longer daylight hours are just around the corner!
Happy preparation!