Rudding Park Rising Star Callum Bowmer
Callum Bowmer joined Rudding Park in 2010 for a couple of week's work experience, spending one week in the Conference and Banqueting kitchen and one week in the Clocktower kitchen. However, having spotted his potential, Hotel Manager, Nuno César de Sá offered him an Apprenticeship in the Conference and Banqueting Kitchen and Callum has never looked back.
A Rudding Park 'Rising Star', here Callum shares his journey from Apprentice to Head Chef and being awarded 3 AA Rosettes at Horto Restaurant and most recently crowned 'Chef of the Year' at the Harrogate Hospitality & Tourism Awards 2022.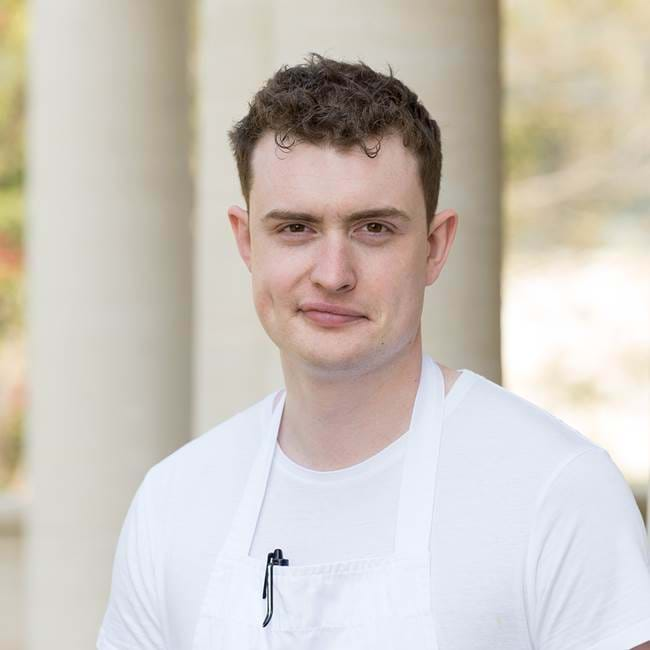 "I learnt more in a week in the kitchen at Rudding Park than a whole year at college – there really is nothing like being hands on!  One of first events I worked was a marquee event which was a massive team effort and fantastic experience.  After six months I was fast-tracked to Clocktower where Eddie Gray, Clocktower Head Chef took me under his wing.
I loved the dynamic of the restaurant kitchen.  Originally on garnish sections I then moved to larder.  Eddie was brilliant – a fantastic mentor and gave me the opportunity to create my own dishes, offering his guidance and support along the way.
To progress in your career it's really important to gain as much experience as possible to stay fresh, motivated and passionate, so to gain additional experience I did a six month stint at Baslow Hall, Derbyshire before returning to Rudding Park in 2012, developing dishes for starter and mains and helping Eddie develop the team.
Rudding Park has a really strong culture when it comes to encouraging members of the team to embrace opportunities to grow and develop your skills. Over the last few years I have been out of my 'kitchen comfort zone' on numerous occasions doing cookery demos on the Yorkshire food demo circuit including The Great Yorkshire Show and Spring and Autumn Flower Shows.  They can be great fun and it's good to get out there and interact with the audience, but a particular highlight has to be featuring on BBC's MasterChef The Professionals in 2017. 

I have now taken on a new challenge, Head Chef at 3AA Rosette Horto Restaurant at Rudding Park.  The experience is very much contemporary fine dining and we use seasonal ingredients from Rudding Park Kitchen Garden so we say "the menu is dictated by nature, the skill of the Gardener and the flair of the Chef – no pressure then!