Restoring Harrogate's Spa Heritage
During the Victorian era the wealthy and fashionable flocked to the Harrogate to experience its health giving natural springs and promenade along its elegant streets people came to 'take the waters'. Harrogate was considered one of Europe's most desirable spa resorts and the water of this area is rich in sulphur and iron.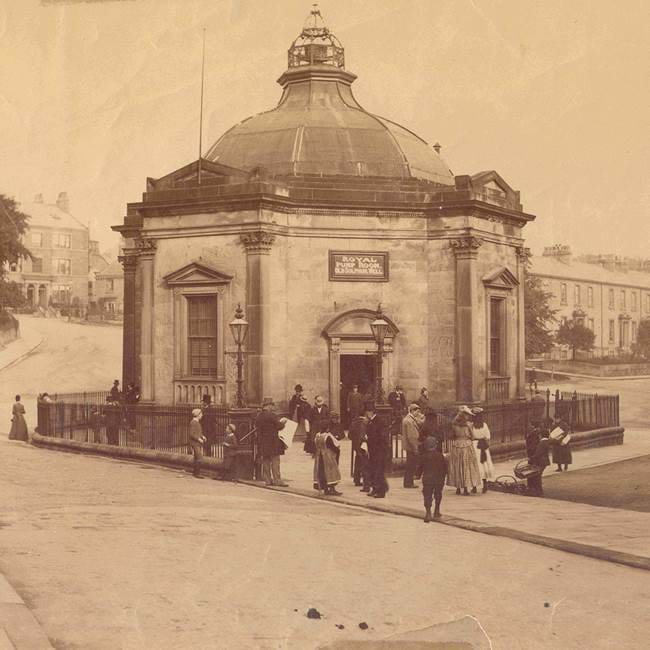 Harrogate's grand houses and expansive parkland are a legacy of that era and smartly maintained Georgian and Victorian facades are an indication this is still an affluent place with lots of open space. An Act of Parliament passed in 1778 promised perpetual public access to The Stray – an expanse of well-tended, tree-lined greenery stretching around the west and south of the town. Footpaths criss-cross The Stray, whose creation was a response to fears that public rights of access to the springs might be lost because of land enclosures.
Harrogate has a rich tradition of spa and restorative treatments going back over 200 years. Mineral water has long been thought to possess health benefits. Drinking or bathing in the mineral waters of Harrogate was, by at least the nineteenth century, part of a daily routine prescribed by doctors.
A change of air, relief from the pressures of business, early hours, regular exercise and agreeable company were all seen as contributing to wellbeing. In this sense, ideas of what constituted a healthy lifestyle were not so different from our own today. The Harrogate waters were also seen as beneficial for specific medical conditions: sulphur water could banish skin diseases, while chalybeate water could stimulate the nervous system to overcome everything from rheumatism to melancholy.
Growing numbers of visitors and expansion of the railways meant increased tourism for Harrogate during the Victorian period. New facilities grew around its springs, including the Octagonal Room which was opened in 1842. In 1913 an extension was opened to provide extra cover and on one morning in 1926 around 1500 glasses of water were served. At Harrogate Spring Water, a global brand founded in 2000, 64,000 bottles move through their production line every hour. Harrogate water is now served on an industrial scale.
TURKISH BATHS
Massages and the use of cold water, either for bathing or applied to afflicted areas of the body, was a fundamental part of the Harrogate water cure by the late nineteenth century.  Over 120 years ago, in 1897, the Royal Baths opened to provide a luxurious setting for specialist hydrotherapy treatments in Harrogate at the immense cost of £120,000.
Intended to allow Harrogate to compete with other European spas, the town's Turkish Baths were one part of this expensive complex. Turkish Baths had grown in popularity since the 1840s, when travellers' accounts had painted a glowing picture of their luxury and benefits to health. Here, visitors could consult a duty doctor for advice on the best treatments and routines for their stay.
Turkish Baths were controversial among medical professionals, some of whom warned that their heat posed a danger to the frail and elderly. Yet others thought that the Baths could help purge the body of toxins through sweating. A visit to the Harrogate Turkish Baths, still in use today, starts with a steam room and progresses through heated rooms before cooling off in a plunge pool, all designed to cleanse the body.  The basic principles behind their use have not changed in more than a century.  

By the nineteenth century, spas had become important centres of treatment for joint problems, particularly rheumatism. Hydrotherapy was used in the treatment of rheumatism, with water directed at afflicted parts of the body. At Harrogate, more outlandish therapy was trialled in the early twentieth century. Wax baths, for instance, were used to apply heat to painful hands and feet. Guests at Rudding Park Spa can experience an extensive range of hydrotherapy and thermal treatments to enhance well-being.
In 1934, Arnold Woodmansey, who was employed as a scientific analyst for Harrogate, claimed the mud gathered from springs in the town could fulfil a similar role. If kept suitably warm via the application of electricity, Harrogate mud could – through the interaction of ions and mechanical and thermal action – reduce the pain and increase the mobility of patients suffering from rheumatism. At Rudding Park Spa today, mud is used in the mud rasul ritual.  Mud is applied to the body in a chamber which fills with steam, opening pores and allows the skin to naturally absorb the mud's natural nutrients. As the temperature rises, the mud dries and draws out impurities, before a gentle rain shower helps ease the mud away.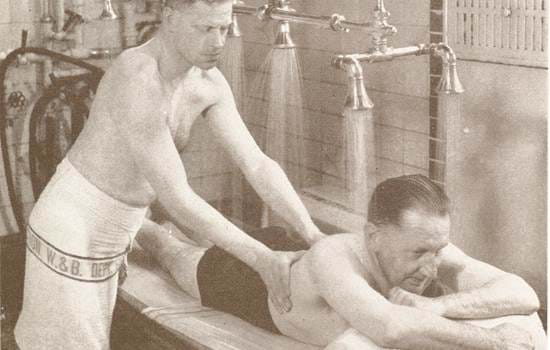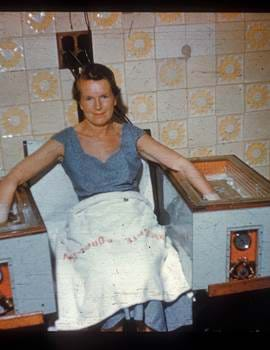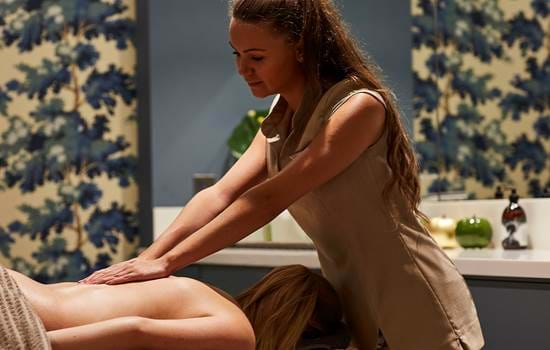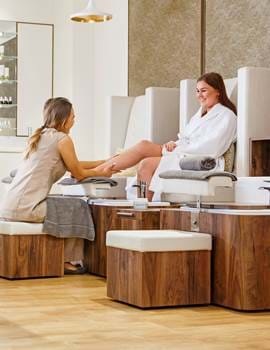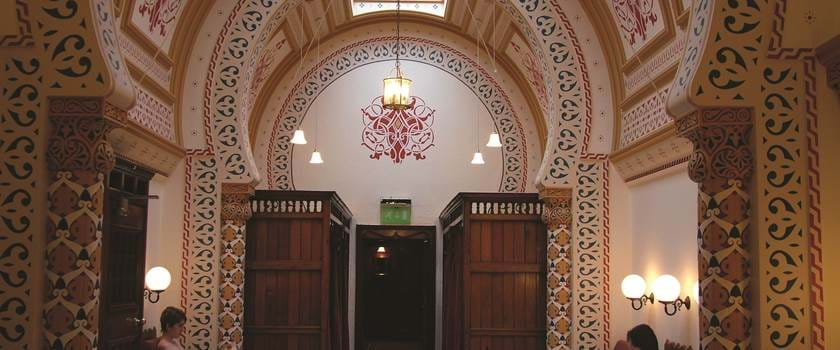 LIGHT THERAPY
Ultraviolet light produced by mercury vapour lamps had been used as a cure for rickets in children since1919.
In 1928 the popularity of ultraviolet light in medicine boomed when King George V received the treatment for a severe bout of pneumonia. Ultraviolet light was thereafter used to treat a huge array of conditions, from acne to minor infections. As a spa town always on the lookout for new medical technologies, Harrogate offered its own ultraviolet light therapy at the Royal Baths.
Yet during the late 1920s and 1930s doubts began to surface about the medical efficacy of ultraviolet light. Doctors also began to realise that overexposure to the light could result in damage to the skin. Light therapy has re-emerged in recent years, albeit in a different form. LED red light treatment, which has a different wavelength to ultraviolet, is now offered for skin rejuvenation, anti-ageing treatments, wound healing, deep muscle.
The benefits of light therapy are still important today and in January 2019 we opened a Sunlight Therapy room to help reduce the effects of seasonal affective disorder, so prevalent today.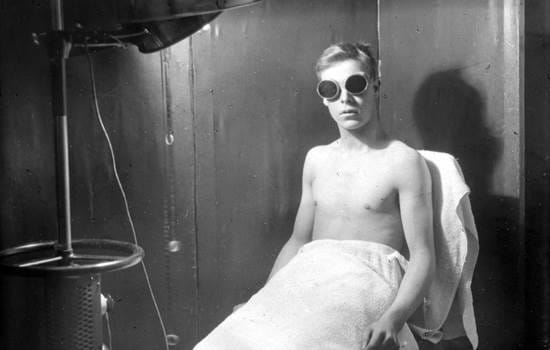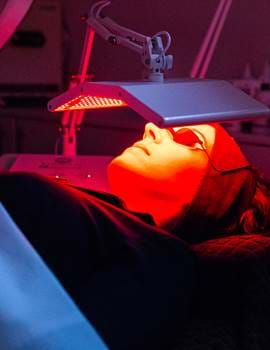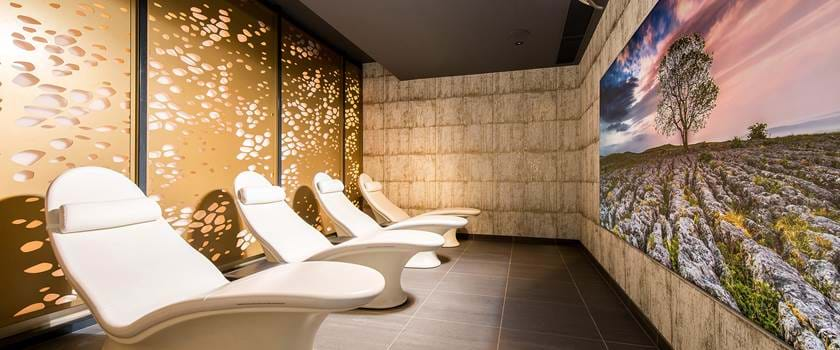 SPA TODAY
Fast forward to today, and you'll find Rudding Park Spa recapturing Harrogate's spa heritage using natural waters from the grounds at Rudding Park. Since opening in May 2017 the award-winning spa – with the UK's first Roof Top Spa and Garden – has helped to raise Harrogate's profile as a spa town once again with guests travelling far and wide to relax and enhance well-being.  
Photographs
Archive photographs reproduced by the North Yorkshire County Record Office
Rudding Park photographs Sean Knott Photography, Tim Hardy Photography