Head Gardener wins Horticulture Award
Our Head Gardener, Sarah Owen-Hughes was awarded a Branch Commendation for services to Horticulture by the Chartered Institute of Horticulture at the Harrogate Autumn Flower Show held at Newby Hall 15 – 17 September. The award, nominated by other local horticulturists is in recognition of Sarah's outstanding contribution to amenity and community Horticulture in the North of England, as well as her longstanding commitment to the Northern Branch.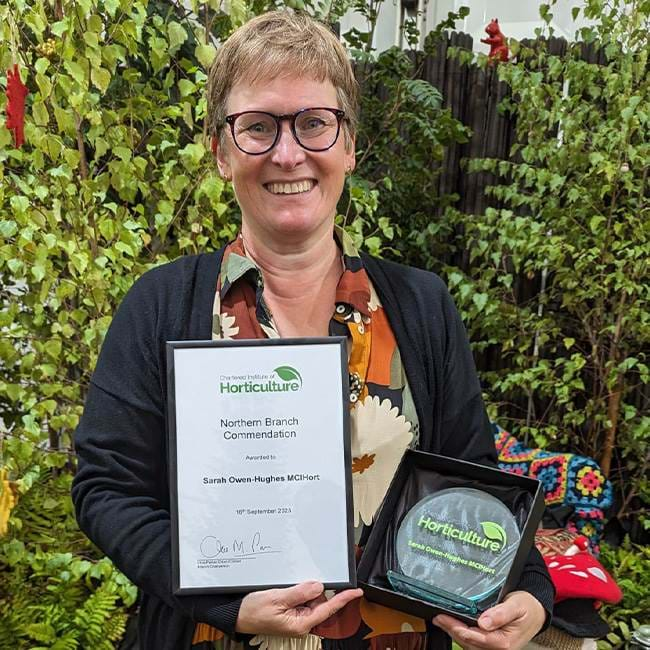 Sarah said, 'I am overwhelmed and hugely moved to have received this recognition from my industry peers. My passion has always been to promote horticulture and opportunities for all, and to receive this on the Human Gardener stage, where Faith Douglas and I interview people behind the plants, is particularly special'.
Sarah's horticultural career begun when she decided to retrain as a Garden Designer when she moved back to Yorkshire following many years living and working overseas. After working through her RHS qualifications around expanding her family, it was noted she stayed too long at the end of classes enthusiastically asking questions, and was invited to 'cover a few classes'.
Fifteen years later, after lecturing stints at Craven College and RHS Harlow Carr, Sarah was managing degree programmes at Askham Bryan University Centre, York in Horticulture; Arboriculture, Sports Surface Management and Landscape Garden Management. She has been involved in Erasmus projects in Aquaponics in Spain and show garden builds at Harrogate and Tatton Park. Sarah ensured students had amazing opportunities to network and build their careers, including memorably driving a minibus full of arborists very early one morning to Merrist Wood College, Guildford, for a Young Arborist conference, and getting onto Radio 2 for her exploits. She was on the CIoH Northern branch committee and arranged visits and guest lectures and created an annual Horticulture Conference at Askham Bryan, involving branch members and other local horticultural colleges to inspire the next generation and share best practices.
Sarah stepped away from lecturing in 2020 to work in private horticultural research, gathering data for her doctoral thesis in optimising nematode applications to control leafminer (Liriomyza ssp.), but has continued to take an active interest in promoting horticulture and horticultural careers by supporting alumni and talking to most gardening clubs across the North.
The commendation certificate and trophy were presented to Sarah by Clive Parker and Jason Daff, Branch Chair and Secretary of the Chartered Institute of Horticulture.