A timeless classic with a contemporary twist
It's National Afternoon Tea Week (Monday 10 - Friday 16 August 2020) so to celebrate we are excited to introduce our latest collaboration with Jo Deakin.  Say hello to our new Signature Afternoon Tea fine bone china.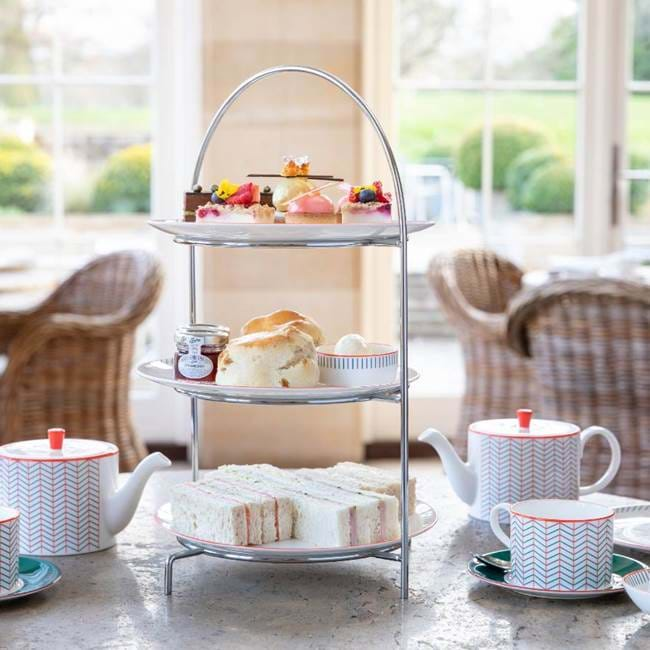 There is no denying, there is something quintessentially British about taking Afternoon Tea.  It is, surprisingly, a relatively new tradition. Whilst the custom of drinking tea dates back to the third millennium BC in China it was not until the mid 19th century that the concept of 'afternoon tea' first appeared and we have Anna, the seventh Duchess of Bedford to thank.
Reports from 1840 describe how The Duchess would become hungry around four o'clock in the afternoon. The evening meal in her household was served fashionably late at eight o'clock, leaving a long period of time between lunch and dinner. The Duchess requested a tray of tea, bread and butter (some time earlier, the Earl of Sandwich had the idea of putting a filling between two slices of bread) and cake be brought to her room during the late afternoon. This became a habit and she began inviting friends to join her.
This pause for tea became a fashionable social event. During the 1880's upper-class and society women would change into long gowns, gloves and hats for their afternoon tea which was usually served in the drawing room between four and five o'clock.
Fast forward to 2020 and Afternoon Tea has never been more popular.  People of all ages are enjoying this wonderful tradition and the visual appeal of afternoon tea makes it so 'Instagrammable'.  At Rudding Park, we've gone for a contemporary twist – 'goodbye' white linen tablecloths and 'hello' beautiful fine bone china with pops of colour.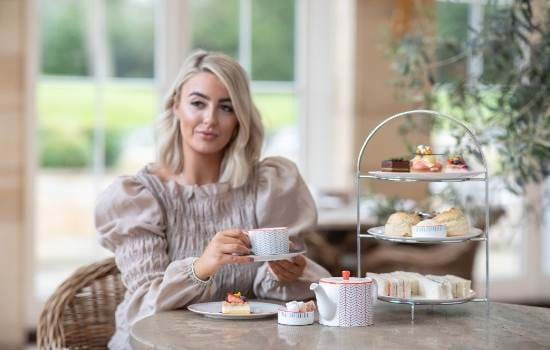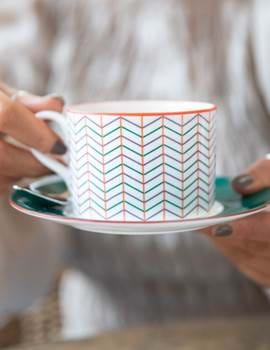 The new Rudding Park Signature Afternoon Tea range of fine china has been designed in collaboration with Jo Deakin and enhances the sense of refined elegance when taking Afternoon Tea at Rudding Park.
Jo explains "I believe comforting drinks taste better in fine bone china. It matters what the china looks like on the table, how it feels to use and what it means to share with others.
The collaboration with Rudding Park was an opportunity not to be missed. The look and feel of the hotel, with pops of colour considered at every turn was instantly the right fit."
Jo Deakin believes whether you're on your own or with friends, taking time out to have a stylish cup of what you love comforts, soothes and feeds the soul.  Life is fast and so demanding, when we get time to pause and enjoy a special moment, every detail that makes these moments special should be given care and attention.  The Afternoon Tea experience is no exception to this mantra.
The designs are inspired by the geometric contrasting and complementary patterns, married together with bespoke colour ways. This creative outlook and a love of contrast and colour is mirrored throughout Rudding Park.
We wanted to combine this shared love of colour and pattern to create a truly bespoke collection of British fine bone china to enjoy when taking Afternoon Tea in the Conservatory.  The colours are taken from the Rudding Park house palette and have been individually matched by the factory in Stoke-on-Trent to continue the same unique combinations on the china.  From walls and upholstery, and now, right through to the table ware.
The Jo Deakin pattern holds the three contrasting colour pops well and the hand applied orange trim detail is a small but bold reference that can be found throughout the Hotel.  We hope this collection showcases the same attention to detail and thought as the rest of the hotel and we are incredibly proud to introduce this collection for you to enjoy as you take tea.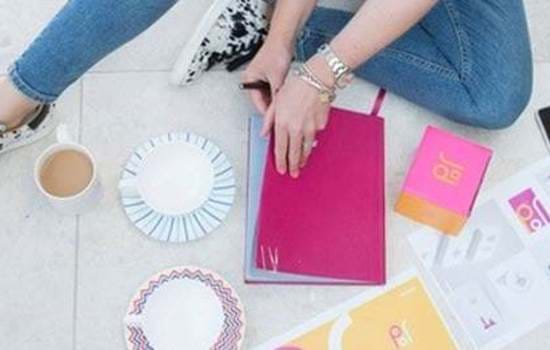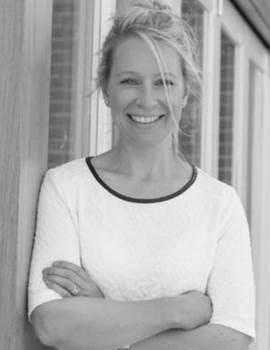 So, what is it about Afternoon Tea that us Brits love so much?
Iconically British
It's as iconic as having a roast on a Sunday! Afternoon tea is quintessentially British.  People from all over the world still think of the ceremony as a daily occurance, although it is generally considered a treat and increasingly regarded as the perfect way to celebrate birthdays and special occasions with friends.
Variety  
From the assortment of delicious sweet and savoury treats to the selection of teas, the variety is guaranteed to delight all taste pallets.
Tea culture
As a nation, we're definitely 'tea obsessed' and the phrase 'not my cup of tea' is used to describe something that is not to your taste. So, an activity focused on tea-drinking, is to experience British drinking culture at its very best.
Location, location, location
Yes, the tea is important, but it's not all about the tea!  Whether you prefer a cosy tearoom, or the sophisticated setting of a hotel – where you are drinking the tea is just as important to set the right mood.  At Rudding Park, Afternoon Tea is served in the light and airy Conservatory with a 400year-old Olive tree and lovely views over the gardens. Making the most of a visit with a walk to explore the gardens before or after tea is an absolute 'must'.
A Break from the Norm
We are all prone to being creatures of habit, so why not shake things up a bit.  Why not opt for a late breakfast and replace lunch with Afternoon Tea?
Social Occasions
Afternoon Tea was made for celebrating. From birthdays and baby-showers to pre-wedding celebrations or an excuse to catch up with friends; sharing a pot of tea is very much a social occasion. A civilised get-together in the afternoon is perfect to relax and engage in conversation over great food and you've still got the rest of the evening ahead of you!
An Experience
Offering a refined take on the everyday 'builders tea', there's undeniably something elegant about using a cup and saucer, not to mention making your way down an inviting three-tier afternoon tea stand with a whole host of finger food. The delicate nature of bite-sized sandwiches and cakes offers a lovely way to enjoy food.
So, the only difficult part is choosing whether to add the jam first or lashings of clotted cream.  Now there's a question!
Afternoon Tea is served:
Monday - Saturday 3.30pm
Sunday 4pm