Introducing... The Green Room
We're super excited that work on a £1M development of the Green Room, our new employee cafe along with an extension to the office space is complete! The investment – designed to boost employee engagement and future proof the business – was critical, as to support our development plans over the coming years.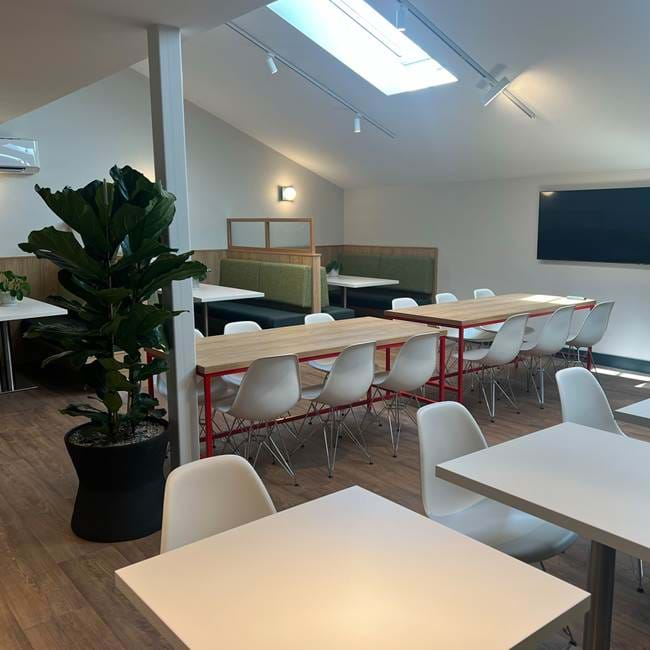 Matthew Mackaness, Rudding Park Director explains; "The business has expanded significantly over recent years. The original canteen was designed for 50 people and we are now a team of over 300, so needed to expand to accommodate this and any future growth.
It's also important we do everything we can to retain our employees and keep them motivated to engender long term loyalty as we plan for the future. Spaces create culture and having an appealing company culture is also key. We made a promise to invest in our team and wanted to create a space of which they would be proud; somewhere they can relax when not working.
The name for the new cafe is a nod to the parallels between the hospitality and entertainment industry. In hospitality we refer to 'front of house' where the team are 'on stage performing' for guests. The entertainment industry has the Green Room, 'a room in which performers can relax when they are not performing', so this offered the perfect inspiration. Now, when our team head 'back stage' they have their own 'Green Room; just like the movie stars!"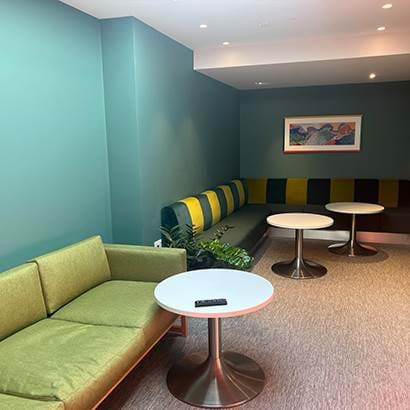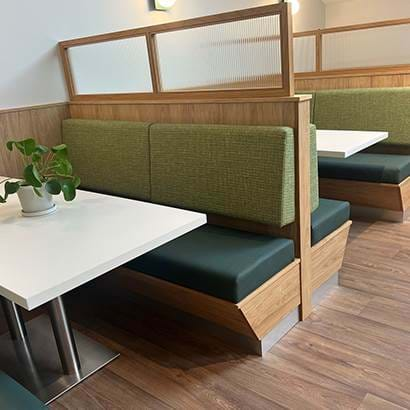 Matthew Wilkinson, Executive Head Chef was instrumental in the project from selecting a top of the range equipment to devising the new menu. Sustainability has also been a key consideration with a move away from disposable items to the introduction of a water cooler, which supplies Rudding Park 'Omnia' water from our natural aquifer, rich in natural minerals.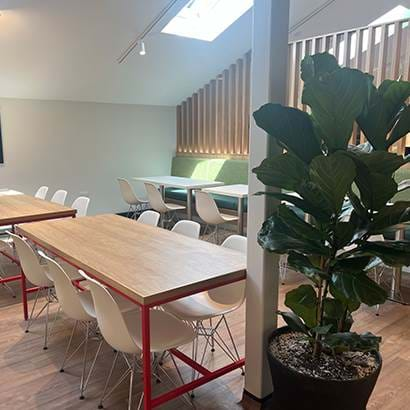 Skipton based Interior Design Studio, Horsley & Feather – who have worked with us for over 20 years – were commissioned create a space with a fresh, contemporary look and feel. Claire Horsley explains "The Green Room has been designed to offer a variety of spaces to eat, meet and relax so I suspect the laid back rock n roller bean bags will be particularly popular! Sustainability was an important consideration and a great example is the carpet in the chilled zone which is made from recycled bottles. We worked very closely with Abrahams and Carlisle who have done a great job on the fit out of all the fitted furniture and screen and humoured our random requests for striped banquette and coloured table legs!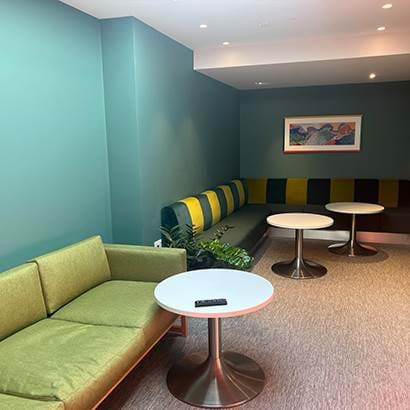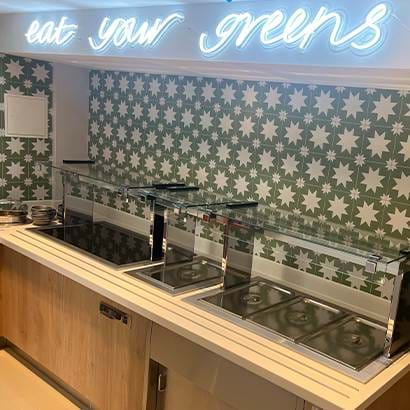 Harrogate based The HACS Group, Dunningtons Electrical and Abrahams & Carlisle worked on the build supporting the Rudding Park commitment to commissioning local suppliers wherever possible.