Rudding Park hosts the inaugural UK Aufguss Championships
Rudding Park hosted the inaugural UK Aufguss Championships 25 – 26 April 2023. Pavel Poliacek, Fitness and Wellbeing Instructor & Sauna Master from Galgorm in Northern Ireland won the individual category and will now go on to represent the UK in the Aufguss World Championships in Satama Sauna resort, Germany 11-17 September 2023.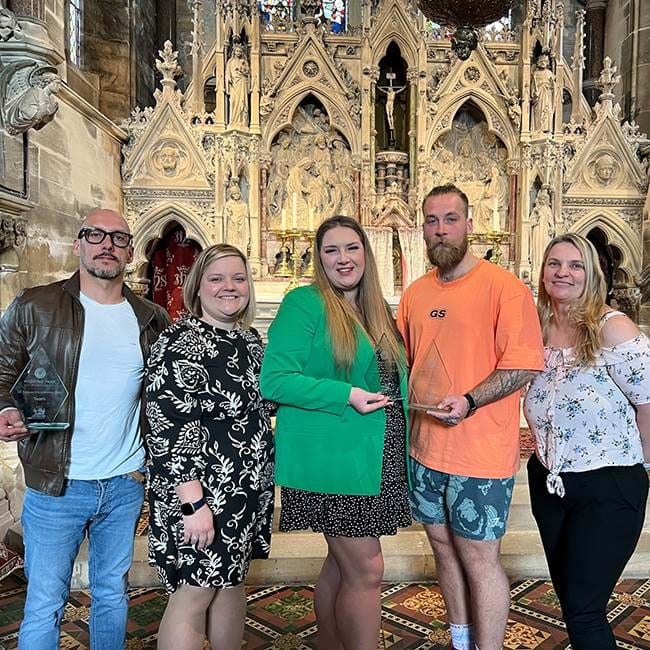 Aufguss is a multi-sensory sauna ritual where an 'Aufguss Master' works with water and a towel, using techniques to circulate heat throughout the sauna. There are two types of Aufguss; 'Performance' and 'Wellbeing' with the Championships focusing on 'Performance', combining key elements including; heat, essential oils, lighting and music.
The awards ceremony took place in Rudding Park Chapel and the Rudding Park team also had reason to celebrate as Jena Robinson, Senior Spa Therapist was placed 2nd and will go on to the next stage of play-offs, in Norway. Renato Neto, Spa Duty Manager will join Jena as they take their Team Aufguss – 'a Tribute to Queen Elizabeth' to the play-offs.
The UK Championships were judged by; Lay Pang Ong (Art of Aufguss Champion and well-regarded as a pioneer of sauna reinvention), Hideo Yoshida (Vice President of the Japanese Sauna Society), Deborah Carr (Aufguss training provider from Anada Spa and Wellness) and Head Judge Lasse Eriksen, (President, Aufguss WM). Robert Zidek and Eliska Zidek Blazek, World Champion Aufguss Master from the Czech Republic, also jetted in to perform exhibition Aufguss at the two day event.
Sarah Johnson, our Head of Spa said "As the first UK spa to introduce Aufguss we were thrilled to host this prestigious event and it was wonderful to see the creativity and passion of all the competitors. We are of course particularly proud of Jena Robinson & Renato Neto from our very own spa team who have been training relentlessly and have made it through to the playoffs.
Aufguss is an experience we have been offering to our guests for a number of years now and, together with the British Sauna Society we are keen to increase awareness of the ritual within the industry and to spa-goers throughout the country."
The Championships were attended by the great and the good of the spa and sauna world with guests jetting in from as far as Japan. Head Judge, Lasse Eriksen said: "This started as a conversation seven years ago, and here we are today. The UK will be participating in The World Aufguss Championships for the first time ever. UK Aufguss Championships winner, Pavel Poliacek will do an exceptional job representing the UK at the World Championships 2023, and Jena Robinson and Renato Neto will participate in the Play-Offs at Farris Bad in Norway, in September."
Designed to enhance the benefits of a sauna session to heightening levels of endorphins and serotonin; the Aufguss ritual leaves guests feeling both mentally and physically revived. Benefits range from a meditative state of mind to improving cardiovascular strength, boosting the immune system, as well as alleviating pain.
For more details about Aufguss visit: ruddingpark.co.uk/aufguss