Amy and Tom
Friday 30 June 2023
Amy and Tom tied the knot on Friday 30 June with the most beautiful ceremony in the chapel and reception in the Radcliffe Room
After first meeting as teenagers, A&T went their separate ways and if not for a chance meeting and a vodka and orange 10 years on, we may well have not been writing this blog post! One rom-com worthy proposal later, a Rudding Park wedding was set

With styling inspired by a special piece of jewellery, the Radcliffe room was transformed with white florals, lots of foliage and a fairy light canopy

Read on to find out how they fell in love, chose their suppliers and how the groom forgot his speech! No, not the rehearsed version, the actual speech!

We hope you feel inspired...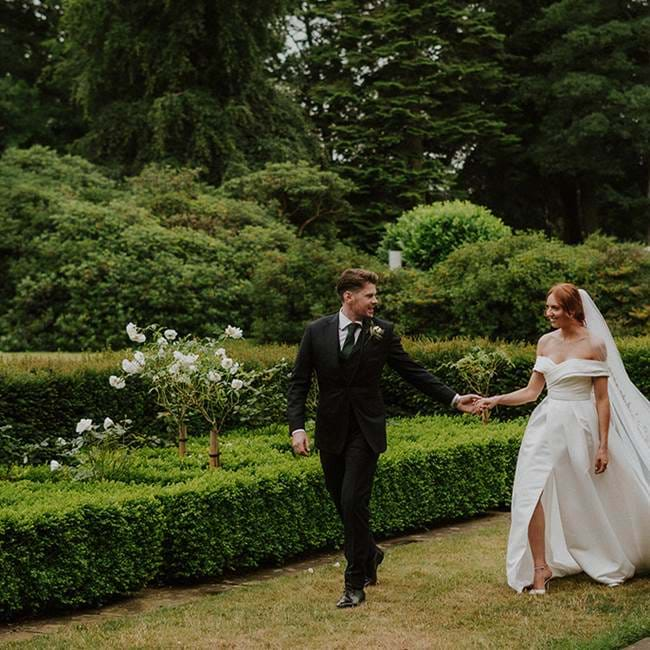 So, how did you two meet?
It started back when we were 14, although back then it wasn't love at first sight. After a few bus trips, a cinema date and a Chinese takeaway we went our separate ways. Flash forward 10 years and who knew ordering a vodka orange would bring us back together, meeting at a bar, right then and there it was love at first sight (take 2) and we've never been apart since. We welcomed our two beautiful children and are grateful for our lives together everyday.
When did you know they were 'the one'/how did they pop the question?
Tom popped the question in the perfect way. Tom has his own building development company and at the time was renovating our family home in time for our second child Nola. The house had been knocked back to brick, concrete floors and hardly any furniture. Tom asked me to come up to the house to see the progress, on walking into the house candles were lit everywhere, flowers, fairy lights and my favourite music. He asked me to marry him in the bare bones of our family home and it was absolutely perfect in every way.
What was the biggest MUST HAVE for your wedding?
First of all it HAD to be Rudding park. We have made the most amazing memories with the kids on the run up to the wedding, adore the staff, and the beauty of the venue speaks for itself. It will always have a special place in our hearts and we can't wait to continue making memories.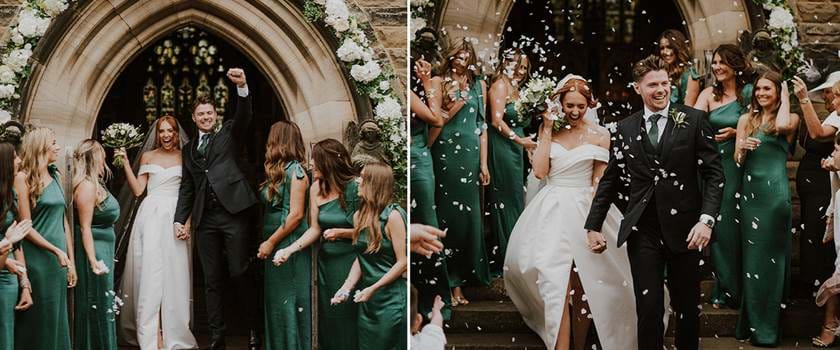 Other than saying 'I do', what is the most unforgettable moment from the day?
The blessing in the chapel was one of our favourite parts of the day. Standing and looking out at all our friends and family was unforgettable. There really is something amazing having all the people you love in the same room. Father Ian deliver the most amazing services. He really is one in a million and we are so lucky he was there to deliver our service.

Due to only being able to have a blessing in the chapel we decided to have a registrar come to Rudding Park the night before to marry us in front of our children, parents and sibings. We then had a meal in the Clocktower together before drinks in the bar in the evening. It gave us a weekend full of wedding fun and Rudding Park made the whole weekend run seamlessly and magically.
Which supplier was a real stand out for you? The unsung star who deserves a special mention.
There are two suppliers for me that made our wedding so very special. Firstly Jessica Sommerville who was our photographer. Jessica is the most talented person I know, her eye for details and capturing the perfect moment comes so natural for Jess and her work is what keeps our wedding alive. Jessica's work is like no other - the pictures really do speak for themselves. Jessica made you feel so comfortable in front of the camera; myself and Tom were so at ease and Jess had our complete trust. The most talented kindest person, I would recommend Jess to everybody.

Next has to be Colette. I have never been good at knowing flowers and I was nervous to meet with a florist and not really know what to ask for. As soon as we sat down with Colette she put us at ease, she showed us pictures of previous weddings, looked at seasonal flowers and played around with some ideas. Colette understood exactly what we needed and I knew our wedding was safe with her. My bouquet was the most stunning bunch of flowers I had ever seen (they smelt amazing too). The room looked like a fairy-tale and she understood my vision perfectly. Thank you for making my day so beautiful.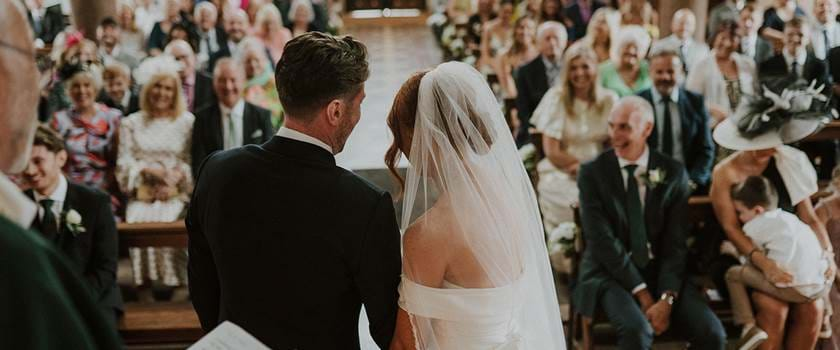 What was it in your eyes that gives Rudding Park the WOW factor?
For us it is the staff. Every single person we have met at all our different visits have gone above and beyond to make us feel special and our wedding was no exception. Marek walked me to the chapel carrying my veil the whole way, before having to colour in the stickers on the bottom of Tom's shoes. Dan and his team made our day so special - they took all the stress and worry out of the day and without them it wouldn't have been the same. Freya and Antony were again incredible, there just are not enough words to thank everyone. Our wedding was what it was because of Rudding Park - it will always have our hearts.
How did you style your space? Did your wedding day have a theme?
As my engagement ring is an emerald I knew I wanted to incorporate the green theme. My bridesmaids wore emerald green gowns and the men had matching ties. All the flowers were white with green foliage. I wanted a classic fairy-tale with a modern twist and I really think we achieved that.
What is your funniest memory from the day?
We had just sat down for the speeches, my lovely dad began his speech when Tom turned to me and ask 'Ames I'm next and I've not got my speech'. My dad carried on speaking as Tom checked his pockets and begin to panic. Thankfully the only other person to notice Tom's panic was Dan. Dan was in charge of our wedding day - there is no one else better for the job. In the time of my dad's speech Dan raced back to the bestman's room, found Tom's speech, raced back to return the speech for Tom all in time before my dad's speech finished. No one was any the wiser. A huge huge thank you to Dan - without out the day would not have been the same, you are amazing at what you do.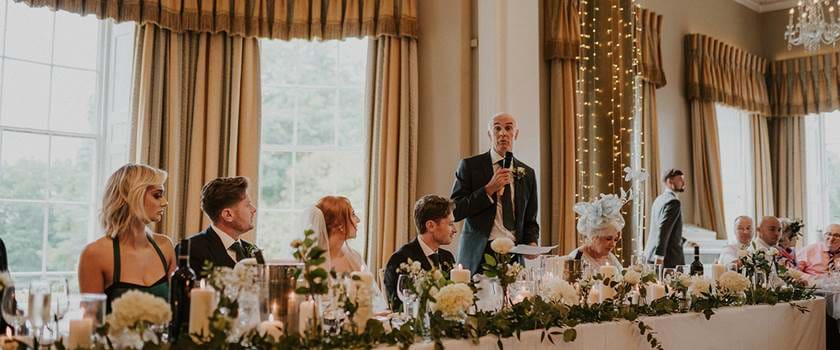 What's the best advice you could give to couples who are about to tie the knot at Rudding Park?
You will have the wedding of your dreams. The most beautiful backdrop to say 'I do' paired with the kindest most hardworking team of people around you is a recipe for the perfect day. Enjoy every minute.
Supplier Dream Team:
Photographer: Jessica Sommerville Photography
Florist: Flowers by Colette
Band: Buckshots
Make-up: Glam by Isabella JVB