Charlotte and Tom
10 October 2022
Charlotte and Tom tied the knot on Monday 22 October in the intimate setting of the Drawing Room in Rudding House followed by a reception in the Crosby Suite.
Their love story 'runs' from their first meeting back in 2012, to a beach in Cornwall, to their wedding day when a real-life Dirty Dancing moment didn't go quite according to plan!
Read the full blog to find out how they fell in love, chose their suppliers and how they brought the 'magic' and 'sparkle' to their wedding day!
We hope you feel inspired...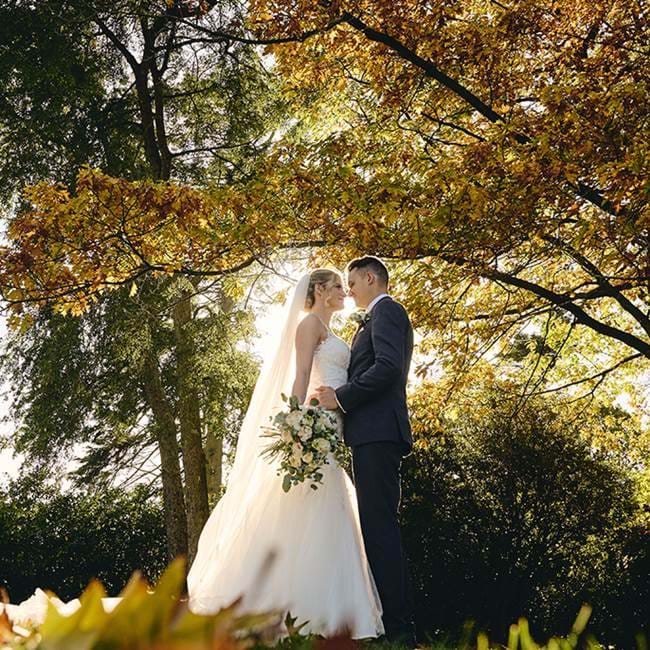 So, how did you two meet?

We met whilst representing our school competing in the Rotherham Schools Cross Country Championship in 2012.
When did they pop the question?

Tom booked us a minibreak to Carbis Bay, Cornwall as we go every year. We stayed at the Carbis Bay Hotel in an amazing suite looking over the beautiful beach and enjoyed a lovely day in the spa relaxing. Tom later proposed that same day on Carbis Bay Beach (our favourite beach) as the sun was setting on the 10th October 2021. We then had a lovely meal in the Walters restaurant at Carbis Bay Hotel and enjoyed the rest of our minibreak Carbis Bay, St Ives in the beautiful October sunshine.
What was the biggest MUST HAVE for your wedding?

We wanted our day to be beautiful, fun and memorable. A day that we could share with our families and closest friends making beautiful memories in a stunning venue.
Other than saying 'I do', what is the most unforgettable moment from the day?
Our most unforgettable moment from the day was doing sparklers with our guests outside on the terrace. We did this after our wedding breakfast before starting the evening reception. It was lovely, everyone was all in the same place at the same time doing something together, having fun and we got some amazing shots whilst doing it.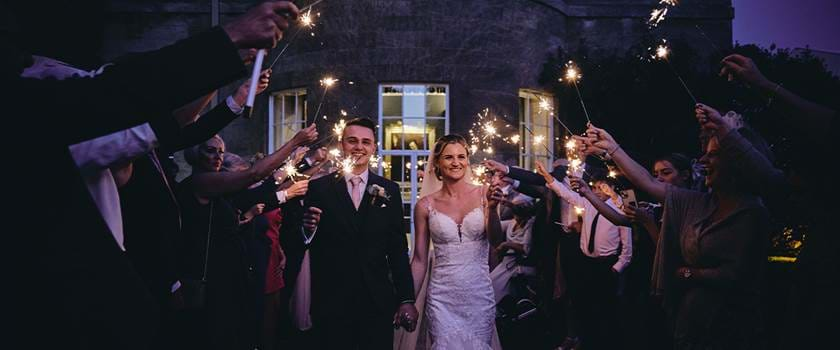 Which supplier was a real stand out for you? The unsung star who deserves a special mention.
All our suppliers we chose were amazing but there were a few that stood out and made the day amazing.
Bethany Lloyd-Clarke Wedding Photography as our wedding photographer. Bethany was amazing at our wedding, and we are so happy that we chose her as our wedding photographer. She made us feel so relaxed and natural throughout the day capturing many lovely high-quality photos. She worked so well alongside our videographer. All our guests commented on how good and lovely she was.
Imogen and James Wedding Film as videographer to capture our special moments throughout the day. Frances was amazing from start to finish, she was so friendly and made us feel so comfortable throughout the day. Frances worked seamlessly with our photographer and all our guests commented on how lovely she was. Frances created the most amazing Wedding Highlights film which captures some amazing moments from the day and it is just beautiful. We are so happy that we chose Imogen and James Wedding Film as our videographer, the day goes by so fast and there are so many things you don't get to see. It's so nice to be able to just watch our videos and relive the day through film.
As a florist, my wedding flowers were very important to me, I created my flowers myself with the help of the team at The Bespoke Flower Shop where I work. The flowers were simply perfect.
Ebony O Makeup was our makeup artist for the wedding. Ebony was amazing throughout, so helpful and quick to reply to any questions we had, we all loved our makeup on the day it was perfect and lasted all day long. She used beautiful top quality products and you could tell. Our makeup on the day was flawless. We all felt so comfortable getting ready with her.
Hair by Katie Jo was our bridal party's hair stylist for the wedding. She created a range of different looks which all looked perfect all day and were exactly what we were wanting. Katie was so friendly, and we all felt so relaxed and calm getting ready with her.
For our evening entertainment we had an amazing Magician, AfroMagic. He wowed all our guests with his mind-blowing tricks you have no idea how he managed to do them. Every trick he did was breath-taking and he is truly amazing at what he does. He really brought the magic to our evening and kept all our guests thoroughly entertained.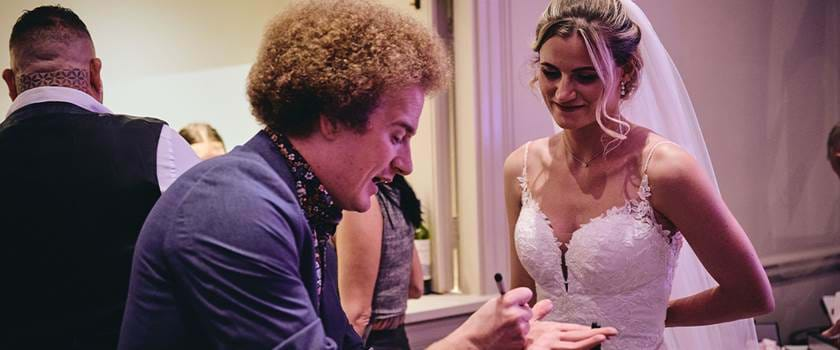 What was it in your eyes that gives Rudding Park the WOW factor?

Rudding Park is such a lovely venue and the only wedding venue we viewed. From our first visit we felt so relaxed and looked after, nothing is too much trouble. We loved that Rudding Park offered everything that we wanted from stunning grounds for photos to a large venue with the use of multiple rooms which allowed the day to run so smoothly. We also loved that Rudding Park also gave us a range of complimentary experiences to allow us to get to know the venue and staff making us more relaxed on the day. The day after the wedding we enjoyed a lovely spa day with our guests that stayed at the venue the night of the wedding, this just finished the wedding off beautifully.
How did you style the space? Did your wedding day have a theme?

We wanted to make the wedding look elegant and timeless with a soft colour scheme, elegant stationery and a beautiful venue. Decorating the venue with beautiful flowers and candles. We set a theme and ensured that it ran all the way through the wedding starting with the save the dates then invites, it was important to us that everything matched and looked aesthetic. We wanted our lives and personalities to show through on the day so instead of doing traditional table numbers we named the tables after places we had been on holidays together; the top table was named after the destination we had gotten engaged and our favourite UK holiday destination, Carbis Bay.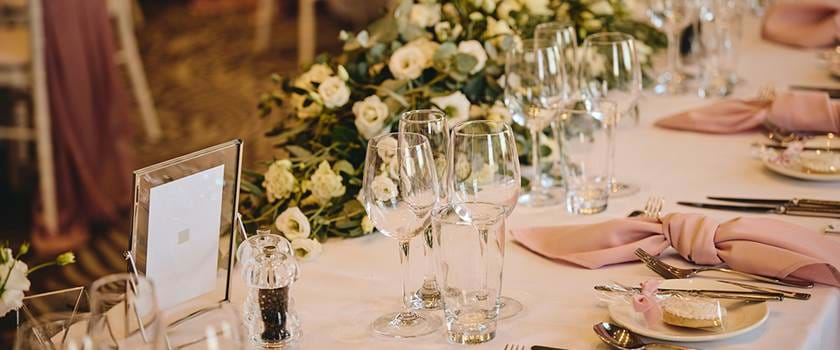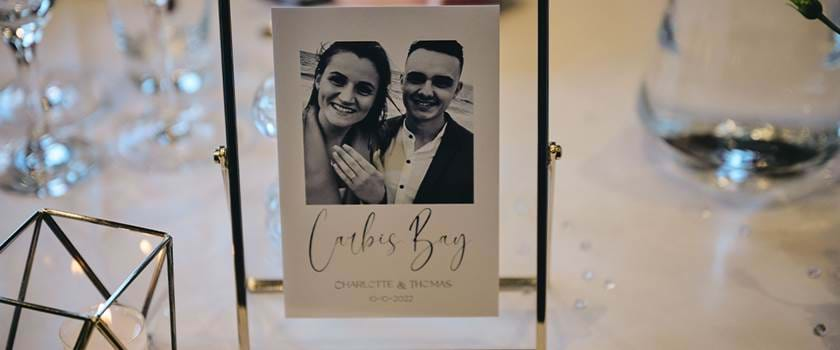 What is your funniest memory from the day?
My sister and I (the bride), were on the dance floor when I Had the Time of My Life came on, so with we ended up doing the moves from Dirty Dancing but instead of lifting me up, my sister ended up somehow pushing me making me stumble backwards and ending up laid flat on my back for a while waiting for my guests to stop laughing before they were able to help me back to my feet!!!! I'm so glad someone caught it on video, I laugh every time I watch it.
What's the best advice you could give to couples who are about to tie the knot at Rudding Park?
Our top tip for another bride/groom to be would be, if you want to do something for your wedding do it, it's one of the most special days in your life that you will look back on for years to come, you have one chance of making your wedding dreams come true. Make a list of what is most important to you as a couple and focus on getting them and then work backwards to the smaller touches.

The day will go by so fast take every moment in and enjoy the day that you created.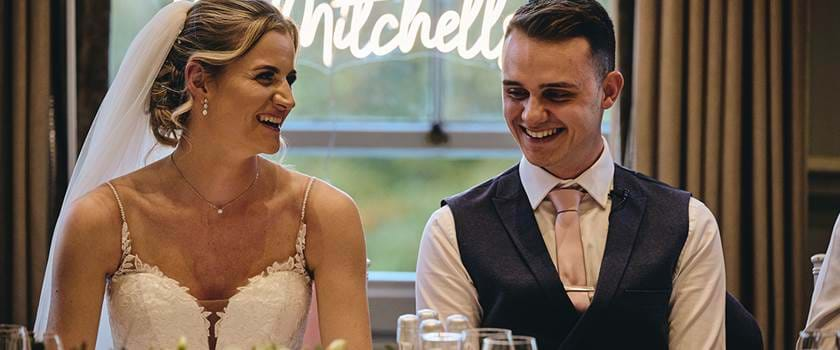 What's your best advice you could give to couples who are about to tie the knot at Rudding Park?

Enjoy all the gifts and just have a great time. Rudding will take the stress away.
And finally, we'd love to hear about your experience with Rudding Park…
We love Rudding Park, the staff are all fantastic and so helpful, nothing is too much trouble. Rudding Park will always be a special place for us and we can't wait for our next visit.