Emily and Andy tied the knot on Friday 7 April 2023 with a beautiful blessing in the chapel followed by a reception in the Radcliffe Room. 
With a swipe right on Hinge quickly moving to popping the bottle (and the question) the rest is history! Andy knew he found himself a keeper when he arrived to the first date to be greeted by Emily and a pint. Fast forward to a Champagne cruise in Mauritius, Andy got down on one knee with the most perfect proposal. It was almost like Emily planned it! Oh wait...
The wedding celebrations started a day before, with a stag & hen party round two. The bride and her party had a day of relaxation in The Spa and the groomsmen got competitive on the Golf Course. Surrounded by their family and friends, it was the most unforgettable celebration, with cheers for the newlyweds heard for miles!
Read the full blog to find out how they fell in love, chose their suppliers and how the father of the bride has some killer moves on the dancefloor
We hope you feel inspired...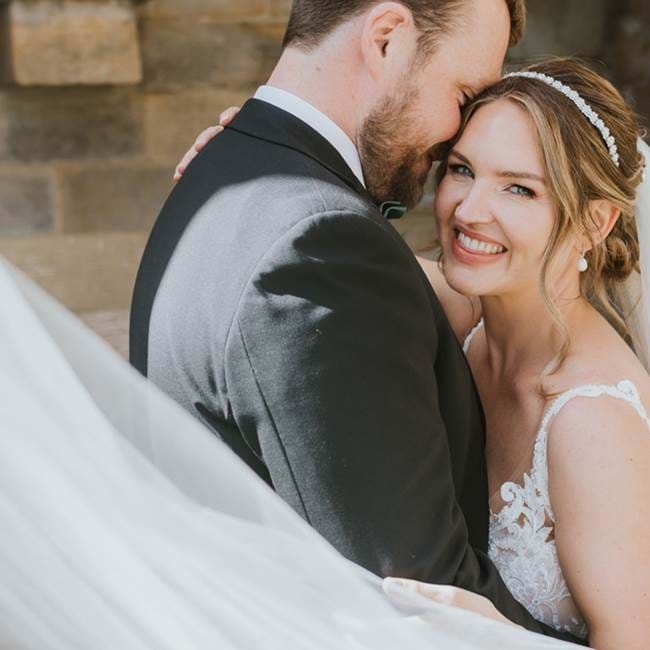 So, how did you two meet?
We're an online dating success story! We met on Hinge 4 years ago, had our first date at Banyan in Leeds and hit it off straight away. The rest is history.
When did you know they were 'the one'/how did they pop the question?
Andy jokes that he knew straight away cause I had a pint waiting for him on our first date. But we got engaged in Mauritius, on a sunset champagne cruise. As the bottle got popped Andy got down on one knee and popped the question and gave us something to toast to!
I had no idea! I actually planned the boat trip myself with no clue he had a ring.
What was the biggest MUST HAVE for your wedding?
We wanted a day where all our closest friends and family could just get together and have a great day celebrating. Just happiness, good vibes and love. And that's exactly what we got!
Other than saying 'I do', what is the most unforgettable moment from the day?
Oh it's so hard to pick, the whole thing was just magical! From arriving the day before to do the spa with my bridesmaids and Andy playing golf with his groomsmen, to us checking out, it was perfect. If I had to pick something, I'd say our entrance into the room as married couple, the cheer we got from our friends and then the speeches. They were so good! Also, my little cousin Sam performed for us as a surprise, he's such a good singer, such a lovely touch.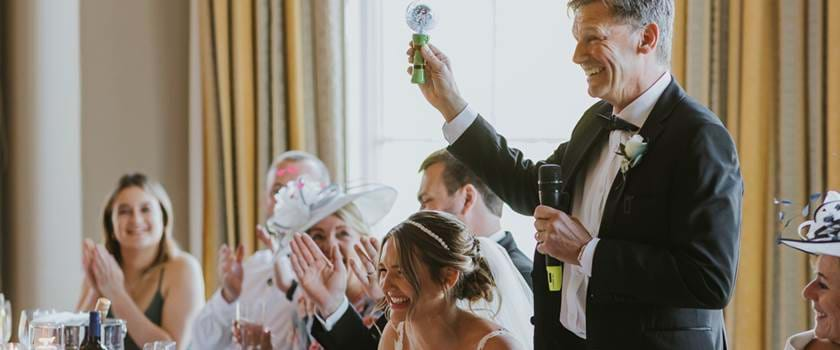 Which supplier was a real stand out for you? The unsung star who deserves a special mention.
They were honestly all incredible! All so great to work with and really made my wedding planning so stress free. It's hard to pick just one. It goes with our saying Rudding were amazing. We got so many compliments on father Ian and how the service was the best people had been to. The people who brought our dogs to attend the drinks reception were incredible and managed them so well. Our amazing friend Maddy did such a great job with the cake. And then the photographer/videographer captured our day so perfectly, I couldn't have imagined better.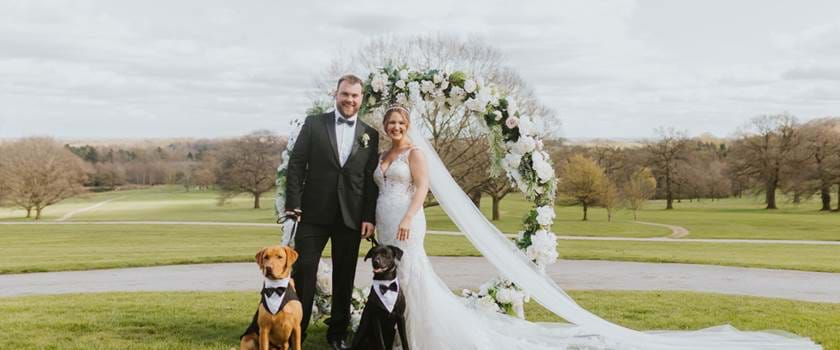 What was it in your eyes that gives Rudding Park the WOW factor?
The service and the attention to detail. It was a dream working with the planning team at Rudding; nothing was too much trouble.  We had a lot of changes with bedroom requirements and the team always assisted with a smile. Having the run through was just like chatting through the day with a friend and I felt so comfortable everything was under control. And on the day, our event manager was just amazing, she had absolutely everything in control! It meant we could just relax and enjoy the day!
How did you style your space? Did your wedding day have a theme?
We used Ambience, who were recommended by Rudding Park. They were great to work with; the Radcliffe room is so stunning we didn't go over the top with our decorations, just simple and classic.
What is your funniest memory from the day?
My father/daughter dance! My dad had prepared a little remix of a few different songs which represented our relationship, which we'd practised a little routine to. It was very special.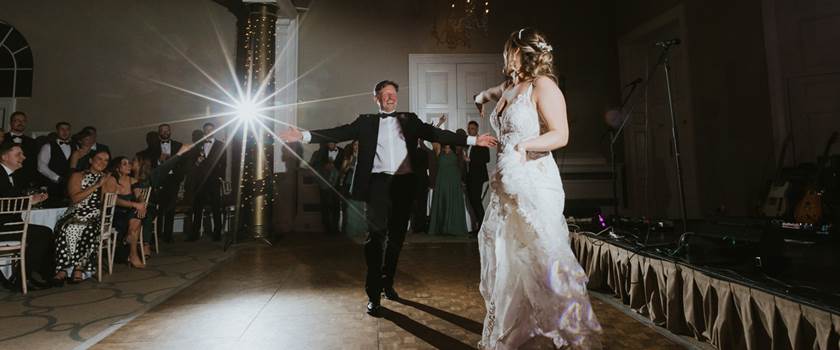 What's the best advice you could give to couples who are about to tie the knot at Rudding Park?
Firstly I'd recommend Rudding Park to anyone. It has everything. We made it into a full event with a pamper day the day before, and a couples chill day the day after. We loved the on-site chapel, such a unique offering and so beautiful for the pictures. Enjoy every single minute, it goes so fast!
And finally, we'd love to hear about your experience with Rudding Park....
Flawless from start to finish! All little details were thought of and taken care of. We were made to feel so special throughout. Such amazing, magical memories. We'd love to be able to do it all over again, but we'll get to reminisce every time we visit.