Hannah and Andrew
Saturday 1 July 2023
Hannah and Andrew tied the knot on Saturday 1 July 2023 with a beautiful blessing in the chapel followed by a reception in the Radcliffe Room. 
Their love story started when the world was locked down. With a swipe right on Tinder, soon turning into countless text messages and FaceTime's, it wasn't long before they were 'locked down' for good! 
We're so thrilled to have played such a large part in not only H&A's big day, but their entire love story too. Andrew booked a spa day for their first date (well done Andrew, great shout!) and soon after, Andrew would also pop the question in the place they had their first date. With an intimate dinner and surprise by friends, it was the most perfect proposal (if we say so ourselves - although we may be a little biased) 
Holding such a special place in the couples hearts, Rudding Park was the natural choice for the wedding celebrations. With black and white theming, neutral flowers, hints of gold and neon signs they added personality and transformed the space. 
Read the full blog to find out how they fell in love, chose their suppliers and how their daughter conducted Trio Vivo as Hannah was walking down the aisle 
We hope you feel inspired...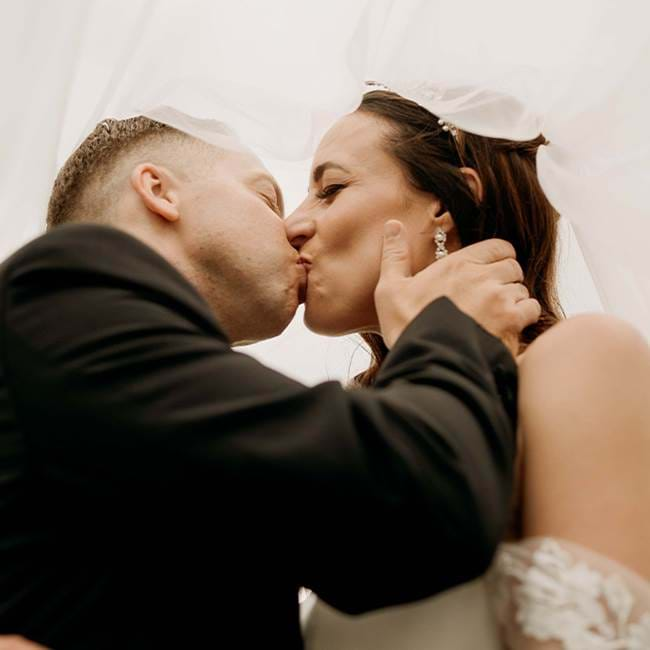 So, how did you two meet?
We met on Tinder during lockdown, and instantly connected, it wasn't long until we were texting all day and Facetiming every night. Unfortunately as it was lockdown our first date didn't come for a little while, but once restrictions were eased we couldn't wait for our first date. Andrew booked the most amazing first date at Rudding Park Spa. Everything was perfect and at the end of the day in the infinity pool we had our first kiss.

We have gone from strength to strength ever since.

After our first date Andrew wrote the following poem:

FIRST DATE

Who would have thought, that swipe to the right,
Would lead me to finding the stunning Ms Wright.
From getting that notification 'you've got a match',
It wasn't long before I started feeling attached.
As our conversation grew more deep,
I knew you were the woman I wanted to meet.
I held back trying to take it slow,
Trying not to scare you and off you go.
However you asked me to Richmond for a walk,
I thought Andy you've been such a dork.
Finally finding a woman honest and true,
The butterflies in my tummy awoke and flew.

I wondered what we could do for our first date,
Something you'd enjoy and not stay out to late.
As this was going to set the bar,
I pushed my luck and asked you to the spa.
To my delight you said yes please,
It made my heart skip a beat, instantly knees went weak.
Smiling from ear to ear,
We found a loophole in the local covid tier.
So Rudding Park immediately got booked,
I knew I was smitten and hooked.

You arrived on the day looking so fine,
I knew from that moment I wanted to make you mine.
My nerves began to peak,
As I greeted you with a kiss on the cheek.
Trying to act composed and cool,
Not to look like a smitten fool.
Our lovely date smoothly progressed,
We began to relax and rest.
Talking away as the hours flew by,
I was mesmerised with your emerald eyes.
In them you could see your delicate soul,
Hannah you are the woman who makes me whole.

Next came a chance I didn't want to miss,
As we leaned in for our very first kiss.
Your lips so delicate and soft,
Words to describe that moment I am lost.
For that moment I will hold with me forever,
Another kiss was my next endeavour.
In the pool I pulled your body against mine,
Excited tingling ran down my spine.
As I began to make a heartfelt wish,
I moved in for that very next kiss.
At that moment I truly knew,
One day my heart would belong to you.

Afterwards we had a glass of wine,
You finally agreed to stay at mine.
Cuddling and kissing,
This is what my life was missing.
As we snuggled up under the cover,
True happiness I began to rediscover.
Your body so perfect laid against mine,
I felt as I was on cloud nine.
The night was perfect in every way,
Forever I wish you could stay.
When did you know they were 'the one'/how did they pop the question?
As our relationship went from strength to strength, it wasn't long before we started chatting about the more fundamental things for a long term relationship, such as kids and marriage. We both already have two children each from our previous marriages so were quick to agree that was enough. However marriage was a slightly longer discussion, we have both previously been married so knew it isn't always rose tinted. However as our love grew to levels unbeknown to either of us before, we decided we wanted to make our relationship official and not only updated our Facebook status but also decided marriage was something we both wanted in the future.

Andrew asked if he could have my grandma's engagement ring which she had left me and explained he wanted to have the sapphire removed from that one and a bespoke engagement ring created, I was delighted at this and to my surprise he also got an aqua marina (my birth stone) put in place of the sapphire in my grandma's ring so I could wear that too.

On 18 August 2021 Andrew booked a lovely spa day back at Rudding Park, the place it all began and we had an amazing spa day and got ready for an evening meal. However when we got to the restaurant they showed us through to the private dining area where Andrew had arranged for my friends and family to be waiting, he got down on one knee and popped the question. After holding back my tears of excitement I said "Yes".

It was perfect, the room had been decorated beautifully, a complete surprise and in the presence of my friends it was a dream come true. What made it even better was that as my friends knew, they also managed to record the entire proposal which we have watched time and time again.
What was the biggest MUST HAVE for your wedding?
Finding the right suppliers to create the right atmosphere. For us the biggest must haves were our florist, Stacey Kitchen at Forever Florist who made every room look beautiful. Stacey and her team created our dream vision with stunning white flowers, blossom trees and candles with touches of gold. Stacey went above and beyond decorating; the library where we had our legal ceremony, the Chapel, the staircase the Radcliffe room and all receptions rooms downstairs making everywhere look stunning. She also made a bespoke frame with lights saying "Happily Ever After", when I walked into the Radcliffe Room I was awestruck it was even more amazing than I expected and the flowers gave the whole wedding a fairy-tale feel.

Events Music Company completed the scene with romantic music by Trio Vivo, the white dancefloor/white baby grand piano, starlight backdrop, a canopy of fairy-lights, pink up-lights and dry ice which made our first dance extra special.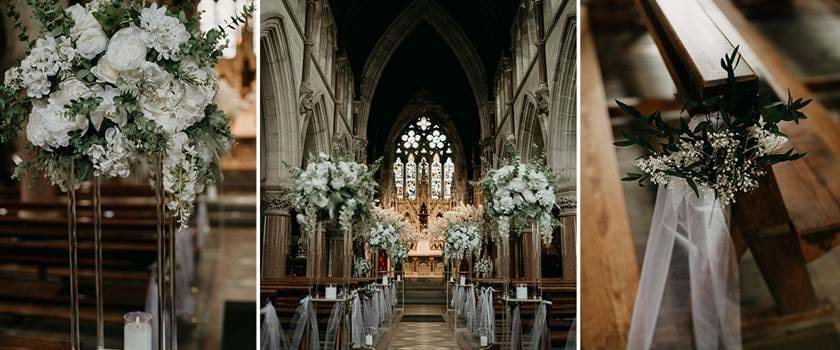 Other than saying 'I do', what is the most unforgettable moment from the day?
The speeches!! There was not a dry eye in the house. Andrew's speech included a poem that his children (William and Katie) read out about becoming a blended family where myself and many of the guests started welling up with emotion. Then Andrew continued his beautiful speech thanking everyone, then another video was played on the big screen where Andrew had got friends and family who couldn't make the big day for numerous reasons to do a short video as well as getting some celebrities and country music stars to send their well wishes. I have never had shout outs before and I was so taken back I was lost for words.

Next was the best man's speech who had teamed up with Andrew's brother and his military mates to launch a three way attack on Andrew. These speeches were funny and had the room laughing before finally my speech where I surprised Andrew with a live Piano performance of 'You Raise Me Up' with Trio Vivo, I also played a music video I made of special moments from our relationship.
Which supplier was a real stand out for you? The unsung star who deserves a special mention.
I don't think we could narrow it down to just one supplier, they were all incredible and made our day unique and perfect for us.
Tim Litchfield the magician had everyone in amazement. He was a massive hit with all the guests.

Trio Vivo created the perfect atmosphere catering their music to all guests, Disney classics for the kids and classical wedding music during the dinner, they read the room perfectly.

Jo at HG1 Cake Couture designed the most beautiful 6 tier cake that was delicious and a centre piece in the foyer area

Sarah from Sarah's Cotswold Kitchen created a true Cheese Tower Masterpiece, with homemade pickles.

Stacey at Forever Florist transformed the room into something from a fairy-tale, the chapel and the table decorations were breath-takingly beautiful.

Martin and Dennis from The Kensington Photographer were exceptional, they did not stop all day ensuring every moment was captured.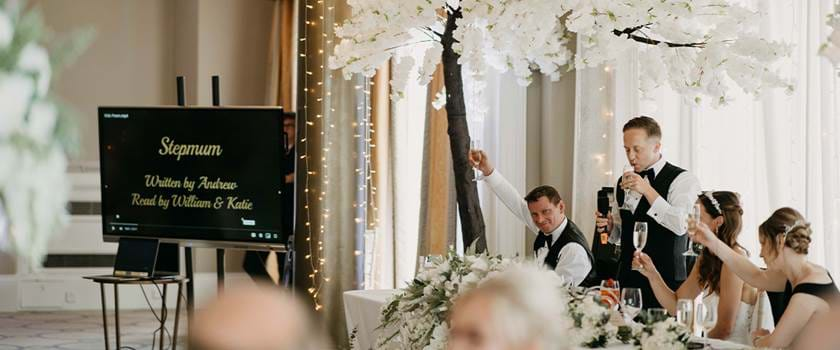 What was it in your eyes that gives Rudding Park the WOW factor?
Rudding Park is not only a beautiful venue set in stunning grounds, but as this was where we had our first date, then where we got engaged it was the perfect place for us to tie the knot.

Rudding Park means so much to both of us and we have been numerous times and never been disappointed, the attention to detail is second to none, so we knew our wedding was in safe hands at Rudding Park.

All the staff are fantastic, Sarah and Izzy helped us plan the proposal and the wedding. Marek, the Front of House Manager always greats us with the most welcoming of smiles and makes sure everything is perfect every time we visit.
How did you style your space? Did your wedding day have a theme?
We wanted a classic black and white theme with just a hint of gold. This started with our original invitations, creating our own logo and website and this theme ran throughout the build up and event including on our joint Stag and Hen do (St-en do).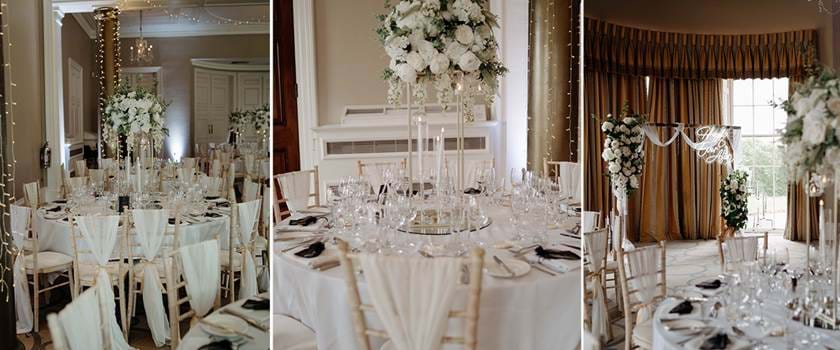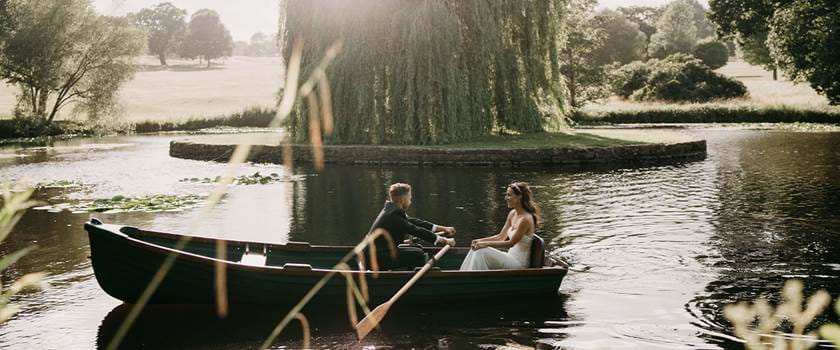 What is your funniest memory from the day?
Our beautiful daughter Christina who is 10 years old is normally sensitive about noise, however when Trio Vivo started playing 'Beauty and the Beast' in the Chapel, Christina's face lit up and before we knew it she was stood up conducting the Trio to the whole chapel's amusement.

She was proud as punch and everyone was smiling, it really made our day.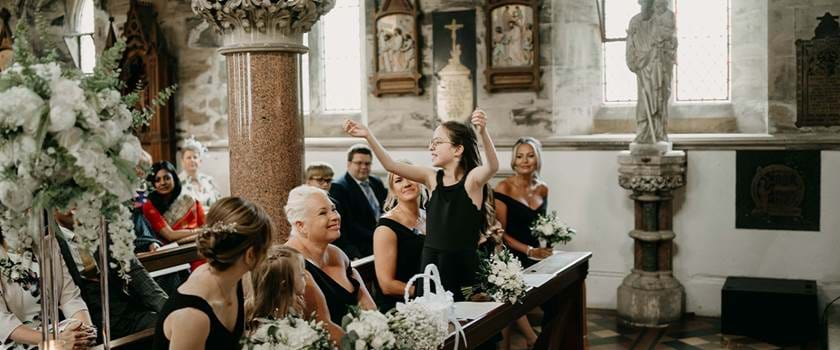 What's the best advice you could give to couples who are about to tie the knot at Rudding Park?
If you are still considering Rudding Park as an option then stop procrastinating and get this beautiful venue booked.

If you have already booked I am sure you will have an incredible day. Speak with events team and staff around the hotel for ideas and inspiration, nothing is too much trouble and if you have an idea where possible they will make it come to life.
Make it your own day that you will remember for the rest of your lives, and we wish you a long and happy marriage.
And finally, we'd love to hear about your experience with Rudding Park....
I think the best way to answer this is to paste the review I have put on:

Rating: ⭐️⭐️⭐️⭐️⭐️

On the 1st of July 2023, my partner and I had the pleasure of hosting our wedding at Rudding Park in Harrogate, and it was an absolute dream come true. The entire experience was flawless, and we cannot thank the staff enough for making our special day truly magical.

From the moment we began planning, Sarah Coughlin and Izzy Mathews from the Events Team at Rudding Park went above and beyond to ensure that every detail was taken care of. Their impeccable attention to detail and unwavering commitment to customer satisfaction were evident in every interaction we had with them. The communication was clear and concise, leaving us confident that our vision would be brought to life exactly as we had imagined.

During the wedding day, Nikki, our Toastmaster, deserves special recognition for her calm and collected demeanour. She expertly coordinated the proceedings, ensuring that everything ran smoothly and effortlessly. With Nikki's guidance, we were able to relax and fully immerse ourselves in the joy of the celebration, knowing that every aspect was under control.

The pre-wedding meal at the clocktower restaurant was an exceptional experience, thanks to the attentive service provided by Sophie. She catered to every need of our dozen guests, ensuring that each person felt valued and cared for. Her warm and friendly attitude added a personal touch to the evening, making it an unforgettable part of our wedding journey.

Lastly, we want to express our deepest gratitude to Marek. He is, without a doubt, the epitome of exceptional customer service. Marek's warm welcome and professionalism left a lasting impression on us. His dedication and hard work were evident in every interaction, and his passion for ensuring an unforgettable experience for guests truly shines through. His attentiveness to detail and commitment to going above and beyond exceeded all expectations.

In conclusion, our wedding experience at Rudding Park surpassed all our expectations. The entire team, from Sarah and Izzy in the events team to Nikki, Sophie, and Marek, worked tirelessly to create a flawless celebration that we will cherish for a lifetime. If you're looking for the perfect venue for your wedding or any special event, we wholeheartedly recommend Rudding Park in Harrogate. Their commitment to excellence and unwavering dedication to customer satisfaction make them a truly exceptional choice.