Jaz and Akash Patel
Saturday 22 January 2022
Jaz and Akash tied the knot on Saturday 22 January followed by the most beautiful reception in the Radcliffe Room. 
Read on to find out how they fell in love, chose their suppliers and how the proposal wasn't quite the one the groom had planned! 
We hope you feel inspired...
So, how did you two meet?

We met when working together and started dating when I (Jaz) moved jobs.
When did you know they were 'the one'/ how did they pop the question?

After we had been dating for a while, we got to know each other and couldn't imagine life without each other. We would just be wild, crazy and fun together.
Akash was planning to propose in Mexico on the beach however the week we planned to go away we went into lockdown. He then popped the question at home with an inflatable ring, balloons and rose petals in the shape of hearts whilst playing the song that was playing when we first met.
What was the biggest MUST HAVE for your wedding?

One of the most important things for us was the food. Rudding park did a great job providing delicious Indian cuisine which included some twists we asked for like pizza samosas and chocolate spring rolls.
Another must have for us was having fireworks and we were able to get this arranged for the evening.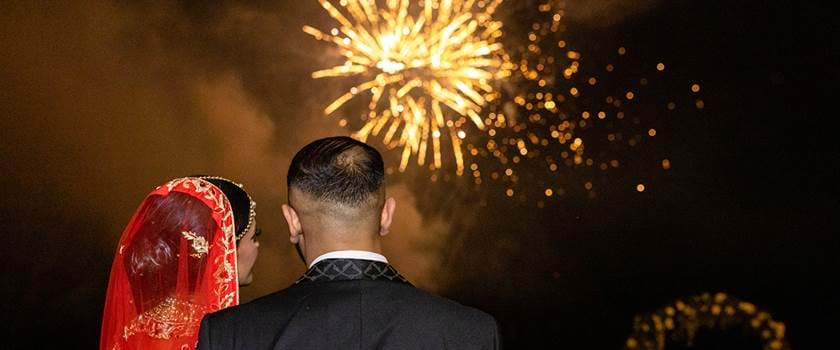 Other than saying 'I do' what is the most unforgettable moment from the day?
Celebrating with all our friends and family on the dance floor. Another was just standing at the back of the room to take a moment to watch everyone enjoying themselves and having a great time.
Which supplier was a real stand out for you? The unsung star who deserves a special mention.
For us there are two real stand outs.
Priya from 'You'll Never Bake Alone' did an amazing job with a dairy free wedding cake. She went over and above to make sure we got our biscoff, chocolate and vanilla sponge tiers. Not only was there the entire diary free cake but she also made extra cakes for those who wanted a non-dairy free option.
Another was Arjun from Elegance. He transformed the entire venue to what we wanted it to be. Arjun came up with some amazing ideas and looks for each of the rooms we had.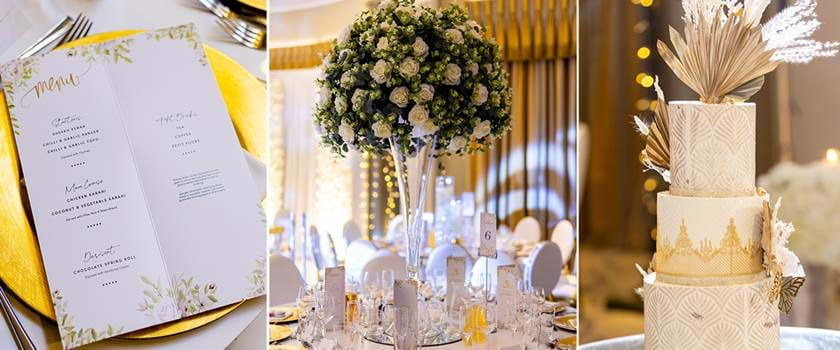 What was it in your eyes that gives Rudding Park the WOW factor?

The venue and the staff. The staff were amazing and helped us feel at ease throughout the day. They ensured everything was taken care of including catering to anything our guests required on the day.
How did you style the space? Did your wedding day have a theme?

We didn't have a theme. We wanted a modern feel to the styling and elegance was able to come up with some amazing ideas for us to get this look.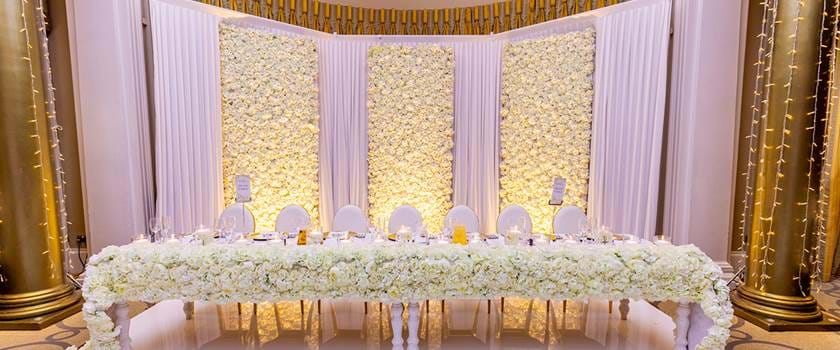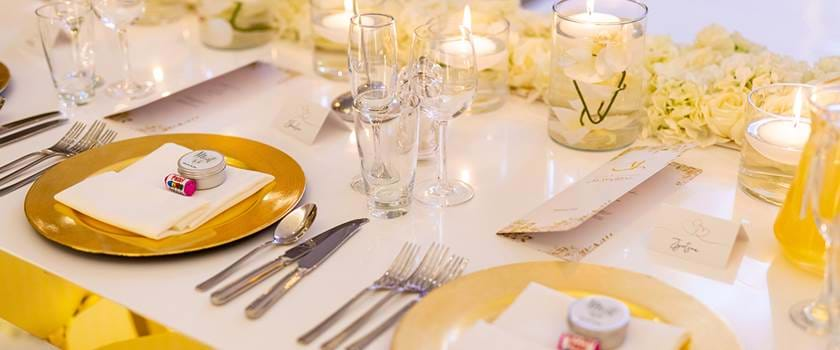 What is your funniest memory from the day?
Akash doing his Michael Jackson dance moves on the dance floor!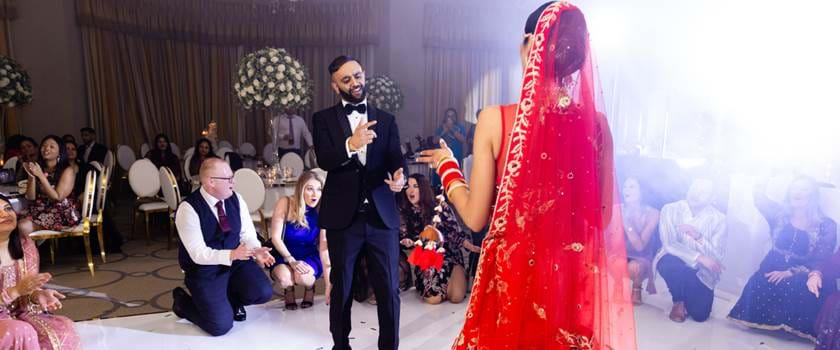 What's your best advice you could give to couples who are about to tie the knot at Rudding Park?

To let the Rudding Park staff to take care of everything on the day. They really make the day goes by smoothly and ensure you don't have to worry about anything during the big day.
And finally, we'd love to hear about your experience with Rudding Park…
The venue was amazing and the staff were really helpful. All our guests have commented on the service and have said they enjoyed every moment whilst there.
We have also been back to Rudding Park a number of times since our big day to enjoy  the spa, food and overnight stays. The staff are always extremely attentive and friendly.