Kate and Sam
Saturday 20 August 2022
Kate and Sam tied the knot on Saturday 20 August with a beautiful ceremony followed by a reception in the Radcliffe Room. 
From Hinge to happy ever after, it was a day to remember (or one some guests might struggle to remember)! Find out how they fell in love, chose their suppliers and how it was Polish customary for there to be at least one bottle of vodka per guest! This could get messy...
We hope you feel inspired...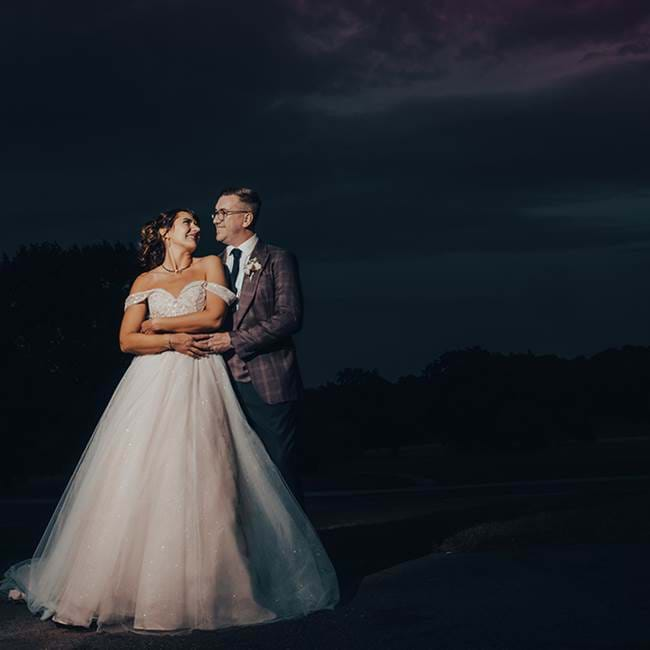 So, how did you two meet?

We met on line! On an app called Hinge. We met for our first date on a Friday after work and arranged to go for drinks only, but soon realised we didn't want the night to end! We ended up dancing the night away in Fiber in Leeds until 4am!
When did you know they were 'the one'/how did they pop the question?

From our first date, we knew from the very start that we were onto a winner and had both respectfully found a very special person in one another, but there wasn't a specific light bulb effect that made us think "that's it, they're the one", if that makes sense? We knew it was only a matter of time, even in the early days. We laugh a lot. We share interests and love to travel. We knew we had things in common and love just grew from there.
Sam proposed at home, it was intimate and totally unexpected! Kate would have hated an elaborate, public proposal which Sam was aware of. Instead, he did it at home with rose petals and lit candles and had arranged for our families to go out for dinner straight afterwards (they were waiting for us at a one of our favourite local restaurants) so we could all celebrate together. It was so incredibly special.
What was the biggest MUST HAVE for your wedding?

FLOWERS!! Flowers, flowers and more flowers!
The amount we spent on flowers for the wedding was utterly ridiculous but the effect was stunning. Kate's mum is (well, was as she has since retired) a florist with very high standards and was originally meant to do all the flowers for wedding but Kate was adamant she wanted her to relax and enjoy the day. Finding an alternative florist took sooo much time but Paul was incredible and made the Radcliffe room look sensational, especially the top table, which featured a long arrangement running the entire length of the table.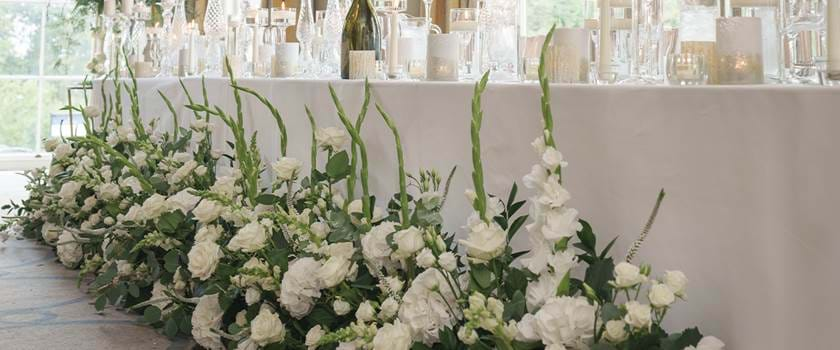 Other than saying 'I do' what is the most unforgettable moment from the day?
During the wedding blessing in the chapel when our vicar told us to turn around and look at our guests. He told us to take a moment to look at everyone there and realise that they were here for us and to take in that moment. It was such a lovely touch and made us so grateful for all of our lovely friends and family, not only in being there but for supporting us during our wedding build up.
Which supplier was a real stand out for you? The unsung star who deserves a special mention.
Paul Martin, our florist was simply incredible. The amount of work he must have put in was awe inspiring. We didn't make his life easy :)
Also, all the staff at Rudding who helped us on the day - whilst technically not suppliers, we couldn't have wished to have been in better hands! Denisa was a god send.
What was it in your eyes that gives Rudding Park the WOW factor?

The setting, the space, the grounds, the onsite chapel, the spa and onsite rooms for our guests and family! We could go on!
Also the incredible main staircase and outside pillars made it feel so grand. It has everything we could have ever wanted in a venue.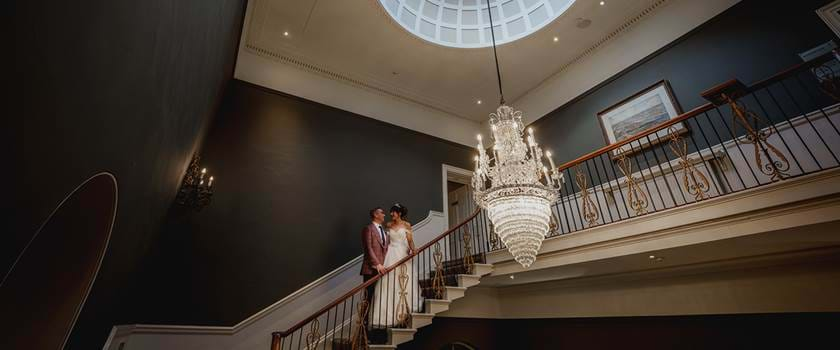 How did you style the space? Did your wedding day have a theme?

No specific theme but Kate loves champagne, so this formed the basis of the colour scheme and the table names.
Kate knew all along that she wanted white flowers and that the bridesmaids would be in pale gold or pale pink/rose.

We both wanted lots of candles and flowers to feature everywhere, just a very classy wedding, no gimmicks.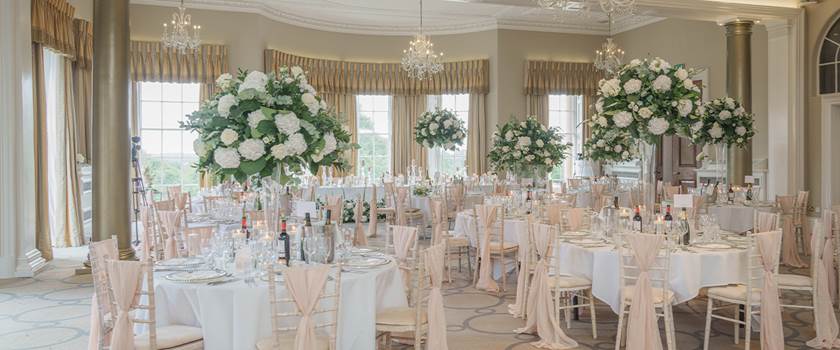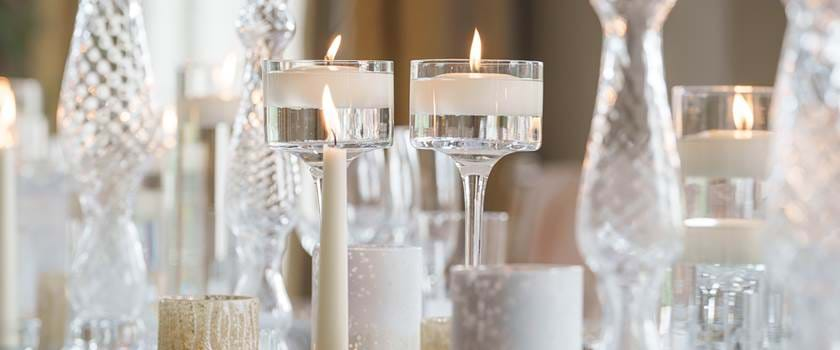 What is your funniest memory from the day?
Everyone getting drunk on Belvedere vodka! Kate has Polish heritage, where it's customary for there to be at least one bottle of vodka per guest! It was always a given that vodka would feature in our wedding, so we had one bottle of Polish vodka per table, although we're not sure our guests were prepared for this! :)
So many funny things happened - including people running around the golf course with ties on their heads!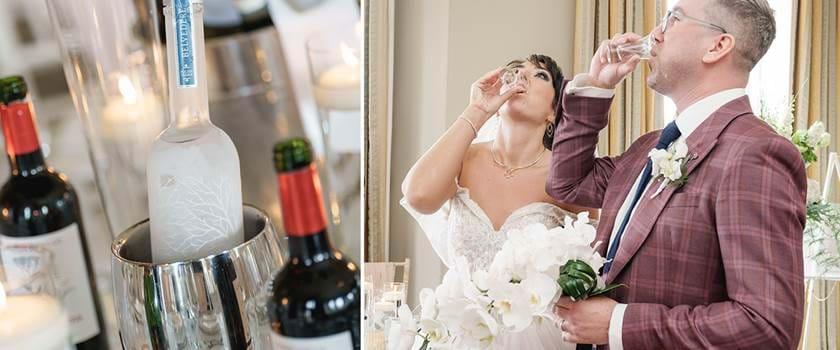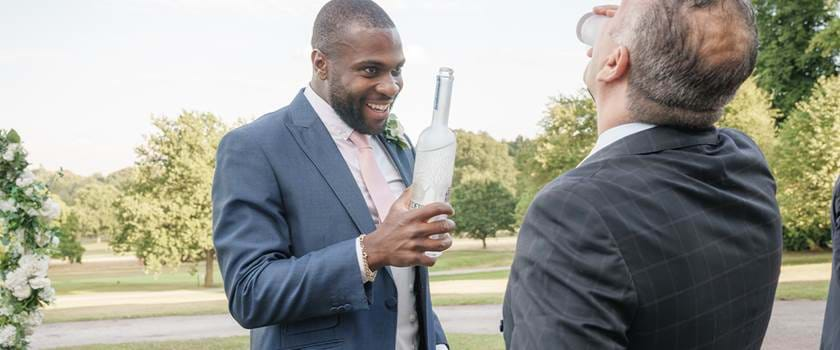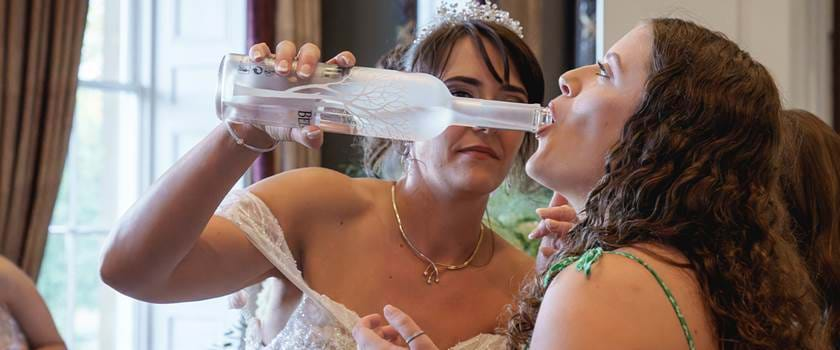 What's your best advice you could give to couples who are about to tie the knot at Rudding Park?

Trust the staff - they know what they're doing and they will do their utmost to ensure your day is perfect!
One of the things we struggled with most was letting others have control and just going with the flow because we are a pair of control freaks! But it was seamless, it was perfect!
Also, advice to brides specifically, make sure you have a sewing kit handy as Kate's dress tore during the drinks reception, but it was nothing that a needle and thread couldn't fix!! So be prepared as you never know what might happen!
Most importantly though, just enjoy the day! Don't stress! And find five mins to just step back and look at your guests and realise that this is it, it's YOUR wedding - just take it all in as much as you can!
And finally, we'd love to hear about your experience with Rudding Park…
It was such a special time. Our coordinator, Isabel was the BEST! She made sure that we had everything we could ever have wanted and made sure all of our bespoke ideas and wishes came true!