Kim & Andy
4 February 2023
K&A tied the knot with an incredible Reception in the Radcliffe Room on Saturday 4 February 2023. Their love story started with a swipe right on Tinder. Almost instantly – they knew it was something special. Stunning floral arrangements, a beautiful cake and clammy hands!
Read the full blog to find out how they fell in love, chose their suppliers and why they say 'what happens on the stag, stays on the stag!'
We hope you feel inspired...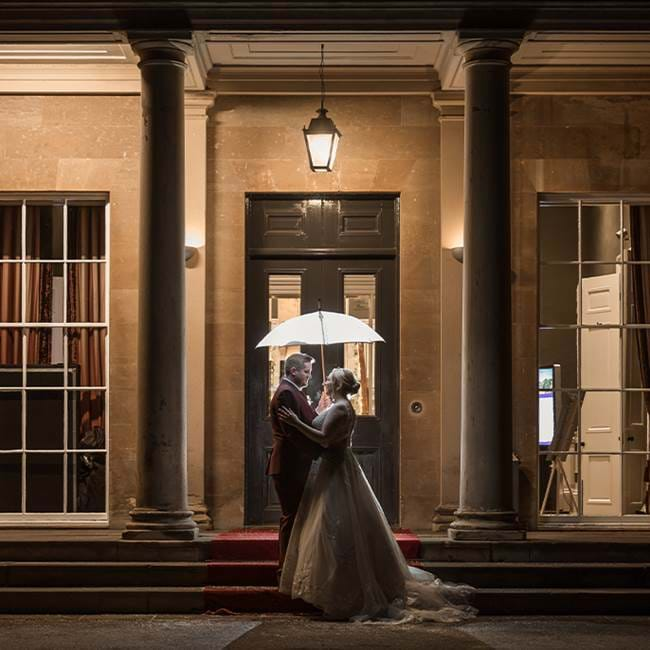 So, how did you two meet?

After us both being rather unlucky in love, we both took a risk and decided to sign up for the well know app 'Tinder'. Andy had a few bad dates (although not enough to put him off thank god), and within a couple of weeks of me being on the site, we both matched, and arranged to meet in person a couple of weeks later. The rest is history as they say.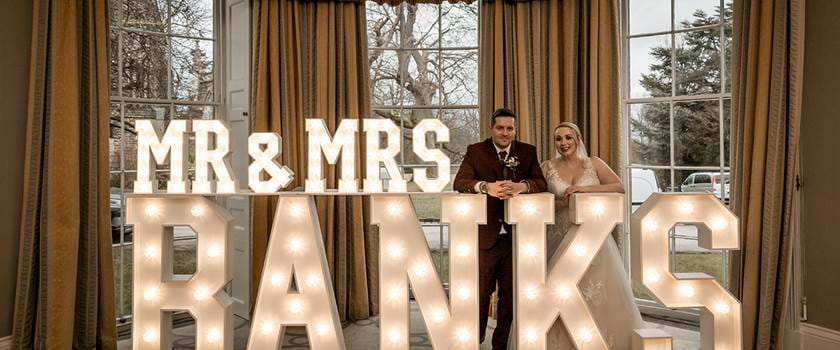 When did you know they were 'the one'/ how did they pop the question?

Within a couple of months I think we both knew this was serious and something to fight for, but it took just over 4 years for him to get down on one knee (or sit on the floor 😂).
After living together for a while we decided to take the plunge and purchase our first house together. We received the keys in February 2021.
On our first full weekend together in the house we took to redecorating one of the bedrooms, and spent the day covered in wallpaper. Later on that evening after enjoying a takeaway from a local restaurant and a few champers in front of the log fire (still covered in wallpaper paste), I said to Andy "aw it's been a really nice night", he just looked at me and said "you know what would make it better?" And out came the ring!!!
What was the biggest MUST HAVE for your wedding?

For me it was enjoying it with all our friends and family, we almost wanted it to feel like a party and relaxed. We did consider a wedding abroad, but this went out of the window when we started a guest list.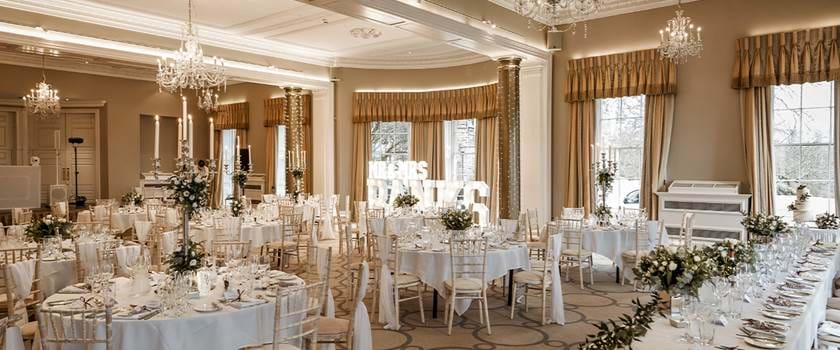 Other than saying 'I do' what is the most unforgettable moment from the day?
There are 2 things I would say. The first being the time we spent on our own outside between having photos done, this allowed us just to relax and chat. Second is something my Maid of Honour told us to do. . . Whilst sat at the top table during the wedding breakfast, take the time to look around all the tables and see everyone enjoying themselves. They were all there just for us, and it is a lovely memory to have (I can still picture everyone now).
Which supplier was a real stand out for you? The unsung star who deserves a special mention.
Ooo too many to mention . . . But if we have to pick one it would be Rob (Photographer). His skills and knowledge are perfect. We loved the fact that his pictures can be a little modern and different, not just all the boring everyone stood in a line. Andy was initially sold by the fact he had a drone!!
However, Colette (Florist) and Cheryl (Cake) were a massive part of making our vision come to life.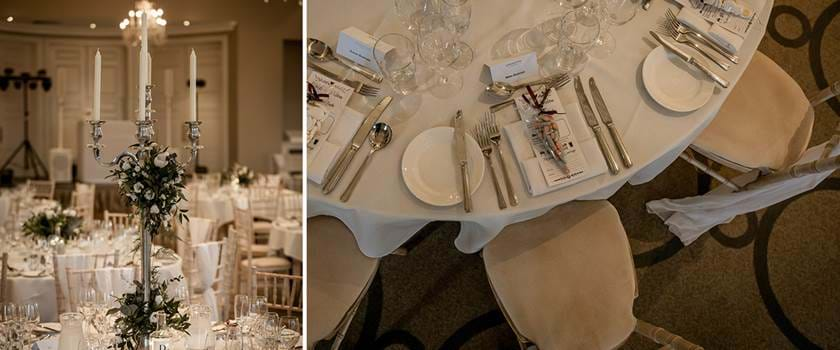 What was it in your eyes that gives Rudding Park the WOW factor?

For me (Kim) it was always the entrance and staircase within the house. I could instantly imagine the pictures outside and on the stairs (I even purposely picked a dress with a train for a picture on the stairs).
Secondly the food . . . What else can we say but amazing!!!!! Best food we have ever had at a wedding.
How did you style the space? Did your wedding day have a theme?

No theme as such, it's a beautiful space and we just enhanced this with simple whites, creams and mood lighting. Our aim was a sophisticated, natural wedding.
What is your funniest memory from the day?
Limbo - One of the best men (we had 2) had Andy up during the speeches doing the Limbo (because apparently he had done it on the stag).
Also, the first thing Andy did when I reached the top of the aisle and everyone sat down and was silent, was grab my hands and shout moist! I had said my hands were clammy with nerves, but no one heard this and just heard him shout moist!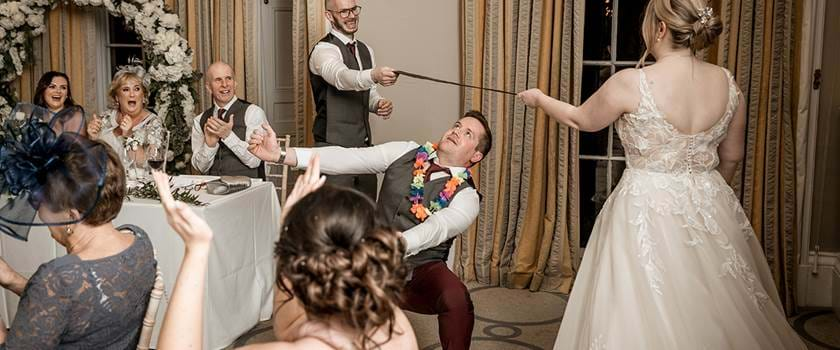 What's your best advice you could give to couples who are about to tie the knot at Rudding Park?

DO IT! You won't regret it!
Having our wedding at Rudding Park was the best decision we made, and we would do it again and again.
From the staff, to the food, to the venue itself, everything is amazing and nothing is too much trouble.
We are wondering if it's too early to renew our vows?!?
And finally, we'd love to hear about your experience with Rudding Park…
Brilliant in one word. Lyndsey who we dealt with in the even was such a good help and comfort. Nicki who was our on the day coordinator was nothing short of amazing. She made sure everyone was where they needed to be, and the day went ahead faultlessly.
Like we say, can we do it again?