Sophie and Tom
Friday 12 May 2023
Sophie and Tom tied the knot on Friday 12 May 2023 with a beautiful ceremony and reception in the Radcliffe Room. 
In 2012 and set up by friends, their love, like the BBQ, was ignited! Fast forward to their 5 year anniversary, hopeless romantic Tom pulled out all the stops to surprise Sophie with an incredible proposal - cue rose petals, balloons and candles galore!
After 4 (yes 4!) postponements S&T finally said 'I do!' with the most spectacular celebration of their love. With a room full of their favourite people, incredible styling by Ambience North Yorkshire and a whole load of surprises along the way - it was a day to remember.
Read on to find out how one half of the couple didn't have much say in the planning (guess which one?), how they chose their suppliers and what (or should we say who) was the inspiration for their gorgeous blush and peach colour scheme. 
We hope you feel inspired...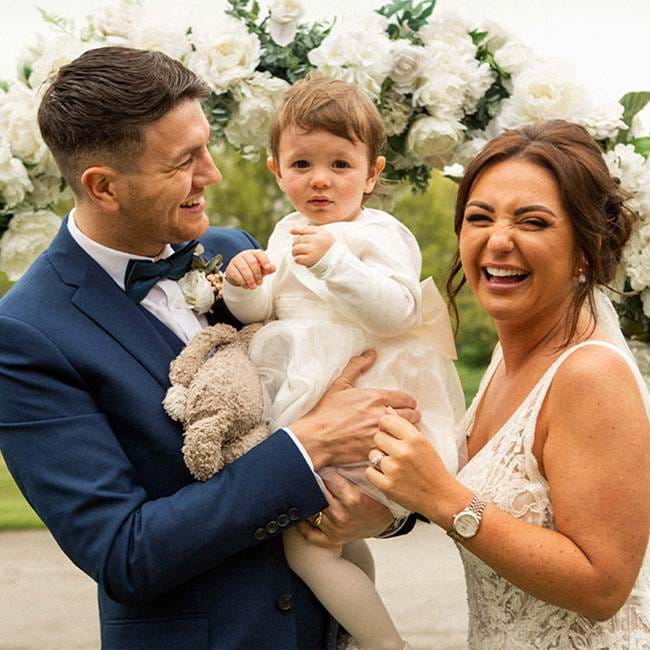 So, how did you two meet?
At a friends BBQ in 2012.
When did you know they were 'the one'/how did they pop the question?
Love at first sight! Tom proposed on a spa break for our 5th anniversary in 2017 with a room full of rose petals, walk way of candles and balloons across the ceiling - very romantic!
What was the biggest MUST HAVE for your wedding?
For us to enjoy it with our loved ones and all our family and friends to be happy. Also it was very important for us to provide entertainment throughout the full day and night so there wasn't any "lull moments"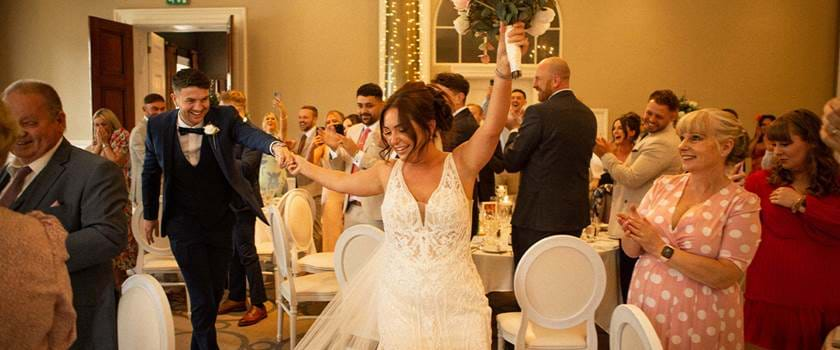 Other than saying 'I do', what is the most unforgettable moment from the day?
Hard to pick one…my mum helping me into my dress was so special as I changed my wedding dress with 5 weeks to go until the wedding day so we had a lot of worry but it was worth every single part of it when I put my new dress on, my dad seeing me in my dress for the first time, myself and Tom seeing each other when I walked down the isle, and seeing our little girl smiling away in her flower girl dress for the first time was a moment I'll never forget.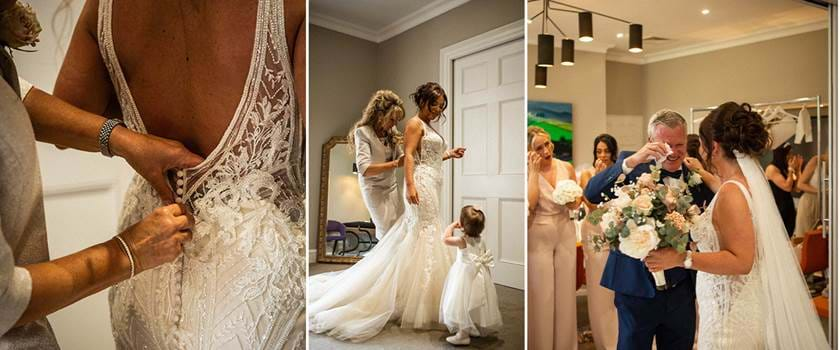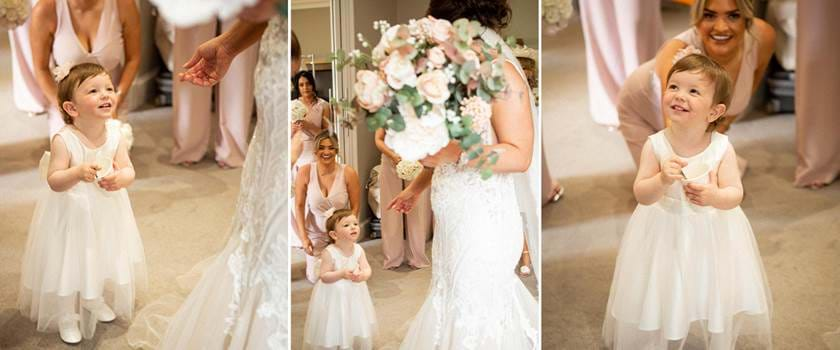 Which supplier was a real stand out for you? The unsung star who deserves a special mention.
Everyone was incredible but Trio Vivo by Chris Hilton really smashed the wedding breakfast, we had only just had starters and everyone was on the tables and chairs spinning napkins! 
What was it in your eyes that gives Rudding Park the WOW factor?
The attentiveness of your wedding events team and of course the beautiful setting and hotel. Izzy was an incredible wedding planner who sadly couldn't make it on my special day due to being on holiday but she handed my wedding day over to Denisa and she was incredible - she made everything perfect for us which we are so grateful for.
How did you style your space? Did your wedding day have a theme?
We kept it very spring vibes but classy and simple. Lots of candles/flowers with blush colours and pale peach with golds. Our little girl is called Peaches so we based a colour palette around her name!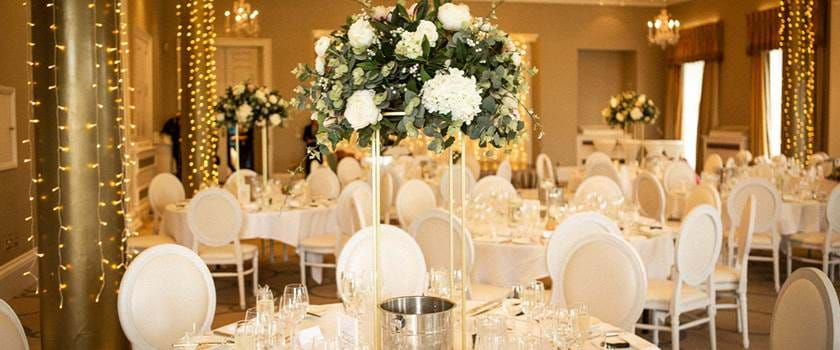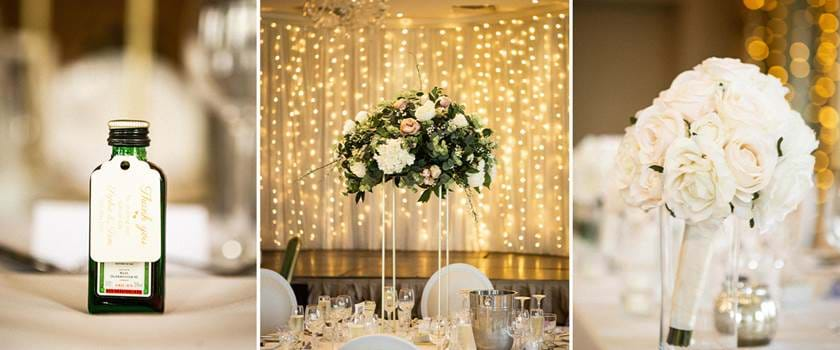 What is your funniest memory from the day?
Being a women I took full control of planning this wedding and didn't give Tom much say, sorry Tom! But having a magician there was incredible and made even better at the face Tom was unsure who he was and wondered if he was a guest!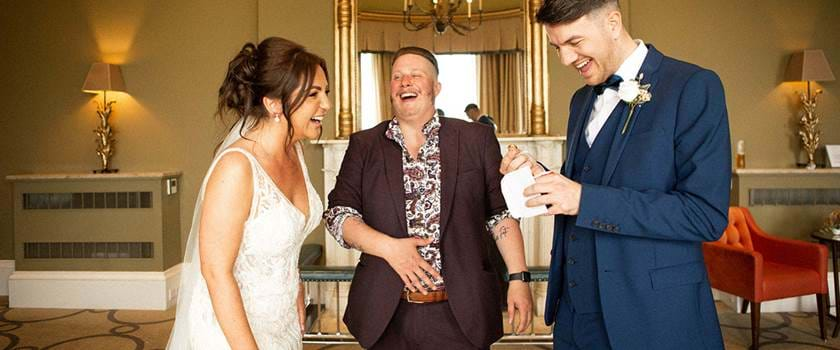 What's the best advice you could give to couples who are about to tie the knot at Rudding Park?
Enjoy every moment, don't stress about the small things as your wedding coordinator takes away any stresses on the day!
And finally, we'd love to hear about your experience with Rudding Park....
Our experience has been fantastic from beginning to end. We had to postpone our wedding 4 times due to Covid but RP we're always so accommodating and understanding and made me feel at ease the full time. The wedding coordinators are incredible support and so helpful. Would absolutely recommend anyone thinking of getting married here to go for it. Thank you all xx