Teddy and Josh
Saturday 22 April 2023
Teddy and Josh tied the knot on Saturday 22 April 2023 with a ceremony in the chapel and beautiful reception in the Radcliffe Room. 
Like most modern love stories, theirs started with a swipe right! With a super like to kick start their relationship, Teddy instantly fell head over heels and invited Josh to their family holiday. After much persuasion to steer Teddy away from her cup or Earl Grey, Josh popped the question in the most romantic way - rose petals, champagne and a photo slideshow to their favourite memories and playlist! 
With their favourite people around them, the most incredible florals and styling - they said 'I do' with an incredible celebration of their love
Read on to find out how they fell in love, chose their suppliers and how their first kiss seemed to go on FOREVER - thanks to father Ian!
We hope you feel inspired...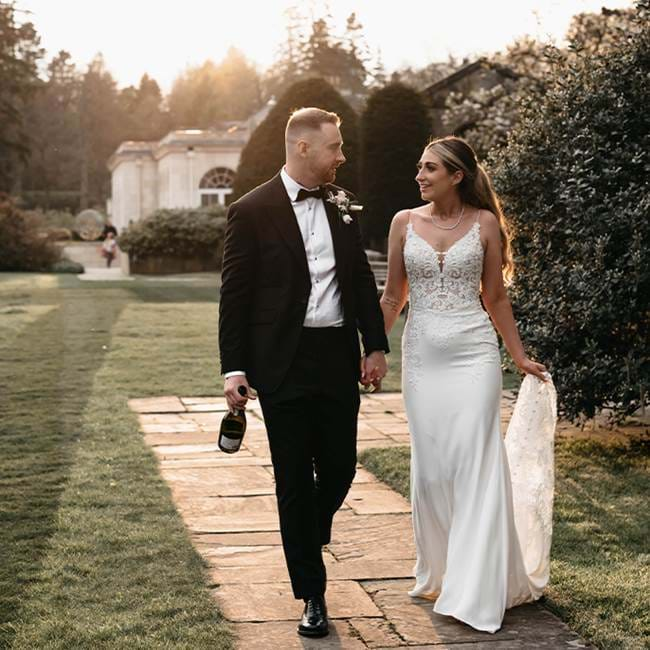 So, how did you two meet?
So, how did we meet! It's that age old question that all started with a swipe right for me and Josh. In fact I am pretty sure it may have been a super like from us both which immediately released us to talk to each other and from there it is history. I think after a few months of Josh following and pestering me on socials he finally managed to pin me down for a date at Revs da Cuba where he got me tipsy on some cocktails!
When did you know they were 'the one'/how did they pop the question?
I knew Josh was the one fairly soon to be fair, I invited him on a family holiday I had booked after only knowing him a few months and it just went so well that I thought yes he's a keeper and he will be mine.

His proposal, well he isn't the most romantic man I know but he well and truly surprised me which I love!! So he booked us a random meal at Manor House Lindley on a Thursday night so obviously no suspicion there from me. After the meal I wanted to get my usual earl grey cup of tea and he was adamant we should go and check out the cellar bar so he persuaded me and as we got down there the room was hired out for us, it was decorated with rose petals, a bottle of champagne and a slideshow of our pictures together over music.
What was the biggest MUST HAVE for your wedding?
Biggest MUST HAVE for my wedding was just to have all my favourite people together and for them to have a good time. I didn't want the day to feel long and stiff for guests, I wanted everyone to be spoilt and have fun!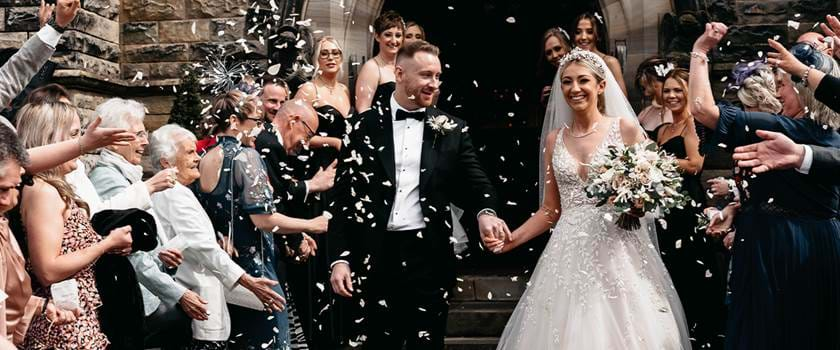 Other than saying 'I do', what is the most unforgettable moment from the day?
I would say the most unforgettable moment of the day apart from 'I do' may have to be the first dance. I have danced my whole life but that was one scary moment, as soon as all those eyes are on you and you are on the dancefloor it's a terrifying place to be! I will always remember that song though which is special.
Which supplier was a real stand out for you? The unsung star who deserves a special mention.
Unsung star but not really unsung as I am sure everyone would agree had to be the photographer Francesca! She did the most fabulous job of capturing so many beautiful moments and it all felt so natural and like she was one of my girls and not just a stranger I had met and spoken to a couple of times on the run up!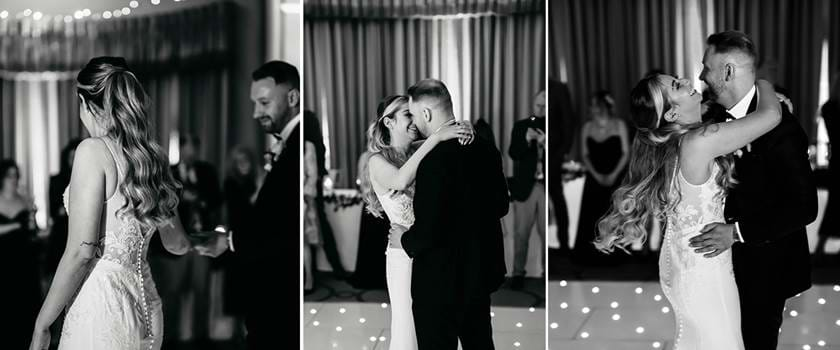 What was it in your eyes that gives Rudding Park the WOW factor?
For me, the selling point for Rudding Park had to be the chapel. The first time I ever stayed for a spa weekend we took a stroll around the grounds and ended up in there and I was just like W O W, I will get married there and look at us now.
How did you style your space? Did your wedding day have a theme?
I would say my wedding space was not too extra, there are some things which I love such as flowers but in terms of colour I wanted it all to be very soft and neutral with more eucalyptus tones and then a splash of blush here and there. I would say the most stand out piece from the styling had to be the wisteria tree in the entrance!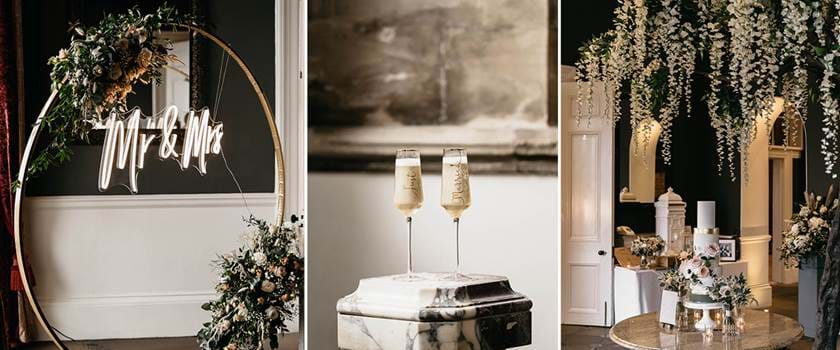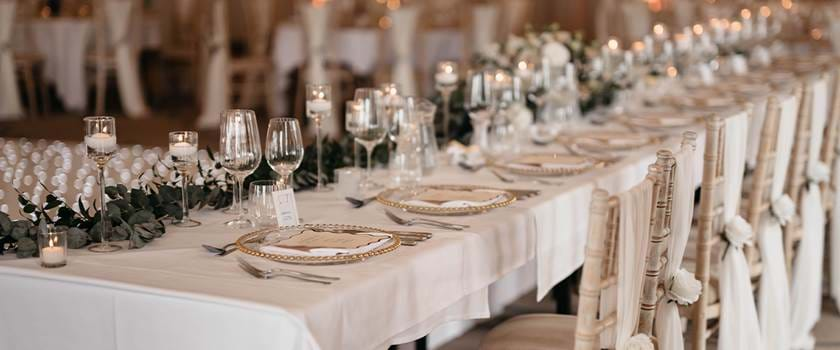 What is your funniest memory from the day?
I would say funniest memory of the day had to be some of the bits in the speeches, they were ultimately embarrassing but also funny!

But another stand out moment had to be father Ian in the chapel, his whole service was just comical - he forced upon us a 10 second first kiss which seemed to go on FOREVER.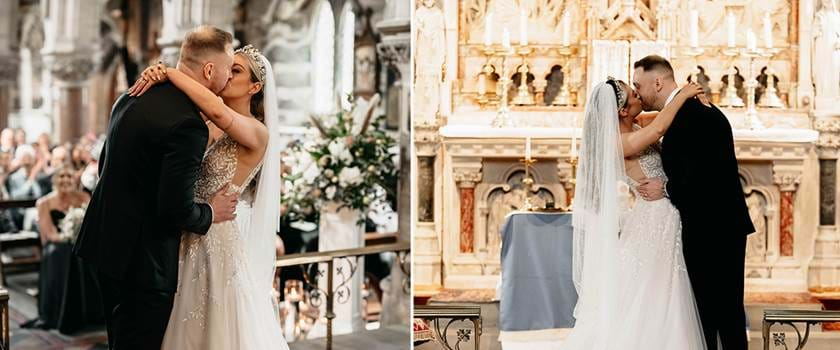 What's the best advice you could give to couples who are about to tie the knot at Rudding Park?
I would say my best advice is to let the venue do the talking, it is so beautiful the rooms and the chapel sometimes less decor is more and just let the space shine for itself and allow your guests to really enjoy it in all it's beauty!
And finally, we'd love to hear about your experience with Rudding Park....
I can't fault the amazing food on the day and the staff who served throughout it all. The hotel itself is stunning and everyone couldn't get enough of all the facilities on offer and the service of hotel staff!