Tshada and Richard
Saturday 12 August 2023
Tshada and Richard tied the knot on Saturday 12 August 2023 with a ceremony in The Drawing Room and reception in The Crosby Suite. 
That feeling when you can be truly yourself with someone is priceless and that's how it was for Tshada & Richard from the moment they met. Meeting at work soon turned into the best friendship filled with love and laughter, oh and finishing each others sentences! 
Styling with a nod to Tshada's Caribbean heritage coupled with elements from literature resulted in the most unique and beautiful room setting in the Crosby Suite. Think teal, orange, pink and peach with feather plume centrepieces!
We hope you feel inspired...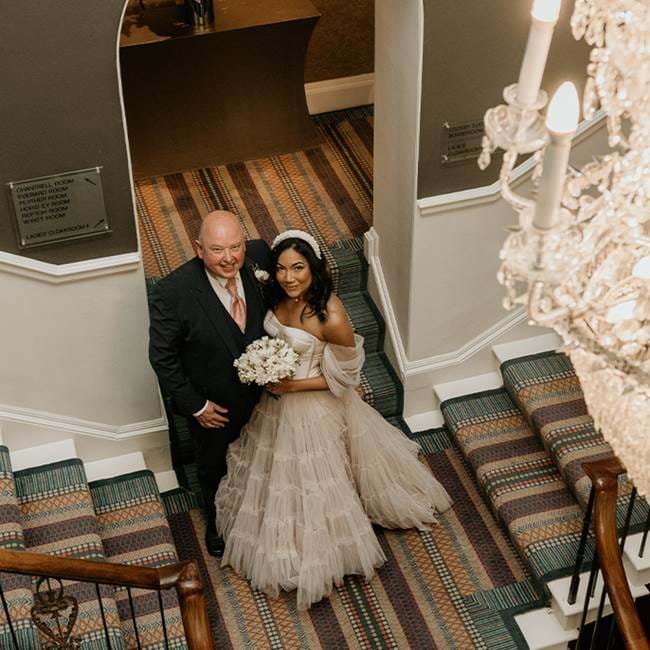 So, how did you two meet?
We met at work.
When did you know they were 'the one'/how did they pop the question?
I knew Richard was the one because I could be myself around him. He is my best friend, we laugh a lot, we finish each others sentences, we uncannily have the same thoughts about certain things at the same time.
What was the biggest MUST HAVE for your wedding?
The must have was finding the right venue. I knew that everything else would fall into place after that.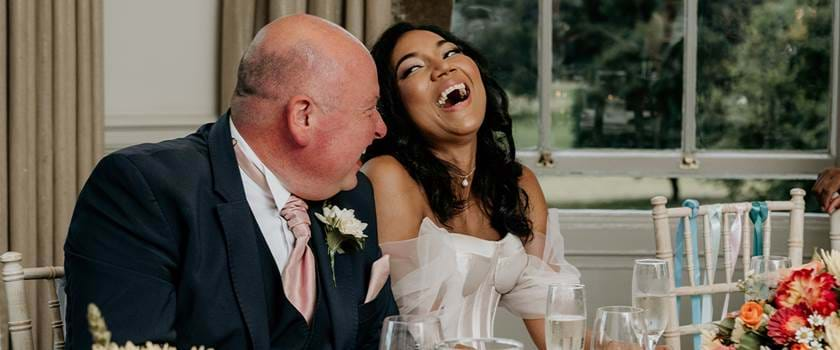 Other than saying 'I do', what is the most unforgettable moment from the day?
There was an atmosphere of love, joy and happiness which seemed to permeate everyone and everything. I will carry that memory forever.
Which supplier was a real stand out for you? The unsung star who deserves a special mention.
I'm going to sit on the fence with that one. Everyone was just so lovely and gave their all in ensuring that we had a lovely day.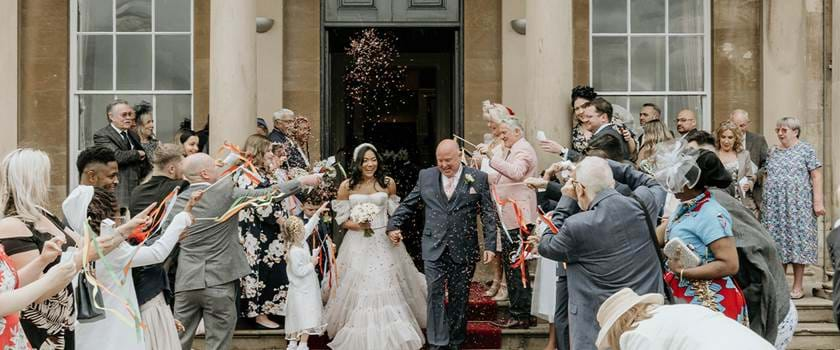 What was it in your eyes that gives Rudding Park the WOW factor?
From our very first visit, Rudding as a venue appealed to me. Its distinct Regency period features, sprawling gardens oozed old world sophistication but I could see woven into this were bold, eclectic, contemporary style elements. I immediately knew then that with my wedding planning, this was a space where I could have the best of both worlds. Keep classic design with an expression of my personality.
Also importantly was the attitude of the staff, everyone was so professional and courteous.
How did you style your space? Did your wedding day have a theme?
I am from the Caribbean so I wanted to incorporate the liveliness, originality and creativity of a Caribbean carnival. I'm also a voracious reader so I was also keen to have 'bookish' elements. Richard was happy to go along with whatever I was happy with 😭
What is your funniest memory from the day?
So many...
We invited children to our wedding so of course there was never going to be a dull moment!  Our daughter, was a flower girl sat in the front with us, her friend at the back shouted the loudest 'Hi Isabelle' at the point it was asked whether there was anyone with any objections to the marriage. Our 4 year old son thought he was very key to proceedings and spent the whole wedding ceremony holding my hand!
The speeches!! Our 14 year old son was best man and decided that the best man speech was the opportune time to tell his dad that his was 'inspirational, an amazing dad BUT grumpy!'
There were paper poms poms stacked into the fireplace as decor. Had I thought about it - I would have considered that in the eyes of a bunch of 2-5 year olds. This looked like ball heaven!..... It kept them occupied though!
As the day progressed, the tall trumpet flute vases on the tables had been repurposed - into beer glasses holding copious amounts of beer!
Added to all this was my uncle, who gave me away. He is in his nineties un pc with a good sense of humour. He was on top form mingling with everyone........don't know how much of it was mingling or offending 😭. He was the life of the party! At 90 - not bad!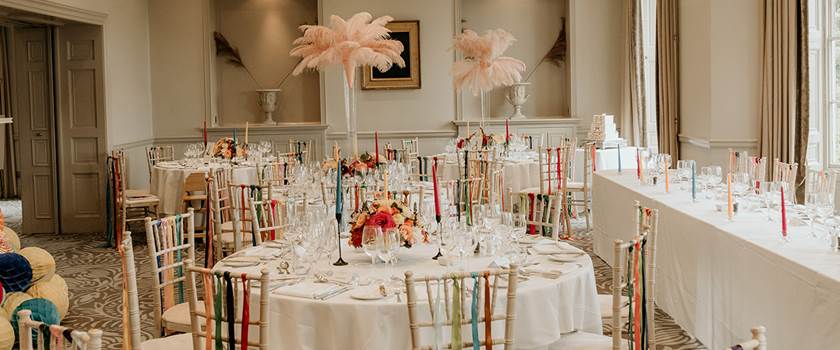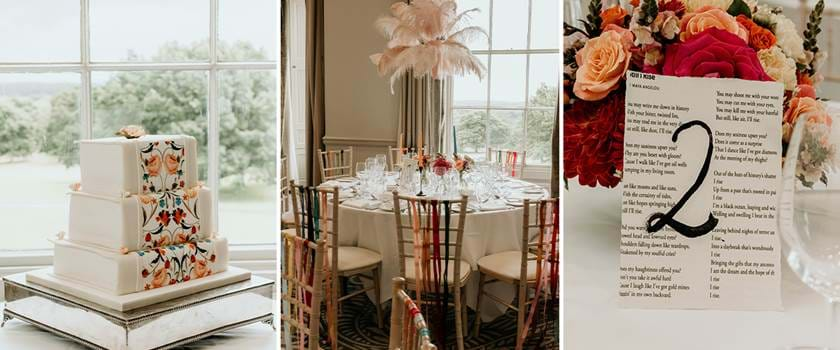 What's the best advice you could give to couples who are about to tie the knot at Rudding Park?
Cliche but enjoy the wedding planning process!
And finally, we'd love to hear about your experience with Rudding Park....
I was very impressed by considerate touches - handwritten notes for instance to say congratulations. We stayed at the hotel the night before. There was attention to detail in things which could been seen as 'little' but for a bride to be, these details conveyed the feeling that the hotel also appreciated that this wasn't any ordinary day. Interactions we had with members of staff during our stay were markedly professional, courteous and with an air of quality. This sentiment was also echoed by our guests and suppliers. Our wedding coordinator Lyndsey was amazing. She responded to any queries promptly. She was also great at just listening during times I felt overwhelmed with planning!
Supplier Dream Team:
Photographer: Soosan Ahanchi
Florist: Flowers by Colette
DJ/Band: Graham Foster Audio Events
Entertainment: Rob Hutchinson Magician
Dress: Bowen Dryden from Saltaire Bridal
Hairdresser: Hair by Parvin
Make Up: Ayham Khazna
Suits: Harrogate Suit Hire
Chair Hire: Laura Lindsay Weddings and Events
Photobooth: Photobomb
Cake: Lisa Fisher Cakes