Rudding Park takes its corporate social responsibility seriously and is always keen to support the local community. As a one of the largest employers in the Harrogate area, with over 350 employees, we have a great team with a diverse range of skills and a real sense of passion to do our bit.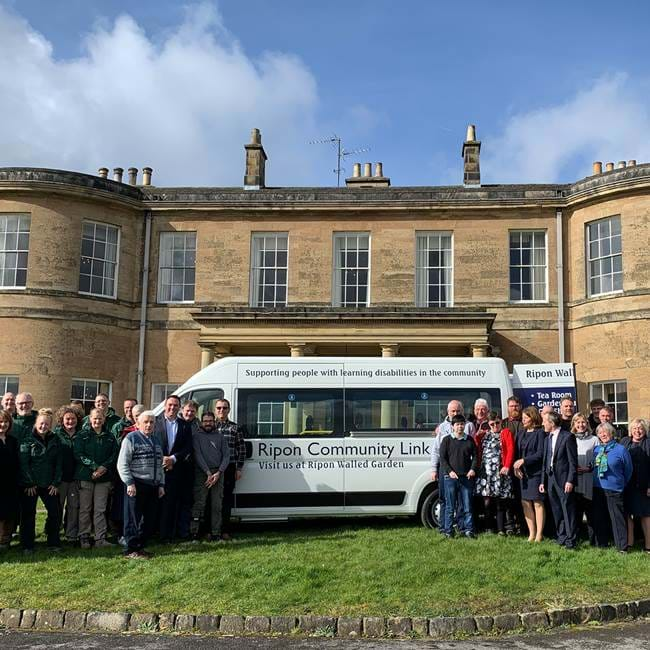 This passion to make a difference was the inspiration behind the Rudding Park Volunteer Scheme.  The scheme provides the Rudding Park team with the opportunity to partner with a local charity who they visit once a month over the period of a year to support in any way they can.
Kate Robey, Head of Team Experience at Rudding Park explains, "we care about our guests, we care about our team and we care about our community. The Rudding Park Volunteer Scheme is a 'win win'.  It's a fantastic chance for us to support a range of worthwhile causes at the same time as investing in the personal development of our team. It's a chance for them to:
Make a difference
Be part of a community
Learn and develop new skills
Gain confidence
Meet new people
Change of scene
Sense of achievement
Obtain insight into how other organisations work
Take on a challenge
Have fun!
One of the incredible charities our team have been supporting recently is Ripon Community Link and Ripon Walled Garden. 
This charity supports young children and adults with a learning disability or difficulty. They support individuals to develop new skills and confidence in a supporting and nurturing environment under the theme of horticulture and catering. They have a historical kitchen garden, orchard and retail shop.
Rudding Park Golf and Holiday Park Manager James King is a strong advocate for volunteering and the positive impact it can have. "I love being involved with the volunteer scheme. I was partnered with Ripon Community Link and Ripon Walled Garden and at the time was not aware of the valuable work they do. However, after being in the company of Members (those who the charity supports) less fortunate really gave me the motivation to want to support their invaluable work and see how we could make a difference. It's not just about one person helping, it's about engaging our teams at Rudding Park to get involved – it's been so rewarding."
Last Spring, Ripon Community Link embarked on a major fund-raising campaign to replace their old vehicle 'Kermit', which had come to the end of road after many years' faithful service.  
James and his team at Rudding Park supported the fundraising in a number of ways, from holding two fun golf tuition sessions for their members, hosting a summer Charity Golf Day (with plans for another this year), landscaping the grounds to create additional teaching space and outside experience space and selling Christmas trees.  The Rudding Park Senior Leadership Team helped erect a greenhouse and Members have been invited to Rudding Park Kitchen Garden this spring to get tips form the professional team of gardens. A Rudding Park Golf member also generously donated £1000 to the charity after hearing what James and the team were doing.
Having reached the target, the brand-new replacement was unveiled – and it's name revealed by Adrian, one of the members – at a celebration event hosted at Rudding Park.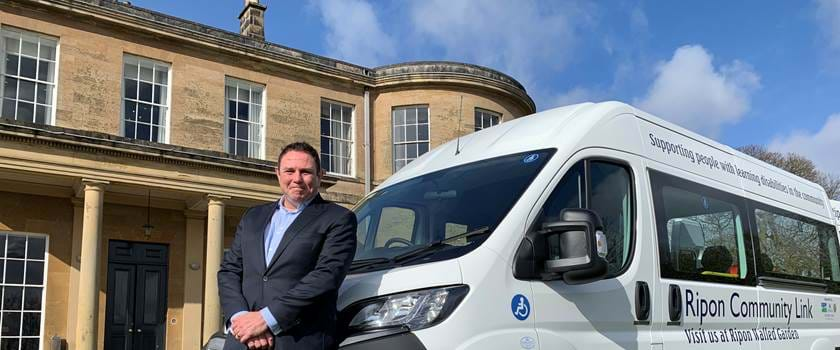 'James', which can transport 12 people plus two wheelchairs, will now be used primarily at the charity's St Wilfrid's Bungalow site, transporting members, volunteers and staff to events and activities around the district.
Ripon Community Link chief executive Victoria Ashley "Our ability to provide supported transport is key to the provision of our services. It allows members to travel, broadening the range of opportunities and experiences open to them, and strengthening our community integration. James really is going to make a big difference to our members. Just under a year ago we began this ambitious fundraising appeal for a replacement for Kermit. Today sees its conclusion, and everyone at Ripon Community Link, in particular our members, cannot be happier. We are indebted to everyone who gave to the appeal – individuals, businesses and organisations alike – and thanks to their generosity and support, we now have this magnificent vehicle."
Ripon Community Link and Ripon Walled Garden has a dedicated team of volunteers some of whom have helped for over 20 years alongside paid staff. They receive some funding from Social Care but rely upon fundraising to develop and grow. If you are interested in joining their volunteering team, please contact via email: volunteers@riponwalledgarden.org or call: 01765 609229.
Want to work somewhere who cares, not only for our team, but out guests and our community?