Clare and Peter
Saturday 23 April 2022
Clare and Peter tied the knot on Saturday 23 April in the most beautiful ceremony and reception in the Radcliffe Room. 
Read on to find out about their journey from a blind date to 'I do', what the 'must haves' were for their day and why their wedding day was talked about for weeks after!
We hope you feel inspired...
So, how did you two meet?

On a blind date on 28 December 2016 at Cod Beck, Osmotherley.
When did they pop the question?

On 22 September 2018 at Cragside Hall, Northumberland.
What was the biggest MUST HAVE for your wedding?

All our family and friends having the most amazing time ever in a stunning location - after waiting for the Covid restrictions to be lifted.
Other than saying 'I do' what is the most unforgettable moment from the day?
The whole day from when we started getting ready in a huge room Rudding provided until the last song played and we retired to our honeymoon suite everything about our wedding was memorable - so much so that it was talked about for weeks after.
Which supplier was a real stand out for you? The unsung star who deserves a special mention.
Honestly we can't specify as we were so very lucky that all our suppliers collectively made our day so very special. To us the whole day was perfection. Oliver went above and beyond the extra mile taking our photographs from first thing at 7.30am until at least 10 pm and beyond.
What was it in your eyes that gives Rudding Park the WOW factor?

The beautiful space both inside and out allowing us a series of rooms to style which in our eyes was exclusive. The rooms just flowed and our family & guests booked out at least 20 rooms. We loved the fact that we were able to have treats prior to the wedding such as the cinema room which we booked for close family to enjoy as we treated them to a Sunday lunch around Christmas time. Staying overnight the two of us and on our actual wedding day we were able to be photographed inside the Rudding chapel.
How did you style the space? Did your wedding day have a theme?

We didn't have a theme as such, we wanted classy and elegant with white, green and silver not over fussy.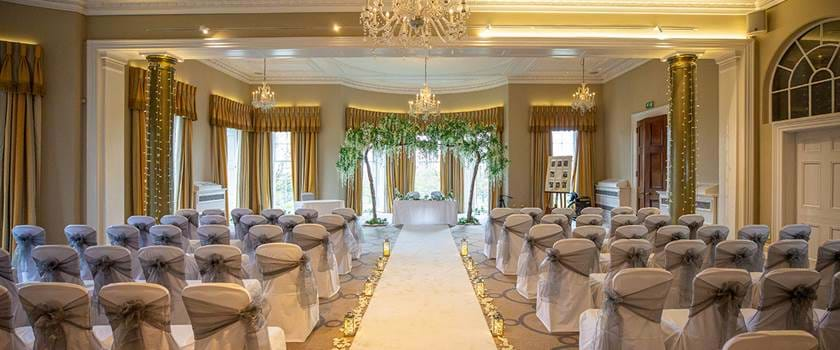 What is your funniest memory from the day?
Joe announcing between courses that one of our singing waiter's was a staff member who was leaving Rudding to pursue a musical theatre career - the look on their faces when they performed as guests truly believed what Joe was telling them - all our guests were on their feet dancing and singing.
What's your best advice you could give to couples who are about to tie the knot at Rudding Park?

Relax and enjoy the experience. We had an amazing wedding co-ordinator called Isobel and literally nothing was too much trouble and she helped realise our wedding day. Joe our master of ceremonies whom we had never met until our wedding day was outstanding. He truly was amazing and all our guests loved him. our wedding day was the best wedding our guests had ever been to and weeks later it was still being discussed. We were made to feel welcome by all staff we encountered from the porter to the manager .
And finally, we'd love to hear about your experience with Rudding Park…
Our wedding day was exceptional - it surpassed our wildest dreams! The attention to detail from the outset (when we first met with Isobel and then with Joe on our day) made everything complete - outstanding.
We have nothing but high praise for Rudding as a wedding venue; it's in a league of its own - we are looking forward to spending our first wedding anniversary with yourselves and reliving our wedding memories.