A Great Start to the New Year
So, three months into 2015 I think it is fair to say it has been a busy, but very good year at Rudding Park, having been voted:
Best Hotel in UK outside London, TripAdvisor Travellers Choice Awards
Best UK Golf Hotel, LateRooms.com
Best UK Hotel by Meetings and Incentives Travel Awards (as voted for by event organisers and planners across the UK)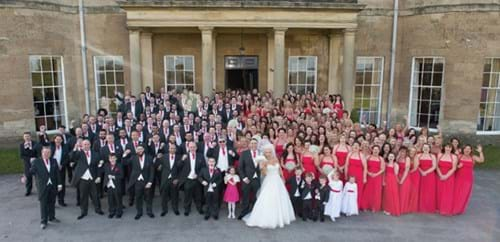 We were also the host venue for a World Record Breaking Wedding
The beauty of Rudding Park is definitely its versatility!
However, as our latest addition to the trophy cabinet was for the wide range of events we run, we asked a couple of our members of the team for their top tips.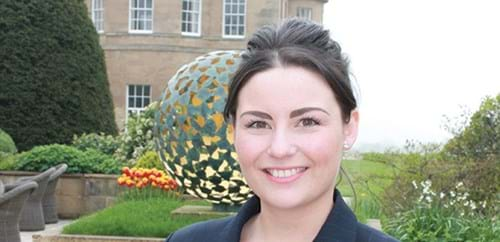 Emily Taylor, one of eight event co-ordinators offers her top tips for a successful event.
It's all in the planning: ensure you pick the right date for your event; be mindful of any key events happening on the same day which could hamper your event's success i.e. public holidays, religious dates, key football matches.
Don't be afraid. Ask questions of your venue or event planner to ensure there are no hidden restrictions or costs involved. 'Cakeage' is a new trend sweeping across restaurants where charges are levied on guests bringing their own celebration cakes to the venue. I am pleased to say this is not something Rudding Park has implemented! Ask also if your venue has any promotions or offers that could benefit your event. To celebrate our M&IT Award we have introduced two fantastic M&IT Exclusive Offers.
The secret behind a successful event is in the communication. It is important to explore all options to create a bespoke package that suits the guests' requirements and to have regular contact so that we can guide them through the planning process. I find the best way to finalise arrangements for an event is meeting face to face over a coffee discussing ways to enhance each event making it unforgettable.
Check your tech. With the growing technology needs of corporate events ensure your venue are aware of the needs you have and ask about the capacities and any extra costs involved to extend. At Rudding Park, standard Wifi is complimentary!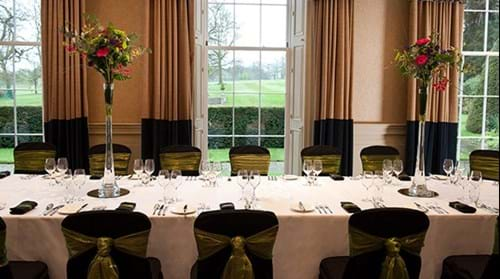 Get people talking! Drive engagement from your audience by encouraging attendees to talk about your event on social media. Look at what social media your delegates usually use before the event; Linkedin, Twitter, Facebook, Instagram and which of these link best to your event. You can create discussion groups and hashtags linking to your event to encourage attendance and engagement.  During the event ensure the event twitter hashtag and your company or event twitter handle are promoted and displayed throughout.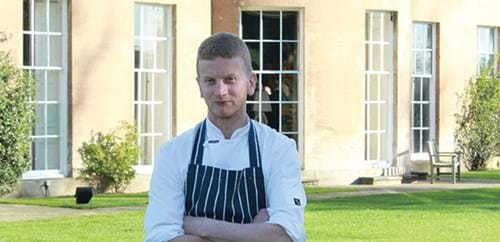 Matthew Wilkinson, Development Chef, Conference and Banqueting devises all our private dining menus and creates bespoke menus.
How do you get the inspiration for a new menu?
'A lot of the larger events have a theme that I have to base the menu around so that gives me a good starting point, last year we had an event with a Charlie and the Chocolate Factory theme which was perfect for the pudding. We were able to bring back some childhood favourites with a modern twist, such as white chocolate lollipops with popping candy, meringue mushrooms, and dark chocolate creme brulee served as Charlie's Chocolate treats. With smaller events we can go to town with tasting menus when we can try out new ingredients and cooking methods, such as using a setting agent that makes thin sheets of jelly that you can use to wrap foods in to make for example cannelloni. We also use the water bath cooking method which gives us much more control when cooking meats.
We have also been known to have fun with afternoon tea parties throughout the year!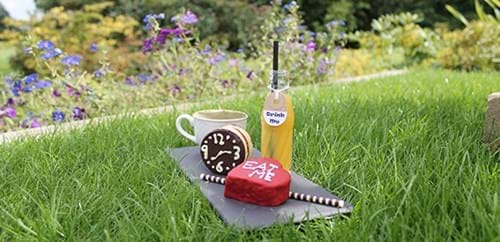 Mad Hatters Tea Party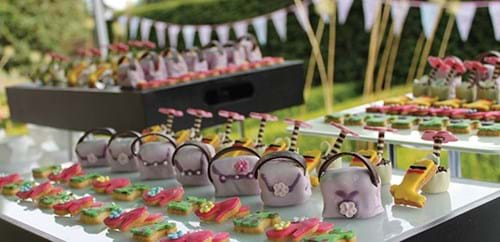 Spa Fashion Tea Party