These days there seems to be a national awareness day for everything. National Massage day, National Stationery Day and there's even a National Stop Snoring week! So Adrian, our Kitchen Gardener was particularly pleased to hear we were celebrating National Gardening Week 13-19 April, when we arrived at the Kitchen Garden to find out more about growing rhubarb!
Rhubarb is a special spring crop, beloved by our Head Chef with its many culinary uses. In the early months of the year our chefs cook with forced rhubarb found in the Kitchen Garden until the later crops come in to bloom.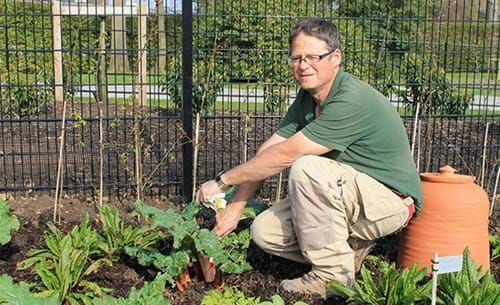 We asked Adrian a few questions…
What is forced rhubarb?
It is as it sounds…forcing is the process whereby rhubarb roots (known as the crowns) are taken indoors or covered over, deprived of food and light which then kick-starts (forces) the crowns to throw out stalks and encourages early growth. At Rudding Park we use clay forcing pots to cover over the rhubarb.
Where do you source the clay pots from?
All our clay pots are from Littlethorpe Potteries, a local supplier on the outskirts of Harrogate and Ripon. Littlethorpe Pottery is the only Pottery in the country that has continuously dug its clay on-site. Each pot is individually handmade – I found this out when I had great fun working out which of the 12 lids fit which pot!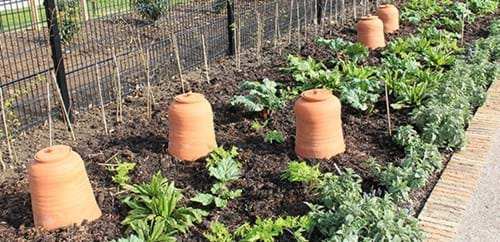 What are the steps you should take to force rhubarb?
Firstly, clear around the base of the rhubarb crown, removing old leaves and weeds.
Add a mulch to boost the nutrient levels and help growth. You can use either well-rotted manure or home-made garden compost for this.
Place a thick layer of straw around the crown to help insulate the pot which will speed up the forcing process.
Place the clay pot over the crown of the rhubarb, covering the straw. If you don't have a clay pot you can use any large pot – just make sure there are no holes to let sunlight in.
Once the stems are near the top of the pot, it can be removed.
Forced stems should be ready to harvest eight weeks after covering.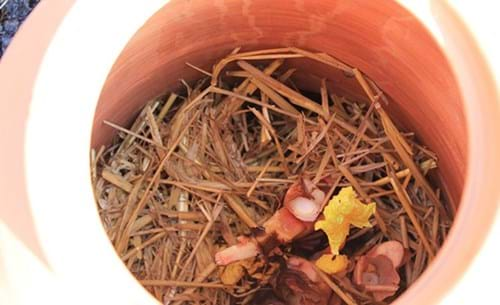 What varieties of rhubarb do you grow?
We grow 7 varieties. These are:
Rheum rhabarbarum 'Champagne'
Rheum rhabarbarum 'Brandy Carr Scarlett'
Rheum rhabarbarum ' Fenton's Special'
Rheum rhabarbarum ' Stockbridge Arrow'
Rheum rhabarbarum 'Royal Albert'
Rheum rhabarbarum 'Raspberry Red'
Rheum rhabarbarum 'Cawood Delight'
When can the rhubarb be harvested for cooking?
When the stalks are 20cm – 30cm long. Each stem must be removed intact from its roots.
From Plot to Plate
So once it's ready, Adrian harvests the rhubarb and delivers to the kitchen ready for cooking. The chef's take regular visits to the Kitchen Garden to see what's ready for picking so they plan new delicious dishes for our guests.
If you fancy trying the chef's dishes and would like a guided tour of the Kitchen Garden then take a look at our Plot to Plate experience.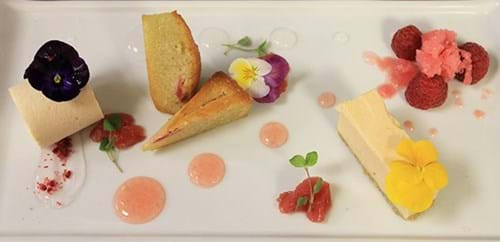 Taste of Yorkshire forced rhubarb: parfait, cheesecake, light sponge, rhubarb & rosewater granita
Adrian's Top 3 Tips
Only force the stems of established rhubarb plants. If you force young plants it may compromise later growth as they may not have sufficient energy reserves to produce early stems.
Avoid forcing a single crown of rhubarb for two years in a row. Leave it to crop naturally instead, and always have more than one crown so you can force in alternate years.
Plant rhubarb between November and early March.
What's your favourite spring plant?
To celebrate National Gardening Week we're giving away Dinner, Bed and Breakfast for two, a tour of our Kitchen Garden and discounted entry to RHS Harlow Carr. To enter the competition, click here and tell us the name of your favourite spring plant. Good Luck!