How to Make a Gingerbread House
Everyone knows building a Gingerbread House is a great way to get into the festive spirit and fill your home with that wonderful spiced scent. Never ones to shy away from a challenge, this year we decided to attempt to make a Gingerbread Rudding Park!
Design and Marketing Executive Anna Lewicki has had some experience with Gingerbread engineering, so volunteered to attempt the challenge.
The first step was planning how the house would fit together. The structure of the house was broken down into sections and templates for each piece of gingerbread were created. The templates were all printed and cut out and a recipe for the gingerbread was chosen.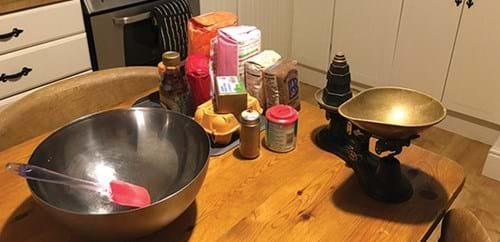 The day of the great bake arrived and with a clean kitchen and all ingredients and equipment prepared it was 'On your marks, Get set, Go!'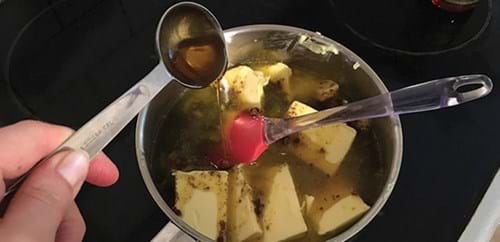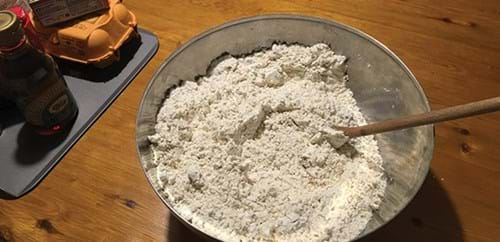 The butter, sugar and syrup were melted while the dry ingredients were combined separately. These were then all mixed together and left to cool before being kneaded into a smooth dough.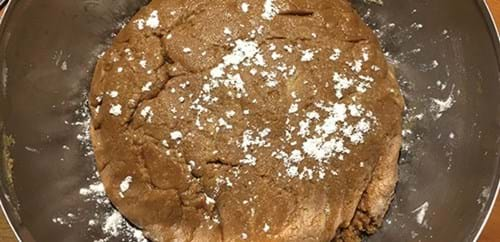 Whilst the dough was cooling, the templates were organised to fit onto the trays ready for baking.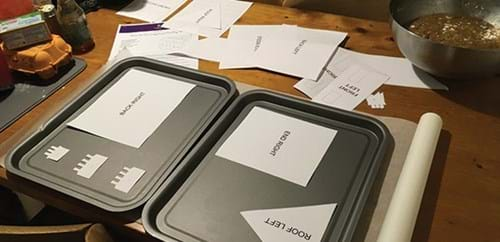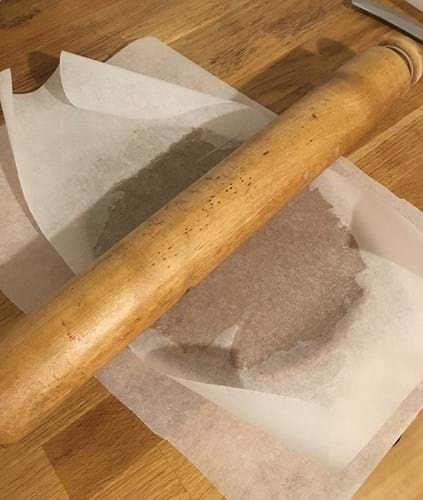 The dough was rolled out in batches between two sheets of greaseproof paper. (Using greaseproof paper rather than flour stops the dough from sticking to the rolling pin and work surface and also gives a great even finish to the sheets of cooked gingerbread.)
The trays of dough were baked in batches (nine in total!) for 12 minutes until firm and golden. While the pieces of baked gingerbread were still hot, the shapes were re-cut using the reserved paper templates for sharp neat edges.
While the pieces cooled, icing for the windows and assembly of the house was made. Egg whites and icing sugar were combined to make a thick paste, and transferred into an icing bag with a fine nozzle. Working carefully the windows, doors and details were iced onto the pieces and left to set.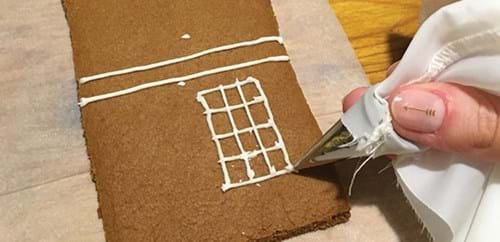 Once the icing was set it was time to build (the hard part!) The panels making the front and back walls were assembled and iced together in flat sections before being attached together by the two end pieces. These were assembled around a conveniently sized cardboard box for stability whilst the icing set. The more complicated roof sections were formed over a tent of cardboard and held in place until secure by some canned tomatoes!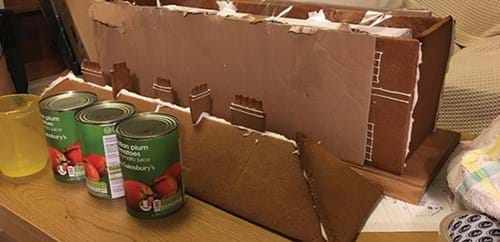 The two completed sections were transported to Rudding Park (in a very slow car journey!) before being assembled in the Marketing Office. A final dusting of icing sugar and the house was complete!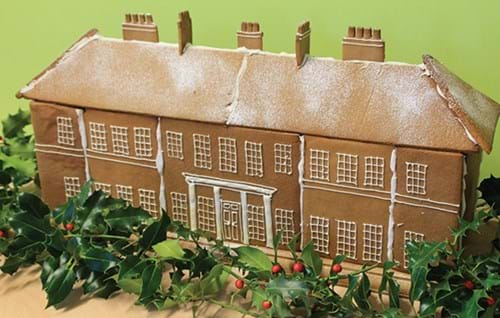 We've put together a recipe and some templates so why not try and make your own Gingerbread Rudding Park? Don't forget to send us some pictures on Facebook!
Gingerbread Recipe
Download Templates