How To Make The Best Sourdough With Horto Chef Murray Wilson
As anyone who has ever tried it will know, sourdough is a bread with a huge helping of character. It's true that a loaf of sourdough may require more patience to make than simply popping down to your local supermarket, but the result – a tangy, crusty, flavoursome loaf – is more than worth the effort!
In honour of 'Bread Week' on the Great British Bake Off, we asked Murray Wilson, our head chef at Horto, to talk through his favourite sourdough recipe… and give us a few hints and tips along the way!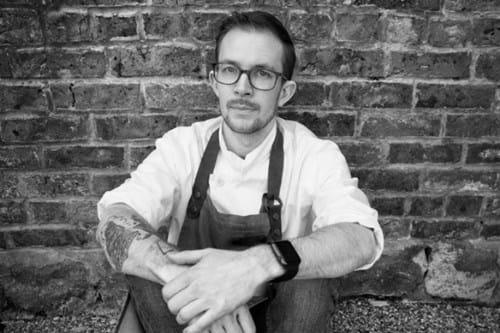 Whilst sourdough in the supermarket is a lot more expensive than your average pack of Warburtons, making your own is inexpensive and incredibly rewarding. Be warned: it may take a good week before you can reap the rewards of your first sourdough loaf, but once you've got a starter going, you can 'feed' and re-use it time and time again.
Murray's sourdough is served at the start of each meal at Horto. He made his initial starter in May and has been 'feeding' the same batch ever since! Making the sourdough is Murray's first job of the day when he enters the kitchen, but for everyone at home, first we'll need to make the starter…
Starter
Ingredients:
200g flour
200g water
Method:
Mix the ingredients together with your hands until combined. Cover and leave at room temperature until the next day.
Discard 100g of the mixture and replace with 200g flour and water. Mix together with your hands and repeat this process every day for 5-6 days. After this time you will notice bubbles forming in your starter; this indicates that the yeast is becoming active. At this point, you're ready to make your sourdough!
Tip: If you make sourdough regularly (e.g. every weekend) you only need to feed the starter once per week after the first fermentation. If you make sourdough every day, feed your starter daily.
Sourdough
This recipe makes one 900g loaf – there's no need to bake in a tin as the bread can be shaped on a standard baking tray.
Ingredients:
100g homemade starter
450g strong Canadian flour
50g 100% rye flour
320g water (body temperature, approximately 37°C)
10g salt
Method:
Measure out your starter and stir into both flours, then add the water and salt.




Mix together by hand to form a smooth dough, then transfer to a slightly greased container and leave at room temperature for 5-6 hours. At Horto we fold the dough once every 30 minutes for the best possible fermentation, but if you don't have time, we recommend folding when possible.


When the dough has rested, place on a floured surface and form into a loaf. Place in a bread tin or other suitable bowl, and leave in the fridge for 3-4 hours. If you're making this a day ahead, you could leave it in the fridge overnight.
Preheat your oven to 245°C. Place a large pan of water on the bottom shelf of the oven to increase the humidity, which is vital when making sourdough.
Take the loaf out of the fridge, place on a baking tray and slit the skin of the dough with a blade. Don't go too deep – just ensure that the blade runs through the surface of the dough as this breaks the gluten and ensures that the heat is evenly distributed whilst baking.


Once you've put the loaf into the oven, reduce the temperature to 230°C and cook for 20 minutes.
Reduce the temperature to 210°C for a further 15-20 minutes, then take out and leave to cool.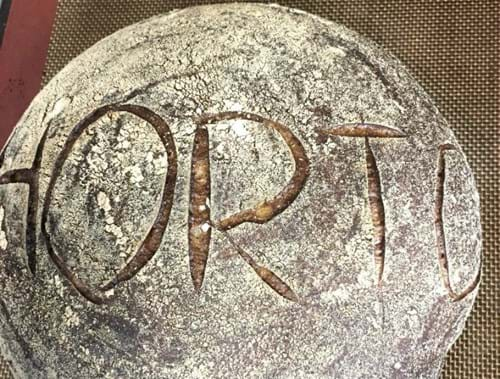 Murray serves his Horto sourdough with a choice of homemade butters; including Toasted Hay butter, Lincolnshire Poacher butter, and Roasted Horseradish and Beef Dripping butter. We also love our sourdough dipped in olive oil and balsamic vinegar, or you could even cut it into slices and make your own garlic bread!
Sourdough may seem like a daunting task, but with the right ingredients and a certain amount of patience, this is an enjoyable and satisfying recipe you'll want to make over and over again.
It's certainly one we'll be trying at home over the weekend! Can you 'rise' to the challenge?
Let us know how you serve your sourdough, and send us pictures of your creations on Facebook,Twitter or Instagram!
Don't forget to follow Horto on their own social media platforms for behind-the-scenes looks of their latest dishes: