Introducing the Art of Aufguss
Saunas, spaces built for intense dry or wet heat experiences, can found in most gyms, hotels and spas around the world. In countries such as Finland, Germany, Sweden and Norway, sauna-going is a way of life, however in the UK the sauna experience has been rather underwhelming, until now…
Rudding Park Spa are introducing the leading spa trend for 2017 and invited Lay Pang Ong, Danish Sauna Aufguss champion and sauna-meister, to perform the Art of Aufguss in our Panoramic Sauna, a UK first.
Peter Banks, Managing Director at Rudding Park, introducing Lay Pang Ong: 
Saunas around Europe have been reinvented by the art, which involves a skilled sauna-meister conducting a theatrical performance of infusions, dance, and occasionally song. The Aufguss experience includes pouring cold water or ice blended with balsam scents on the hot coals in the sauna.
Various essential oils are added to the coals to create a stimulating environment and are circulated using deft flicks and circles of a towel or fan. The ritual, which lasts around 10 minutes, leaves the audience both mentally and physically revived.
Here's Pang in action in the Panoramic Sauna at Rudding Park:
With wellbeing and health at the forefront during Men's Health Week (12 – 18 June 2017), the benefits of Aufguss make it particularly relevant. These range from a meditative state of mind to improving cardiovascular strength, boosting the immune system, as well as alleviating stress and pain, all of which are vital to both men and women for a healthy lifestyle.
Pang said: "The contact between the meister and audience is of the utmost importance! The meister of Aufguss is not there merely to show off what he can do technically, but to provide the audience with a relaxing, stimulating and refreshing experience both physically and mentally."
In recent years, the art of performing the Aufguss has evolved; or rather it has been revolutionised. Today, the range of different types of Aufguss is endless, ranging from "classic Aufguss" - meditative and spiritual - to "highlight Aufguss" which features themed music and costumes, some examples include a Shaman King or Viking themed routine. 
During his stay at Rudding Park, Pang passed on his expert knowledge to Spa Hosts, Chelsey and Thomas, and guest relations team member, Ollie, who are now certified sauna-meisters.
Having learnt from the best, Chelsey, Thomas and Ollie are now qualified to share the Art of Aufguss with hotel guests, spa members and those on a full or afternoon spa day. Guests will be able to experience a ten minute performance of the Art of Aufguss from 1 July, as well as enjoying another UK first, the Roof Top Spa and Garden.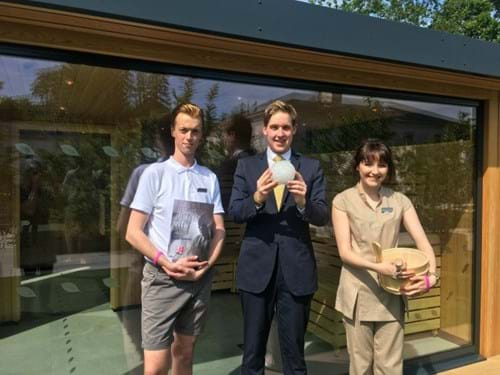 Book a Spa day or a Sleeping Beauty Spa Break and experience the Art of Aufguss for yourself, to book your visit call 01423 844840.