After a busy Christmas and first month of 2018 it seems like it's the ideal time to reflect on the past 18 months at Horto, and on the dishes we have served. What has worked, what has almost worked and what hasn't worked? 
I have decided to really focus on flavour this year, sounds obvious, but the task is how to intensify the flavours on the plate. With this in mind we are limiting the amount of flavours on a dish, a max of three or four. It's easy to make a plate with loads of different flavours; you can hide behind things. If you strip everything back, there is nowhere to hide.
So, where do we begin? The first thing is to question everything that goes on the plate. Why is it there? Does it serve a purpose? Does it taste good? If the answer to any of those is a no or don't know, then it's removed. What's that purée really bringing to the plate? Why is that pointless leaf there? Why is that blowtorched? Why is that smoked? You get the idea!
Another area of focus is the quality of the ingredients and the skill of the chef preparing them! With that in mind, I have been researching some smaller, specialist suppliers. The first one is The Wasabi Company, based in Dorset. They are the only company growing fresh Wasabi in the UK, whilst this in itself is great, wasabi isn't an ingredient we use much. But it led me onto their other products. They import some incredible produce from Japan.
My first order contained barley miso, a yuzu tree, sancho berries (spicy, acidic and tingly) and five year aged soy sauce... just an incredible flavour, nothing like the soy sauce you get at Yo Sushi! It is deep and complex in flavour with low salt and deep rich treacle notes.
So what do I do with this? Naturally myself and Kon, a chef de partie, thought it would be great in a dessert... our thought process went something like this: Soy? Salt caramel? Salted caramel? Sticky toffee pudding? Lighter sponge? Madeline sponge with soy? Lightly smoked fudge sauce infused with Sancho berries? Lots of options!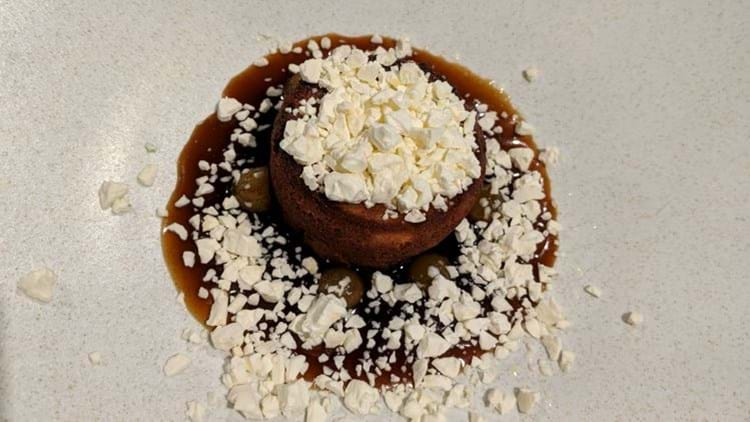 We were extremely happy with the results, a complex, mildly challenging yet instantly recognisable.
However after testing this dish we found that only chefs like it, so I had to rethink! I still wanted to include the five year aged soy sauce as it's fantastic, so I've incorporated it into the fudge sauce, which we lightly smoke over oak.
Cake next; I drew a shortlist of four different cakes: honey, ginger, pumpkin and apple. We taste tested them all with the sauce and a non-smoked sauce. There was a clear winner, the apple cake with smoked fudge and soy sauce.
Cheers, 
Murray