Sloe, Sloe, Quick, Quick, Sloe
Alex Golding Senior Supervisor at Clocktower has devised an exclusive Sloe Gin Cocktail to share with you for the festive season.
Ingredients
50ml Sloe Gin (see recipe below)
25ml Amaretto
5 Raspberries
2 Blackberries
Method
Add all ingredients in to a cocktail shaker with plenty of ice.
Shake vigorously.
Fine strain into a chilled Martini glass.
Garnish with a fresh blackberry and raspberry.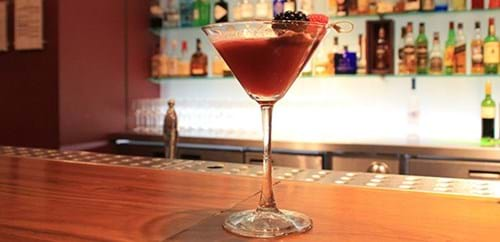 This cocktail is now available at Clocktower for the festive season.
Making sloe gin can be a 'slow' task but it's worth it! Why not try this recipe from Rudding Park Consultant Chef, Stephanie Moon:
Sloe Gin Recipe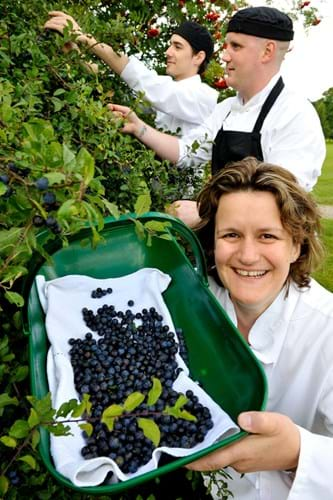 Ingredients (Makes 2 bottles)
500 g Sloes
275 g Golden Caster Sugar
1 litre Gin
1 clove per litre
Method
Pick your sloes,  wash them and pat dry with a clean tea towel.
There are two different methods you can follow when making your sloe gin. The first option is to prick each sloe berry seven times with a pin (good luck with that wild cooks!). Another option, and perhaps preferable, is to freeze the sloes (this should take 6 hours or so) and once hard you can leave them to de-frost. As the berries de frost the skin will break itself which will save you hours trying to prick them all – I feel this option is much better for the sanity!
Place the sloes in a rigid container (large bottle or Demijohn).
Sprinkle the sugar over the sloes (in the bottle) and add the clove (1 per litre)
Pour the gin over the sloes and screw on the top, leaving a little room to shake the bottle. Aim to shake the bottles 3-4 times a week as this helps to infuse the sloes into the gin.
Store the gin and berries in the bottles for 3-4 months.
Strain out the sloes and the cloves. The gin should be a light purple colour. The longer you leave the gin in the bottle the darker the gin will become (it will start to turn brown in colour).
Here are few other tasty food recipes to try over the festive period, using sloes:
Wild duck salad with caramelised cherries and sloe gin syrup
Turkey and Wensleydale bacon broth, Wensleydale cheese croute with a dash sloe gin
Enjoy!
If you have any delicious sloe recipes we would love to hear from you. Please share with us on our Facebook page.