Happy New Year! You ate, drank, and were merry – but now it's time to start the annual detox following the overindulgent festive season!
With so many detox fads promising so much it's difficult to identify something that will actually work, so we've enlisted the assistance our in-house professionals to help whip your body into shape and boost your health, to get your New Year wellbeing intentions back on track.
Matthew, Sports Rehabilitator at Rudding Park Spa, is an elite level hockey player. He graduated with a 1st class honours degree in Sport Rehabilitation and has spent time with many elite clubs including Leeds Rhinos RLFC, Wigan Warriors RLFC and Stoke City FC. In addition to rehabilitation, Matthew runs some of the classes at Rudding Park Gym, he showed us a few handy exercises that you can do easily at home or in the gym to help improve overall fitness.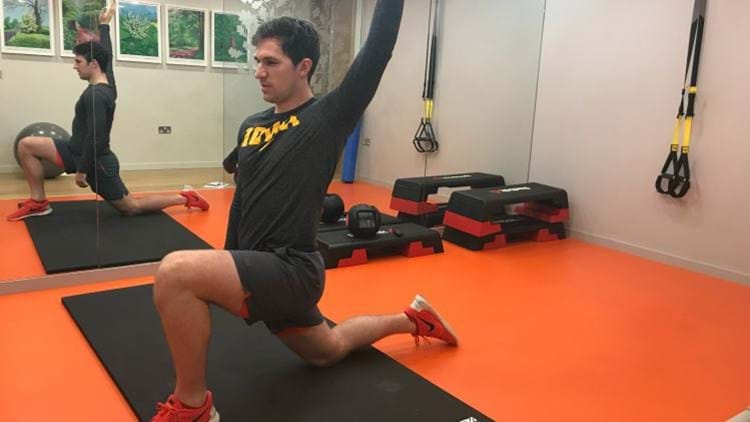 Hip Flexor Stretch – This is great for those with office jobs who regularly sit at a desk. The exercise stretches the hips, pectoral muscles and shoulders.
Drive your hip forward and your knee into the ground. Your iliopsoas muscle, one of the main hip flexors, is a deep muscle that requires isometric activation to stretch it. Aim to hold the position for a few seconds so you can feel the stretch, you can do this before, during or after any workout. Repeat the stretch on both sides.
Tip: Resist the urge to lean into the stretch and really extend your hip. Most people are too tight for this and can cause more damage than good.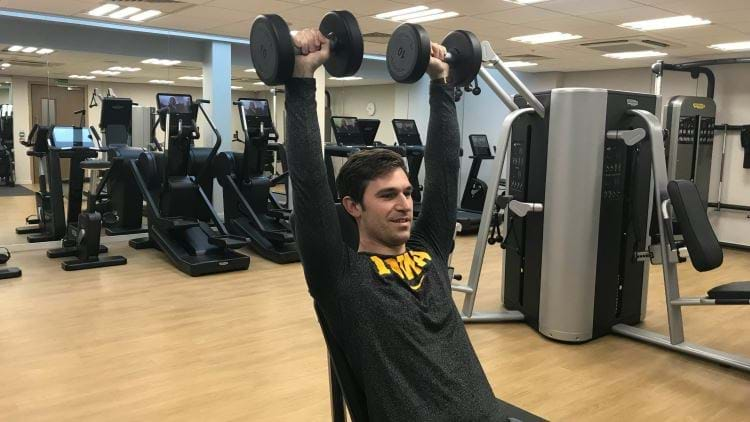 Shoulder Press – This exercise targets your shoulders, placing some emphasis on your triceps and upper back. You can use the exercise to tone or build, dependent on what weight you choose. Push the dumbbells up and in until the ends of the dumbbells touch lightly, directly over your head, and then lower the dumbbells back to ear level. If you're aiming to tone up, do more reps with lighter weights; if you're aiming to build muscle, opt for a heavier weight and do fewer reps.
Matthew says; "As a Sports Rehabilitator I understand the importance of regular exercise, but you also need to listen to your body and look out for any warning signs. If you feel an injury or strain don't carry on doing that particular exercise, seek advice or move on to an alternative exercise. Warming up and cooling down correctly can massively help reduce your risk of injury."
Lucy Coghlan, a Personal Trainer at Rudding Park Spa, is a specialist class instructor in circuits, TRX, VIPR, HITT and is also a nutritional advisor.
Lucy says; "The key to long term results is planning a regular exercise regime that fits in to your everyday life. Set goals, but ensure they are realistic. Many people give up on 'fitness' resolutions quickly because they set their targets so high that they seem unachievable, so plan your regime in advance."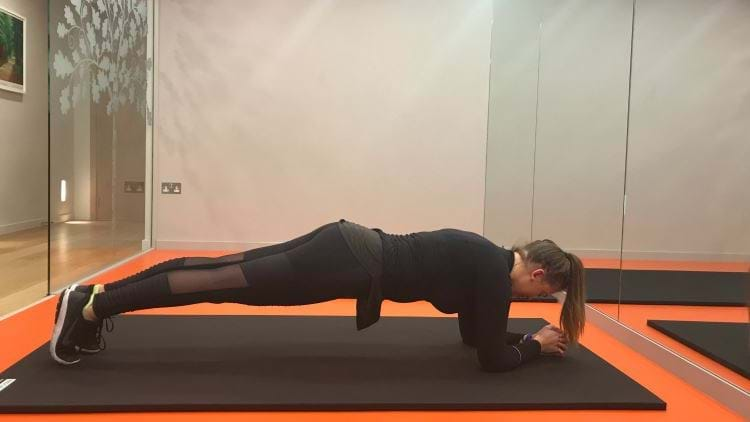 Plank – This exercise is perfect for building your core strength. Aim to hold the plank position for 30 – 60 seconds, ensuring you squeeze your glutes and core whilst doing so. The more you practice, the longer you'll be able to hold the position for. This exercise is perfect for the end of your workout; aim to do four x 30 seconds holds.
Tip: When your form begins to suffer, it's time to take a break. If the back begins to bow, or the shoulders start to sink in relax for a minute or too.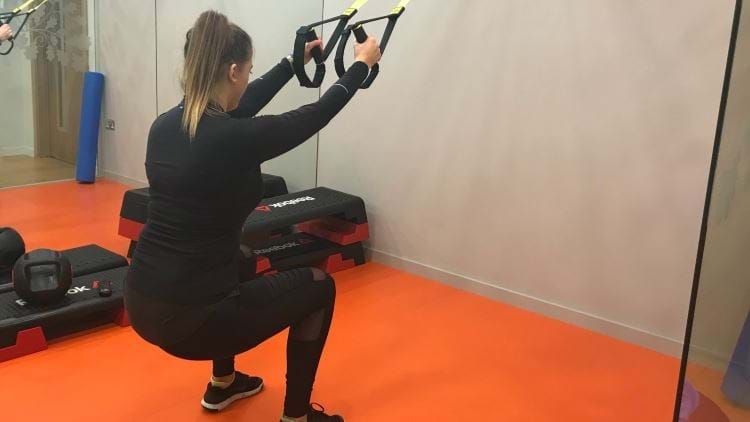 Squat – This exercise focuses on the glutes and quads; you can do this at the gym with TRX or at home with weights (you can increase difficulty by adding weights). Stand with your feet slightly wider than your hips, your toes should be pointed slightly outward. Look straight ahead; send your hips backwards as your knees begin to bend, once at the bottom stand back up. Aim to complete three sets of 12 squats.
Tip: Doing the squat incorrectly can cause injuries, so it's essential to learn perfect technique before you lift much weight. If you are just getting started, take a class or book a session with a certified personal trainer to learn it right for the get-go, and get plenty of experience and build your confidence.
By introducing a small amount of exercise each week into your routine you'll gradually begin to see changes in your body and reap the rewards in terms of wellbeing and general health. If you don't feel confident in the gym and would like advice on what exercises to practice, take a look at our latest available gym memberships here.