Top Wedding Trends for 2018
A new year brings another influx of fresh wedding trends to get excited about! Whilst there are some traditional aspects of a wedding you'll want to stick with, there are a number of 2018 wedding trends emerging we're sure you'll want to try. From floral updates to new photography styles, cake and décor trends – 2018 will bring in plenty of wedding innovation.
This month we welcome guest contributor, Sue White. Owner of White Wedding and Event Company Yorkshire, Sue has over 12 years' experience in the wedding industry. With a wealth of knowledge and a real passion for what she does, Sue has built a reputation as one of Yorkshire's leading event planners and she certainly knows a thing or two about making your big day stand out from the rest.
Themes and Colour Trends
Colour palettes are changing; rather than choosing one traditional colour for their bridesmaid dresses, floral arrangements and other decor, couples are opting for simpler hues in order to create a modern and fresh finish, including pale blues and greys combined with lots of texture and metallics. We are also noticing a trend for brighter, bolder colours as well as using lots of green foliage for highlights and accents.
Sue shares her thoughts on themes we can expect to see a lot more of in the New Year; "The rustic barn look and feel is being replaced by a more sophisticated 'woodsy' look. This includes a lot of greenery in the florals. There is also a trend for combining wooden and metallic details, including the invitation, table numbers, seating cards, cutlery, chargers, signage, chairs and table decor."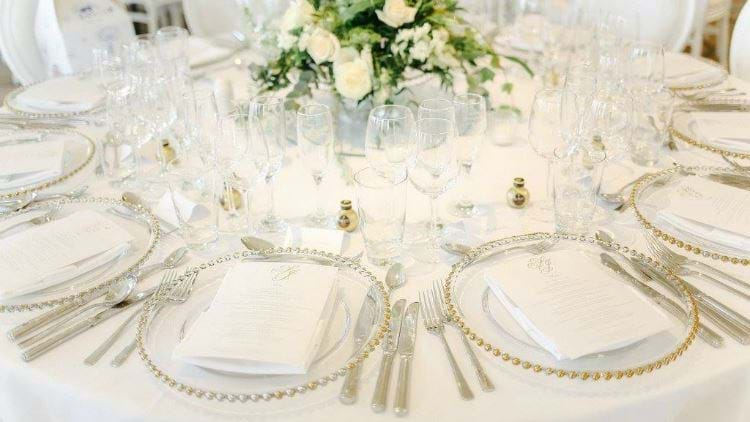 Styling by White Wedding and Event Company Yorkshire, photo by Belle and Beau Photography
Sue adds: "We also love the idea of balancing sleek geometric shapes with soft flowers and natural elements. Decorative pyramid terrariums with succulents are an unexpected modern addition to table centerpieces. Metallics are also a stylish material which can be used to create a chic look on tables and even to decorate wedding cakes."  

Marble and copper are huge trends in interiors at the moment and this stylish pairing is beautiful for weddings too. Create an Instagram worthy table by using white marble accents on your menus and stationery, or use metallic copper details in cutlery or candle holders to add warmth and contrast. 
Sue continues; "Another rather more unusual wedding design trend which I predict will follow the Instagram craze is for succulents and cacti – although perhaps not in the bouquet or buttonholes as their prickly nature may not appeal to everybody!"
Take the Plunge
The world's bridal designers have spoken and 2018 wedding dress trends have arrived. Following reveals at New York Bridal Fashion Week in October 2017, it became apparent plunging necklines are expected to be everywhere in 2018. Mostly with illusion necklines, these dresses are perfect for brides wanting to look elegant whilst showing off their figure. Would you say yes to a plunging neck dress?
Multi award winning bridal boutique, The Bridal Collection Harrogate specialise in exclusive bridal couture gowns for today's fashion conscious bride. The image below features their Alessandra dress, which incorporates a fully beaded bodice, and an alluring, deep V-neckline is a stunning contrast against the dreamiest soft tulle skirt.
Sue adds, "As well as plunging necklines, pearls are an accessory that is coming back strong for the 2018 bridal market. Not just in earrings, but headpieces, rings and embellishing dresses, too."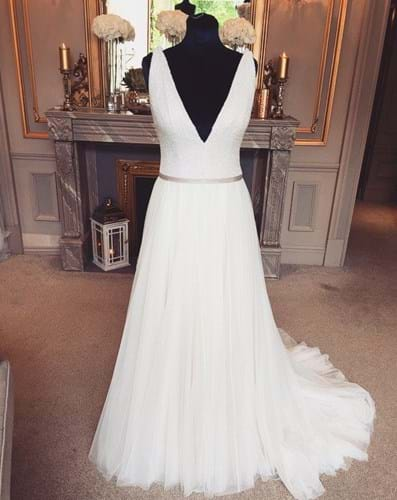 Bridal dress and image by The Bridal Collection Harrogate
Sweet Tooth
Over the last few years the Rudding Park wedding team have seen fewer candy carts and an increase in mini dessert bars. One trend that made an appearance in 2017, and one we believe we'll see much more of in 2018, is the doughnut bar. We asked Sue if she thought this trend was set to continue…
"It's safe to say doughnuts will be sticking around as one of the major 2018 wedding trends, which is fine by us, especially if there is a doughnut wall involved – we love them for a late night sugar rush when partying!"
If you've got a sweet tooth, a doughnut wall could be the perfect addition to your wedding!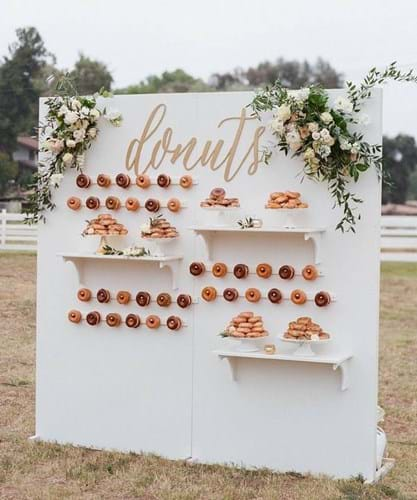 Photograph from Pinterest
Hanging Flowers and Flower Walls
Pinterest addicts will certainly be familiar with this particular trend; it's been building among the wedding blogs and magazines over the past year and is set to get bigger in 2018.
When deciding on your floral decor, Sue explains that suspended arrangements are in for 2018. "Throughout 2017 we have identified couples are focusing less on the table arrangements and more on ceiling masterpieces. Hanging florals add instant drama and make a huge visual impact; however they do also impact the budget so this should be considered when selecting flowers. The trend of hanging fresh floral and foliage installations is definitely here to stay, but does also very much depend on the logistics at your venue. 
Another option is the stunning flower wall – this is more versatile and can be used as a backdrop for photos as well as behind your top table, but again it's labour intensive and will definitely impact the budget."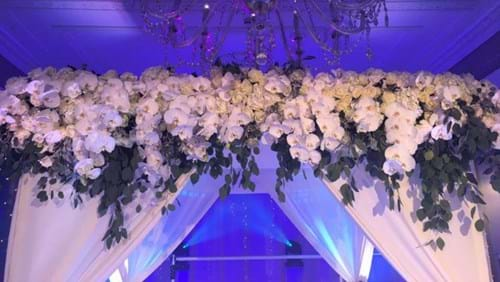 Flower arrangement by Red Floral Architecture
Metallics of the Moment
In case you hadn't noticed, the rose gold trend has been a huge success throughout 2017. As mentioned earlier, metallics are definitely here to stay, but moving on from gold, brass and rose gold, couples are now also starting to favour silver and chrome for 2018 weddings.
Sue explains "Metallics are great for decor; they also work extremely well on cakes, stationery and as highlight accents for anything from bridal shoes to dressing the table - we love the new metallic cutlery, charger plates and glassware available to hire."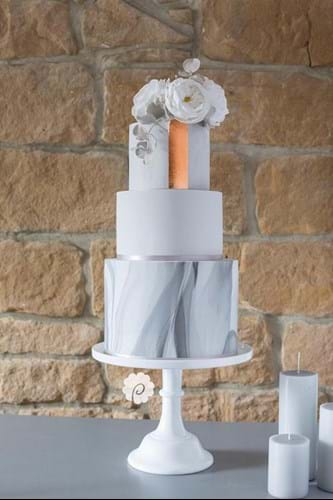 Cake by Poppy Pickering, photographed by Annemarie King Photography 
Baby you're a Firework!
At Rudding Park we've recently seen the rise of the 'grand exit' or a spectacular display at the end of the night to send off the newlyweds in style. For the most opulent weddings, 2018 brides should consider the inclusion of fireworks on their big day.
Sue said "We love helping clients create the 'wow' at their wedding or party and fireworks certainly do that."  
Here's a video, captured by Reel Weddings UK, of a display White Wedding and Event Company (Yorkshire) planned with Optimum Fireworks and Rudding Park. Sue explained: "This display was the finale to the bride and groom's first dance, which was complete with music, romantic fairly lights and lanterns – perfect."

Planning by White Wedding and Event Company, fireworks by Optimum Fireworks, video by Reel Weddings UK 
Time to Start Planning…
In a bid to create a wedding that'll be remembered for years to come, spend time searching for the very latest and greatest trends to make your wedding stand out.

One word of caution from Sue; "With any trend, it is important not to go overboard. Remember that at the end of the day, this is your wedding, and you will have these photos for many years to come. Try your best to strike a balance between trends that reflect your personality and traditional elements to keep everything 'grounded' and timeless." You can find out more about our guest contributor, Sue White, visit the White Wedding and Events Company Yorkshire website here.

We've put together a handy wedding inspiration Pinterest board for you to browse and start planning your dream day. 
Happy wedding planning!