Win a Yorkshire Wedding Countdown – The Wedding Day
Last year we partnered with a selection of the county's best loved suppliers to provide one lucky couple with the chance to get married at Rudding Park, considered one of the region's most beautiful wedding venues, in our 'Win a Yorkshire Wedding' Competition worth over £12,000.
After much deliberation, the lucky winners were announced as Eloise Worell and Tim Emmerson from Malton, North Yorkshire.  Over the last five weeks we've shared an insight into their journey and the countdown to their Yorkshire Wedding Day. Now the countdown is over and we are delighted to be celebrating Eloise and Tim's wedding day!
Before the celebrations began, we snuck 'backstage' to see how all the fabulous suppliers were getting on…
Wedding Planner: White Wedding Company
Sue White and her team work with the very best venues and suppliers in Yorkshire, Rudding Park being one of them, and have spent the last 12 years building strong and personal relationships they know their clients value and trust.
Sue worked closely with Eloise to create the perfect day and was supported by Rudding Park Weddings and Banqueting Manager, Craig, and Weddings and Banqueting Supervisor, Amy. From planning the timings for the day to smoothing out the bride's train, Sue really was Eloise's right-hand woman!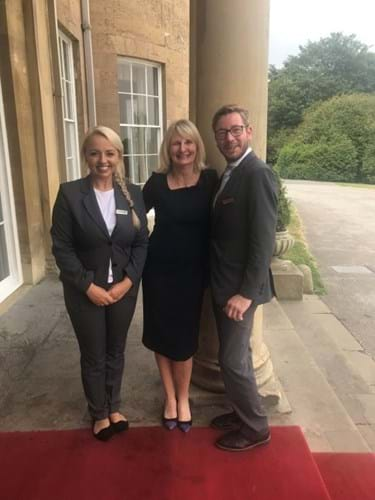 Make-up: Rudding Park Spa
The first stop was Rudding Park Spa – which recaptures Harrogate's spa heritage using natural waters from the grounds at Rudding Park.
The beautiful bride, Eloise, calmly sipped prosecco while Chelsea added the finishing touches to the bridal makeup.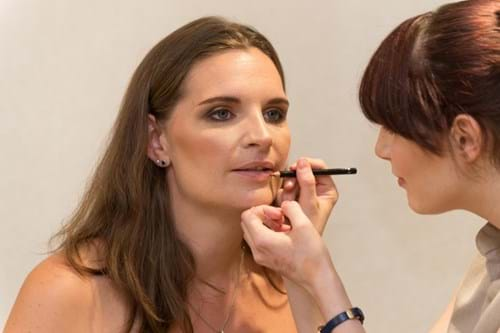 Photographer: Tim Hardy
Harrogate-based photographer, Tim Hardy, has over 20 years photographic experience and has worked with many brides and grooms at Rudding Park. He knows the venue inside out!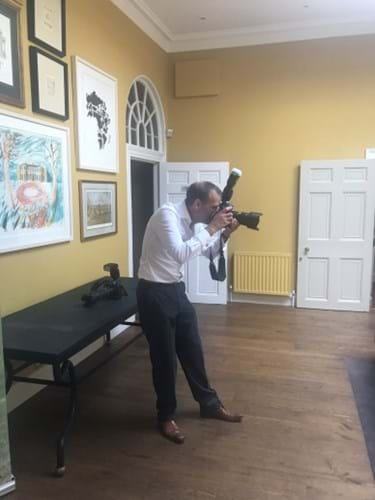 Entertainment: Trio Vivo
Trio Vivo is The Event Music Company's original group. Formed back in 1999, its members now form the core of the team that runs The Event Music Company.
These days, the Trio has become the leading ensemble, certainly in Yorkshire, and more probably in the UK, for providing an incredible mix of brilliant music to accompany your wedding day.
Here they are playing outside on the terrace.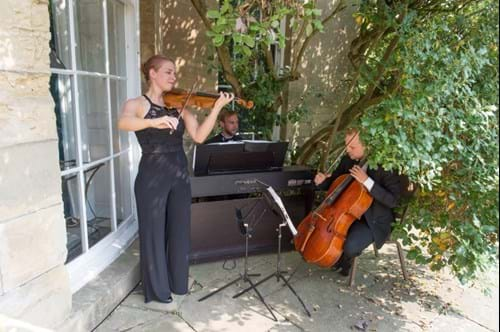 Cake: Poppy Pickering
Poppy Pickering creates beautiful bespoke wedding cakes, cupcakes and chocolates and delivers throughout Yorkshire including Ripon, Harrogate, York and Leeds. Working from their little boutique shop and kitchen in Ilkley, Poppy Pickering offers a highly professional yet personal and friendly service. The detail on Eloise and Tim's cake is beautiful with the most delicate hues of lilac. Each flower is edible and handcrafted by Dominique, the owner of Poppy Pickering.
Flowers: Colette Swinburn
Colette Swinburn is an independent florist, whose company, Flowers by Colette, is based on site at Rudding Park. With over 25 years' experience as a florist, Colette has worked alongside Rudding Park since the Hotel opened and provides flowers in a style that is traditional with a contemporary twist. The centrepieces and bouquets are the perfect example of simplicity and elegance.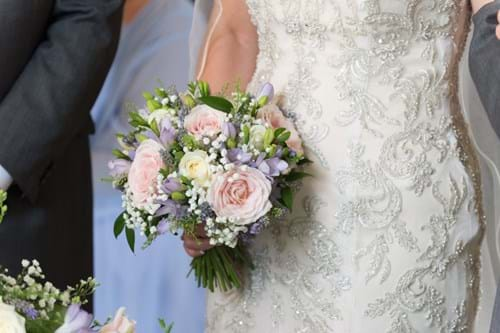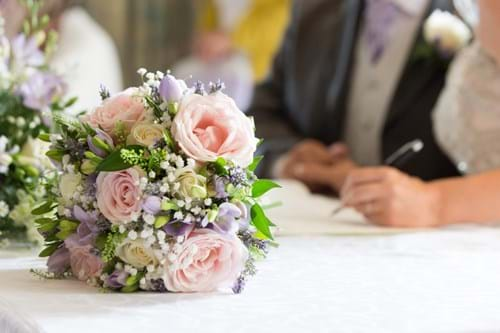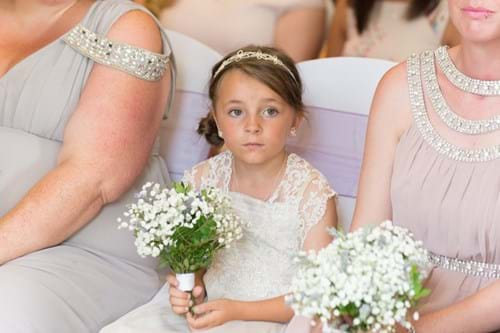 Hair: Rudding Park Hair Studio
Whether you are looking for regular hair maintenance, the perfect finish to a spa day or 'special occasion hair', the team at the Hair Studio at Rudding Park are on hand to complete your look. Beth did a fantastic job with Eloise's intricate up-do – how many bobby pins do you think she used?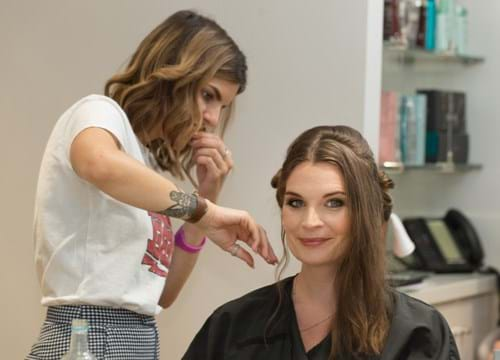 Rings: Ogden of Harrogate
The Ogden family have been stewards of their distinguished jewellery business since 1893, serving the families of Yorkshire as well as generations of both royal and public figures. Internationally renowned for exemplary service and a class of jewellery that is above comparison the company is now run by the fourth and fifth generations of the family.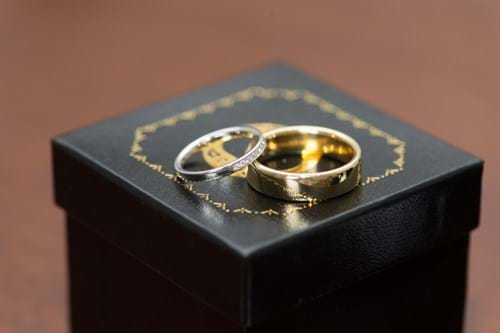 A stay in one of our Follifoot Junior Suites is included in many of our wedding packages, so the newlyweds stayed to finish off their celebrations with complimentary access to the Roof Top Spa and Garden in addition to complimentary access to the Spa Welcome.
Take a virtual tour of the Crimple Suite and the Weeton Suite. 
From all of us at Rudding Park, a huge thank you to all of the suppliers who made the new Mr and Mrs Emmerson's day so memorable, and many congratulations to the happy couple!