Win a Yorkshire Wedding Countdown - Week One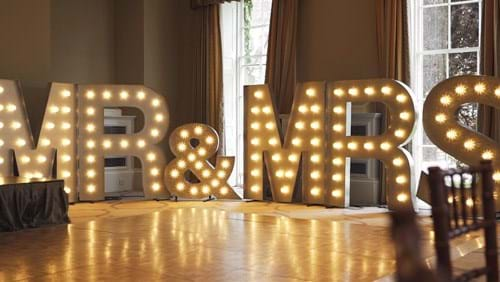 Let the countdown begin
Last year we partnered with a selection of the county's best loved suppliers to provide one lucky couple with the chance to get married at Rudding Park, considered one of the region's most beautiful wedding venues, in our 'Win a Yorkshire Wedding' Competition worth over £12,000.
So, what did people have to do for their chance to win this fantastic prize?  We asked them to "tell us in no more than 100 words why a wedding at Rudding Park would mean the world to you".  The response was overwhelming.  With over 700 entries the shortlist process was anything but short! We met together with the suppliers to make a shortlist of five who were then invited create a Pinterest Board in a bid to 'Pitch to Get Hitched'.
As the venue, Rudding House provides a stunning Regency House setting yet this was only the beginning. White Yorkshire roses and a wedding menu featuring the best Yorkshire produce will be the order of the day for the winning couple who can relax knowing they are in safe hands with their very own wedding planner. Also included in the prize was bridal hair and makeup, wedding rings, wedding cake, live music for the wedding ceremony and drinks reception and photography to capture the day. Not only that, the lucky winner have also had the opportunity to experience a pre-wedding celebration at Rudding Park Spa which features the UK's first Roof Top Spa and Garden.
After much deliberation, the lucky winners were announced as Eloise Worell, and Tim Emmerson from Malton, North Yorkshire.  Over the next five weeks we share an insight into their journey and the countdown to their Yorkshire Wedding Day on Thursday 26 July 2018.
This week, Eloise shares how she and Tim met…
"I was 15 and Tim was 17 when we met. We quickly became close friends, but nothing more than that.  We always kept in touch and some years down the line, we realised we were talking more and more. I think we both knew deep down that there was something more there, but after being friends for so long it seemed a bit of a risk to ruin such a good friendship.  But sometimes you just have to go for it and I guess the rest as they say is history! We would never have thought that nearly 20 years after we first met, we would now be a family of five and just about to be married. I will always be so glad we took the risk to 'just see how things go' all those years ago and things are just how they were supposed to be. Even if it did take us a while to realise it!"
Why did you enter the competition?
We knew pretty early on once we eventually became a couple that we wanted to get married, but like most things in life there is always something to do first and with three children, the wedding plans were well and truly stuck on the 'one day list'. I saw the Rudding Park competition online and thought it just looked amazing. I remember thinking how lucky the person who actually wins it is going to be!  It seemed just perfect, so I sat down and wrote my poem and sent off my entry. When we heard we had got through to the final I was so shocked, but still it never occurred to us that we might actually win! 
How did you tell Tim you had won?
I really didn't think we would win, but I couldn't stop thinking about the 'what ifs'. When the phone call came I was in shock and cried the first of MANY happy tears since! 
Once I had pulled myself together, I went to go and tell Tim, but he was on the phone! I was pacing around outside just waiting for him to finish. In my head I was thinking of all the fabulous ways I might tell him we had actually won.   As soon as he was off the phone I went into the office and all my grand plans for telling him went out the window and I just blurted out "We've won!' I think he was more than a little shocked, but he got up, gave me a massive cuddle and said "So you're finally going to be Mrs Emmerson then". Cue many more happy tears!
Our children were always nagging us to get married, always asking 'are you getting married yet? So after we had set the date with Rudding, we got three special invitations for them. We went out for dinner and gave them their cards at the table. Inside was written 'You are invited to the wedding of Mum & Dad". It was a lovely moment when they realised.  Lots of excitement and questions followed, but we now have a very excited bridesmaid, flower girl & ring bearer, who are counting down the days. 
Next week – Let the planning commence
In the meantime, if you are looking for wedding inspiration, why not check out our wedding pages.