Win a Yorkshire Wedding Countdown - Week Two
Win a Yorkshire Wedding – Three Weeks to Go
The Planning, Flowers, Food and Wedding Rings
Last week we introduced our winning wedding couple, Eloise Worell, and Tim Emmerson from Malton, North Yorkshire, as we countdown to their wedding day on Thursday 26 July 2018.  With three weeks to go we share highlights of the planning, flowers, food and wedding rings.
With so much to organise where to begin?  Eloise and Tim were fortunate to have The White Wedding and Event Company (Yorkshire) on hand to guide them through every step of the process.
Sue White and her team work with the very best venues and suppliers in Yorkshire, Rudding Park being one of them, and have spent the last 12 years building strong and personal relationships they know their clients value and trust.
With a wealth of experience and knowledge they provide clients with inspiration, imagination, confidence, exceptional organisational skills and attention to detail, but also pride themselves on a truly personal and bespoke service - and definitely have fun along the way, often over a cup of coffee or glass of champagne!
Sue, who has been described as Yorkshire's 'go to' wedding planner, and her team work with a regular team of truly creative and highly organised suppliers, who together deliver spectacular and memorable weddings, meticulously organised and with a personal touch.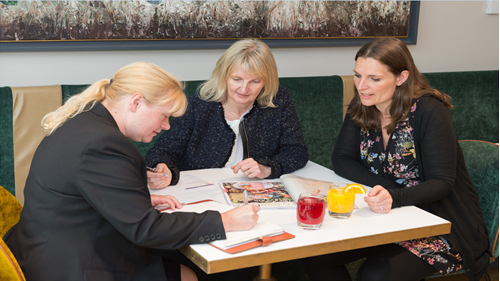 Sarah Coles, from Rudding Park Sue White and Eloise meet to discuss final details.
Flowers can make a real statement from a simple delicate arrangement to an elaborated display; flowers are always a wonderful addition to any wedding both from the look to the fragrance.  Eloise met Colette Swinburn, an independent florist, whose company, Flowers by Colette, is based on site at Rudding Park to talk all things flowers. With over 25 years' experience as a florist, Colette has worked alongside Rudding Park since the hotel opened and provides flowers in a style that is traditional but with a contemporary twist.
Of course, with a Yorkshire Wedding however, it has to be all about the white rose!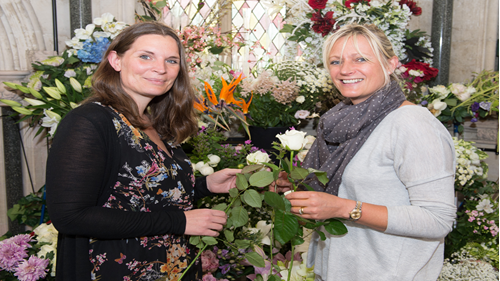 Every bride and groom tends to have a different view on what is the priority at a wedding.  For brides it might be the dress or the venue and without wishing to stereotype, for grooms the food is where they often like to get more involved!  The great thing about Rudding Park is that all bride and grooms are invited to a wedding menu tasting (if booking a wedding for over 50 guests).  Not only does this serve as an integral part of the planning process, it could also be considered a 'date night'.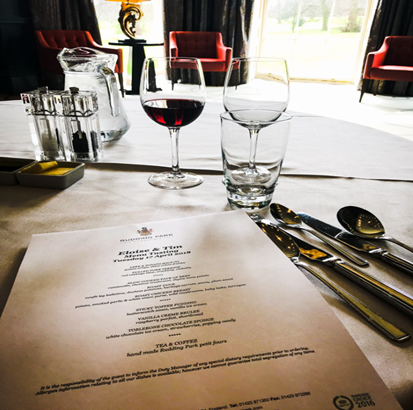 Eloise tells us her experience of the planning process
"It has been amazing, from that first winning phone call to the excitement of the run-up now. Not only are we obviously very lucky to have won the prize in the first place, but also we have had no stress in the planning. Sarah has been amazing, sorting everything out for us at Rudding Park and with Sue White as our wedding planner we really can't go wrong.  It really has been a whirlwind. We literally had nothing planned at all before winning.
We have had many amazing times during the planning. Going to Ogden of Harrogate and choosing our rings was a really wonderful experience. We were made to feel so special and my ring is stunning (I can't wait to get it on my finger!).  
We were blown away by our menu tasting, it was all incredible and so hard to choose.   Every step of the way I have had to pinch myself to believe that this is actually happening. Everyone who is involved with our wedding has been beyond incredible, I can't even begin to tell you how special they have made us feel, knowing we will be having the most amazing flowers, cake and music on the day as well is more than we ever could have dreamed of. We are just counting down the last few weeks now. It's all been quite overwhelming, but in a good way. It has been a crazy few months but we are so excited to see it all come together on the day.
Next week – It's never too soon to start your bridal hair and beauty routine