Country to Country Cuisine
The chance to visit my old hunting ground of London and go to one of the best known music festivals in the south seemed like an opportunity not to be missed. Can you believe the stars of the Country to Country Festival play three different countries in three consecutive days? The last time I went to this festival was in Dublin.
Having been brought up on a wide variety of music, I have always liked a bit of Country and its now having a revival with modern acts such as Carrie Underwood, Sam Hunt and The Shires making it quite the new sound. Hey, I'm no expert but this Festival was filled with people, young and old!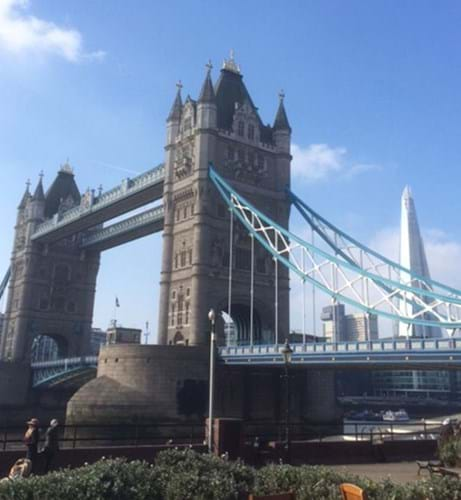 Old England meets New England
We stayed near Tower Bridge where 'old' London meets 'new' quite poetically, with the Shard standing majestically behind. This was our pick up point to collect the boat to travel down the Thames to the O2 Arena – what a way to arrive! On the same boat was none other than the actor Trevor Eve, famous for Shoestring and his wife Sharon Maughan the actress well known for her role in the Nescafe adverts… So you see, all sorts of people like Country Music!
I had never seen anything like it, there were Country acts in bars and restaurants around the arena and approximately 20,000 people packed around the main stage to see the big stars.
As the party started, the real question for me was 'what do you eat and drink at a Country Festival? What is real Country Cuisine? Is it all fried green tomatoes, grits and ham?'
As I took a wander I came across a fantastic hot sandwich stall and I have to say I was really rather astonished at how good this sandwich was, in fact it was pretty mind blowing!
Slowly smoked beef brisket with a black rub, carved to order and then served in a brioche bun with pickled chillies. The thick slices of beef were so tender they melted in your mouth and the flavours were intense. This powerful, yet simple food is something I will remember for a very long time.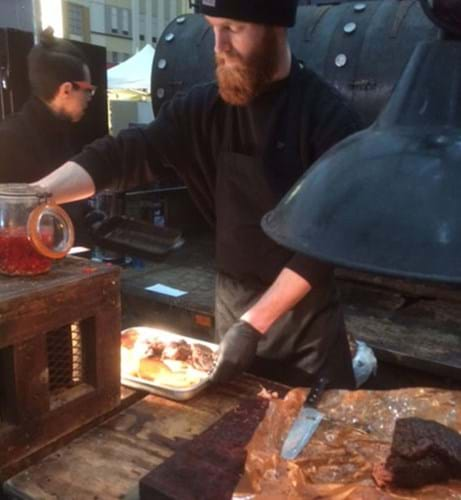 Assembly of the Brisket Butty
After such an incredible sandwich I felt ready to tackle a great night of Country Music, and perhaps a drink or two!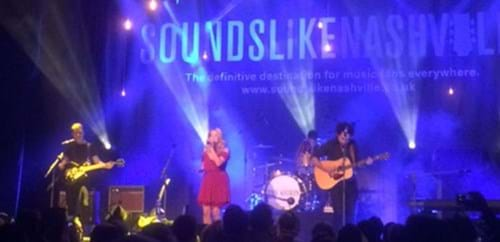 Pictured above is one of my favourite acts of the weekend 'The Shires'. They sang on the O2 stage for the after party which we were fortunate enough to go to.
Chris Stapleton really was electric on the main stage, he had the O2 Arena in the palm of his hand singing songs such as 'Tennessee Whiskey'.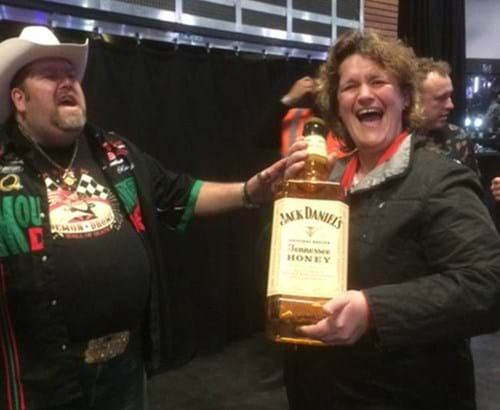 Whiskey in the jar
So imagine my luck when I came across this chap  (not Chris Stapleton, I hasten to add!) with the biggest bottle of the Tennessee Whiskey I have ever seen. This was a photo opportunity too good to be missed. As the crowd dispersed from the concert people, (including me) were asking him if they could have a photo with this bottle of whiskey.
Did you know?
The average shot of whisky contains 55 calories, so along with the brisket burger things were not looking too healthy for me!
However, it got me thinking about cooking with whiskey. At Clocktower there are nine different American whiskeys and 18 Single Malt Scottish Whiskys including 'The Glover', a 14 year old blend of Highland and Tokyo flavours and 'Yamazaki' from Japan.
Why do people blend whisky?
It is actually considered a remarkable art to do this and takes years of experience, using anything from 15 to 50 different single malt whiskys to get the perfect blend.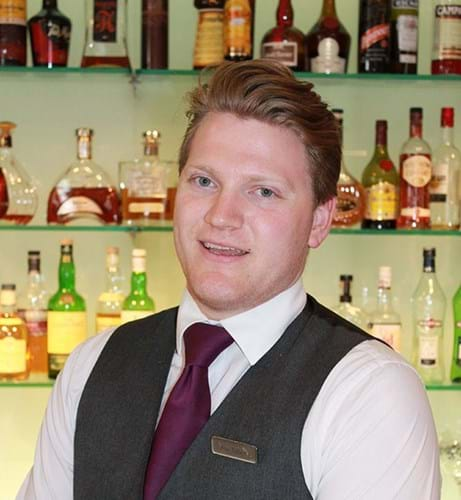 Assistant Clocktower Restaurant Manager Rory Gilbert – a man who really knows his whisky
Rory explains a Scottish Whisky is made by distilling spirit with cereals, water and yeast and he advised me the best way to drink whisky is neat, although some people drink it with water.
After hearing Chris Stapleton sing about Smooth Tennesee Whiskey and having tried a few at the festival it was time for a healthy beverage….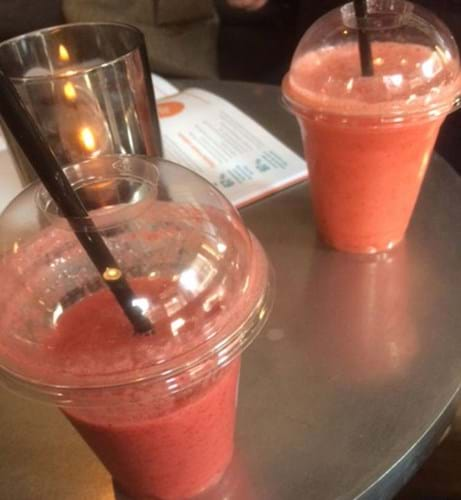 Strawberry, Elderflower, Raspberry, Banana and Apple Juice Power Smoothie – heavenly!
The last day in the big city and the last day of the festival was a chance for a tasty meal and what could be better than China Town Dim Sum. It was wonderful to eat fresh, steamed prawn dumplings, steamed Bok Choi and chicken noodles.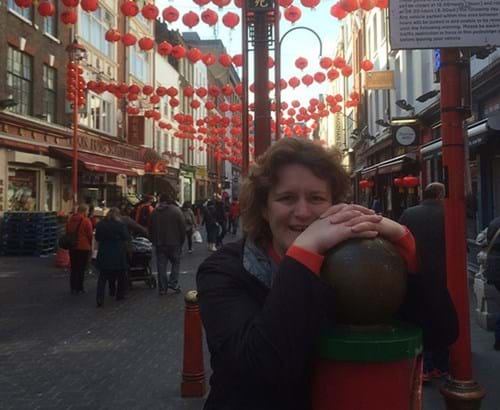 Having seen some of the finest American and British Country singers on the circuit it was time to go home. Whilst waiting for the train back to Yorkshire I couldn't help but notice the distinct lack of pigeons at Kings Cross – this was not the case a few years back.
As I walked around the station, I came across a hawk – what a beautiful bird of prey. I soon discovered why there was a lack of pigeons as it swooped down to the main hall of Kings Cross!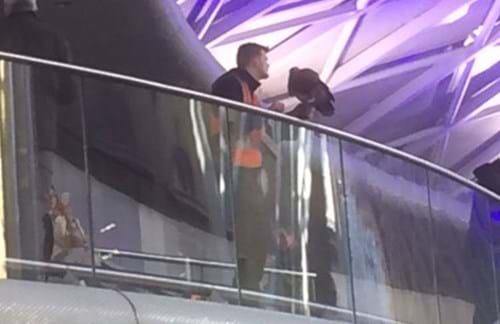 The country comes to the city in quite a different way!
Well (yawn), this country girl is signing off now. I will definitely be back to this amazing festival, amazing city and I hope to be lucky enough one day to try a glass of the 21 year old Speyside Glenfiddich in the Clocktower at Rudding Park.
Steph x