Day Three of the Great Yorkshire Show – the grand finale!
Day three, the final day… (Click here if you've not yet read day one)
Lots to see, lots to do at the Great Yorkshire Show – and a quick chance to take a brief look around the show and who should we see from afar but Secretary of State for the Environment, Food and Rural Affairs, Liz Truss, who was on the Welcome to Yorkshire stand. The weird thing was, the following day she was appointed as the Justice Secretary by Theresa May. She famously had a rant about Great Britain importing two-thirds of its cheese and as a local cheese eater, "I agree with you, Liz!" I hope whilst she was on her rounds, she got a look at the cheese area – it would have had Wallace and Gromit in raptures!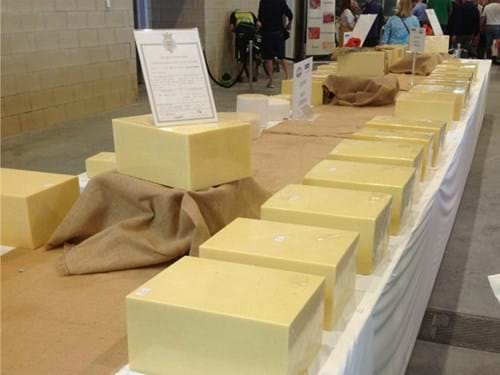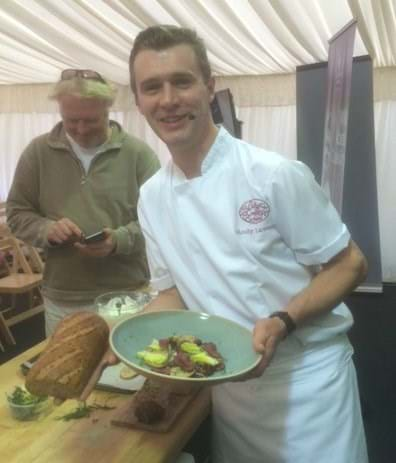 Andy Lawson, marrying tea and venison!
Bettys Cookery School tutor Andy Lawson was on stage next. Andy really had the crowd enthralled with tea smoked venison carpaccio, lingonberry jam and salted walnut crème, served alongside the Bettys multigrain loaf he is holding. We all got a slice – lovely.
Paul Richardson Mackie from Tennants is no stranger to the Great Yorkshire Show and followed the trend with another venison dish.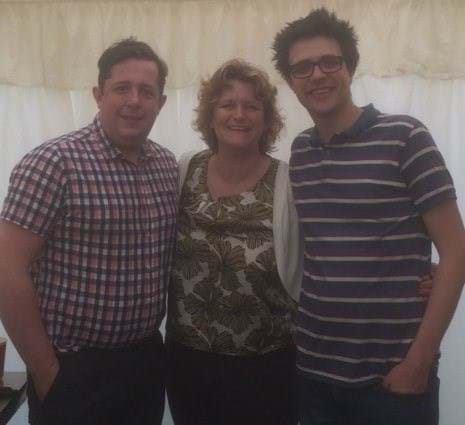 Paul, Steph and Rob Ramsden enjoy a chat after the demo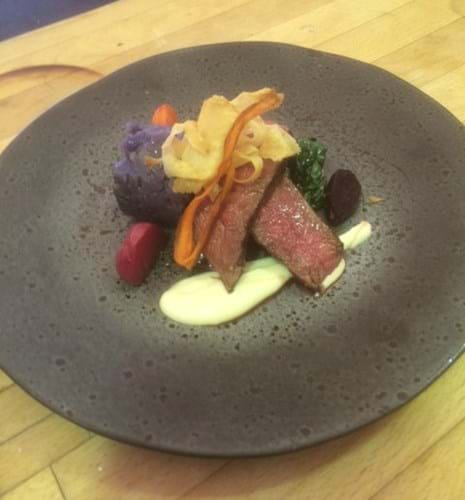 Venison loin with heritage potatoes, parsnip puree and salt baked beets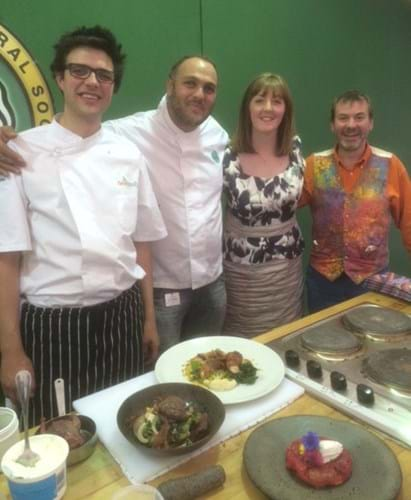 L-R Rob, Mehdi, Jane & Rob
Rob Ramsden from Deli Fresh loves to get excited about fruit and vegetables and his enthusiastic cookery demonstration style is always well received.
Pictured here left to right are Rob, Mehdi and Jane from Fodder and Rob, a good friend from The Square and Compass, joins the party.
All the group are stood in front of Rob's dishes of rabbit saltimbocca, pigeon with seasonal vegetables and a gooseberry tarte tatin.
Fodder followed on with Head Butcher Ben preparing a venison leg for Mehdi to cook with some lovely salad tasters.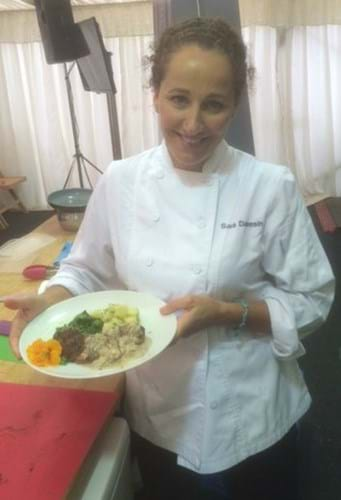 Sara Danesin Medio
The cookery demos have been going strong for three days! The recognisable figure of Sara Danesin Medio, former Master Chef Finalist and regular on the programme, joined us next to create a dish full of Italian flavour, whilst sharing lots of helpful tips on Italian style cookery

Callum Bowmer of Horto, Rudding Park
Callum Bowmer, one of the finest chefs at Rudding Park was cooking a dish from the Horto menu using unusual homemade Elderflower vinegar and a beurre blanc sauce made with Slingsby gin (which is infused with herbs from the Rudding Park kitchen garden).
The thing I love about Callum's plate is he cooked the lot in the demo kitchen with us – even the little fondants made from celeriac. He's showing the development of valuable skills with the pickling of the elderflower vinegar.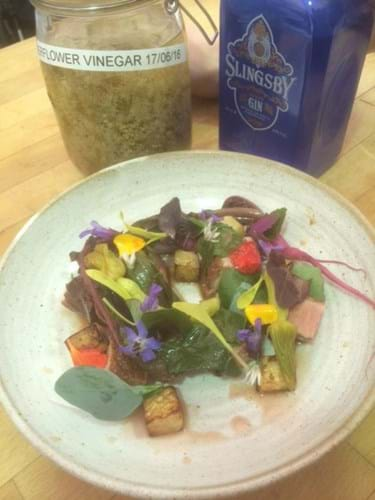 Warm summer duck salad with kitchen garden vegetables and herbs
This dish screams kitchen garden and if you get the opportunity, the Kitchen Garden at Rudding Park is well worth a visit.
As too is Horto! To find out more about Horto's menu or for booking details, visit www.ruddingpark.co.uk/dine/horto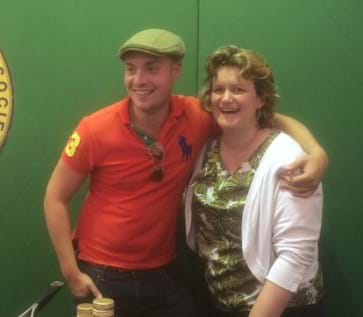 Will Smith of Stray FM with Steph
Will Smith, Stray FM's Home-time DJ dropped in to pre-record the Food and Drink show with me. We interviewed Rosemary Shrager together – what a hoot! Listen here… www.strayfm.com/listenagain/e/7335/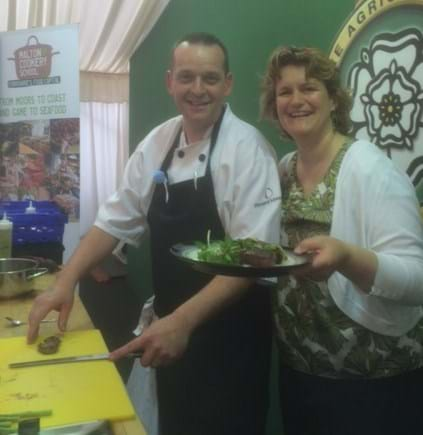 Rob Black with… venison!
Rob Black covered the last demo of the day for ISS Academy at Leeds City College.
He continued the theme and demonstrated a superb venison dish, which he served pink.
What a show, what a year, what a venue! I loved every moment.
Until next year, bye bye from the Great Yorkshire Show. It's like a visit from a great friend – there's so much anticipation and then it's over all too soon but the moment it's gone you start looking forward to next visit !
Steph x