Day Two of the Great Yorkshire Show
Day Two … (Not read our earlier posts? Click here to read The Greatest Show on Turf – the 2016 Great Yorkshire Show through the chefs' eyes! Day One.)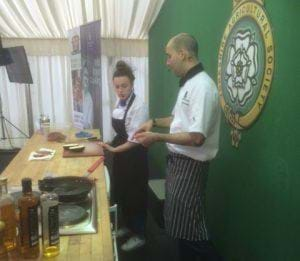 Kevin & Chloe
We started off the day at the Game Cookery Theatre, with Kevin Hughes, Chef Tutor at Leeds City College, along with student Chloe, making a sous vide pigeon with baba ganoush and a watercress and radish salad, dressed with Yorkshire lavender and (Yorkshire!) rapeseed oil. Check out our buffet of bottles on the table!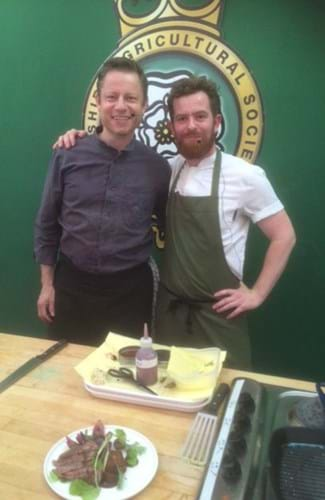 L-R Oliver Rowe and Simon Jewitt
Harrogate restaurant Norse brought in Oliver Rowe, who has been seen on TV's Saturday Kitchen and the Urban Chef series, to demonstrate with their Head Chef, Simon Jewitt.
Oliver and Simon united Simon's passion for preservation techniques and foraged foods with Oliver's recipe for a fresh vibrant salad. Ingredients brought by Simon included one of my favourites at the moment, Oxalis.
Next, I cooked a venison dish and a pigeon dish showcasing Yorkshire game. Have you seen the game blog previously published on here? There are some great recipes to try out… www.ruddingpark.co.uk/wild-cooks-blog/2013/10/game-to-eat-at-rudding-park/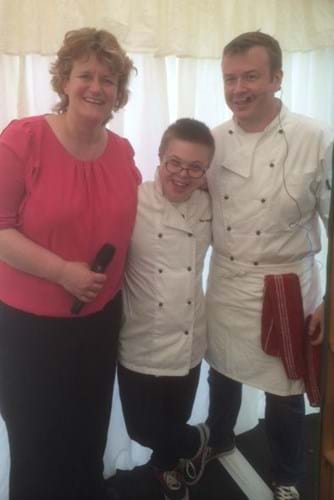 Stephanie Moon, Ben and Ashley McCarthy
My buddies Ashley McCarthy and his son Ben gave us a great menu from Ye Olde Sun Inn at Carlton near York – I think Ben wins the prize for best smile on this blog post! Their three course meal went down well with the audience before we all ran up to the Food Hall where I became MC for the afternoon. Ashley and Ben presented another fabulous treat, including Ben's famous rhubarb cheesecake, so double trouble – two demos and two Ye Olde Sun Inn chefs!
The Ready Steady Cook style show saw our Chefs and myself collecting things from around the Food Hall in just 5 minutes! Ben Turner from The Fairfax Arms and Jason Moore from Gisborough Hall battled it out Yorkshire food style.
Local venison, Herbs Unlimited salad leaves and herbs and edible flowers, LED Yorkshire tomatoes, tasty strawberries , Shepherds Purse cheese, Poskitts carrots and Cockerill potatoes all made an appearance. They also featured in the Journey of Food walkway – set up to allow people to try the best of Yorkshire produce.
The stage in the new Food Hall is much bigger. The two cookery theatres each offer something quite different and complement each other well.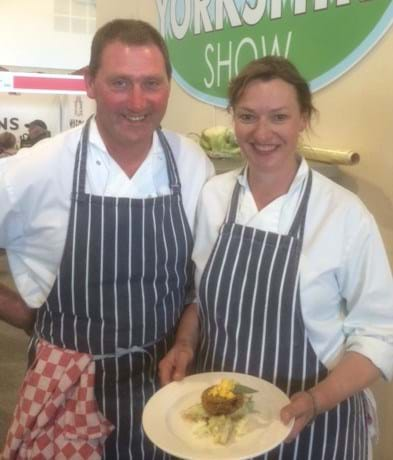 David and Davina of Lovegreen Catering
David and Davina have a stunning farm near Catterick, with one of the best views from any working professional kitchens I have seen.
The Lovegreens brought their own home-reared pork shoulder and showed us how to cook it until soft to make into a breadcrumbed pork cake.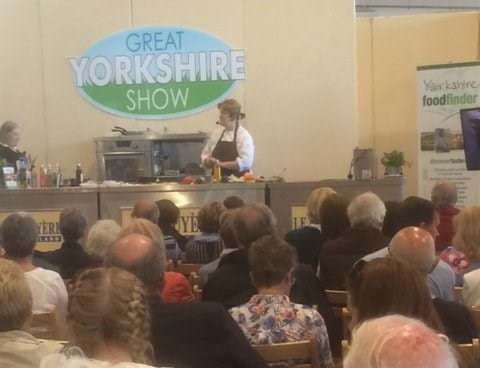 A full house!
I changed back into my whites and returned, with Sallyann Kilby of Wharfe Valley Farms who brought along some of their amazing rapeseed oil. I departed from game with a dish of Yorkshire duck with blackberry dressing. I also cooked some Whitby crab – this time with a lemon rapeseed oil and edible flowers dressing – both super products that should be used more in my view.
As a farmers' daughter, I think we chefs have a duty to promote local produce and it was great to have Sallyann join me on stage.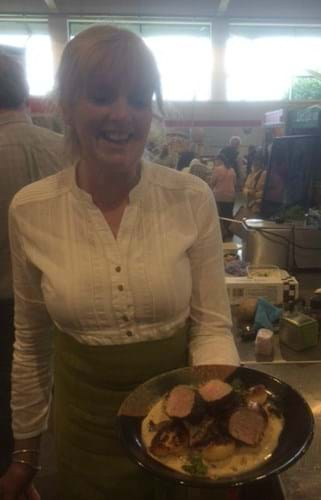 Gilly with Boulevard Pork Loin
Gilly Robinson, Head of Malton Cookery School was next to the stage.
Gilly had some of her fans with her and it was a really good demo. Angela Vaux, Head of Country Pursuits remarked "It is so good to see Gilly getting her own show. I always see her with Rosemary, it is nice to see her in action."
Gilly has worked with Rosemary Shrager for years but her role at Malton Cookery School means she is getting out and about – good stuff!
This plate of Boulevard Pork Loin with a creamy sauce was a lovely dish. The pork was rolled in mushroom dust (blended, dried mushrooms) giving the pork a distinct flavour.
To round off day two, we 'Kept Calm and Curried On' with our friends from the World Curry Festival.

World Curry Festival delivery box
I was so impressed with the box they delivered their food in I took a photo of it! It's the best piece of marketing kitchen equipment I've seen since the Sky Cycle team's Thermomix put in an appearance in the kitchens at Rudding Park during the 2014 Tour de France. Click here if you didn't read about this!
Sara made a mildly spiced but well curried dish of chicken that was cooked on the bone and if you want the recipe visit the World Curry Festival site here: www.worldcurryfestival.com/debut-great-yorkshire-show/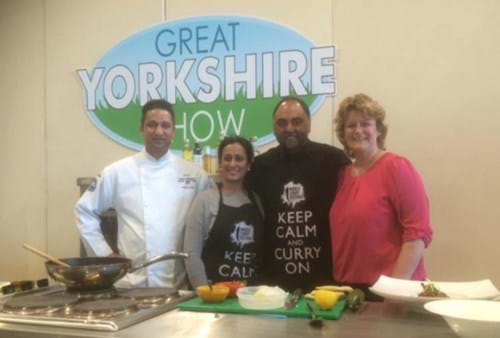 Wasim Akram from Aagrah with Saira and Zulfi Karim of the World Curry Festival
What a spicy fun finish to today's Great Yorkshire Show cookery theatre looking forward to the final grand finale tomorrow.
Steph x
To follow Steph's adventures on the last day of the Great Yorkshire Show, click here!