Dieting… If Tom's doing it, lets all get to it!
So as we're almost at the end of January are you struggling with motivation for your 'New Year, new you diet? Are you in a health food slump? My 15 minute healthy snacks will keep your diet on track – and trust me, I know what how you're feeling, because I'm also dieting!
We are all at it, even Chefs! I know the Tom Kerridges' of the world have undergone major weight losses, 12 stone in fact, so far I've lost three stone and I feel much better already.  
Tom and his TV show, Lose Weight for Good, are really inspiring the nation to lose some timber! What can I say, I am a massive fan of Mr Kerridge and all he is doing to motivate us to lose weight and eat better, what a role model.
I was lucky enough to meet Tom, when he was twice the man he is now, at the Great British Menu wrap party, about six years ago. He attended with his wife Beth and we had a great deal of fun following the competition. I was lucky to see Tom again at last year's BBC Good Food Show in Harrogate, he remembered me which really made my day! Here we are pictured.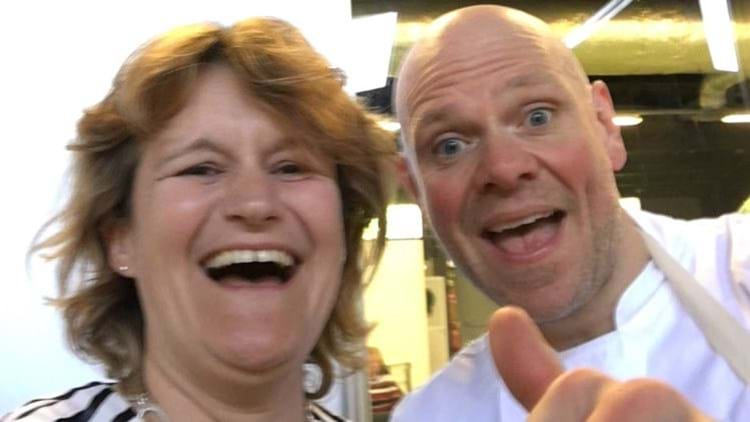 I struggle with the lack of nutritious and low calorie nibbles and savoury treats on offer whilst dieting. So with my new healthy hat on, I've created some simple recipes and ideas for tasty nibbles and treats that I'm sure Tom would approve of. They are packed full of flavour and are low in calories.
You can lose weight and still have a treat or two, the key is to make sensible choices and stay on track. My dishes take care of the cravings for crunchy, fried foods in a slightly different way – plus, they include zero fat! Exercise is also a great way to tone and lose weight, have you seen the latest membership options at Rudding Park Spa?
Healthy nibbles

This platter is very simple and the different elements on this dish will keep those unhealthy cravings at bay.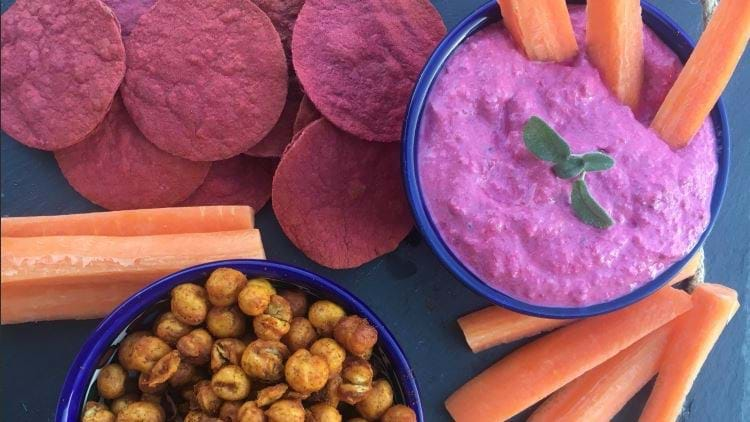 You'll need:
1 x Jar pickled beetroot
A carton of low fat cottage cheese with chives
3 x Weight Watchers bread wraps cut into circles or shapes
1 x Can of chickpeas
1 x Heaped tsp turmeric
1 x Heaped tsp cumin
1 x Heaped tsp smoked paprika
1 x Large pinch of sea salt
2 x Carrots (peeled and cut into batons or sticks)
To make the beetroot dip:
Simply blend the drained jar of pickled beetroot with the carton of chive cottage cheese, blend until smooth and taste, then season as necessary.
To make the low fat wrap crisps:
Simply stamp out the low fat wraps with a cutter and bake on a dry tray in the oven until crisp, approximately eight minutes at 180ºC.
To make the spiced slow roasted chickpeas (you'll require an ActiFry for this):
Place the dry ingredients the smoked paprika, turmeric and cumin in the drained washed can of chickpeas, place in the ActiFry and season with salt. Bake for 20-25 mins until golden and crispy, when tried they should crack dry and crunch like a salted peanut would. Once cool, seal in an airtight lid container.
Tuck in!
Beef Kofta
This tasty recipe can be served as a starter at a dinner party or is a great lunchtime or evening snack.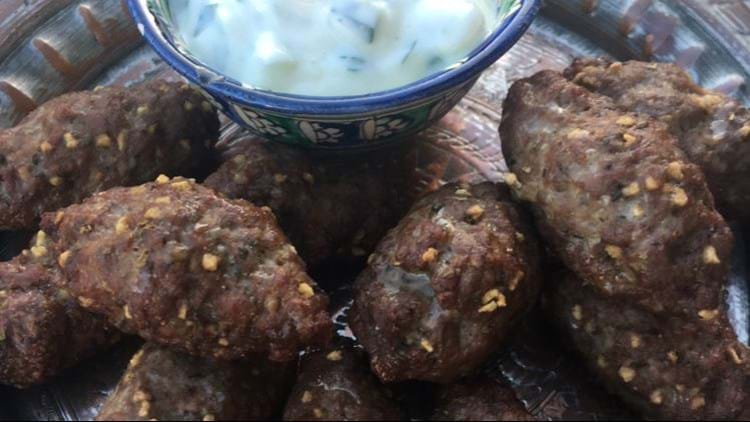 You'll need:
200g Lean steak mince
1 x tsp cumin
1 x tsp coriander
1 x tsp sesame seeds
1 x clove of crushed garlic
Pinch of salt and pepper
Large pinch of chilli powder
For the dip:
2 x Small cartons of natural yoghurt
¼ Small cucumber split in half seeds removed and dissuaded - finely dice the rest
10g Freshly chopped coriander
4 Finely chopped spring onions
Add the mince and spices, salt and pepper and process until well combined and paste-like. Preheat the grill to a medium high heat. Use your hands to mould a heaped tablespoon of beef mixture around a wooden skewer, or just shape if you don't have any, into a small sausage shape.
Brush the kofta with a little oil and cook under preheated grill, turning carefully once, for 5-8 minutes or until browned and just cooked through.
Mix the ingredients for the dip together and serve with the kofta.
Enjoy and good luck with your 2018 healthy eating resolutions!
Steph x