Even the Sky Turned Rhubarb!
Regular readers of this blog will be familiar with my dogs, Honey and Pickle. The day of the Wakefield Festival of Food, Drink & Rhubarb, we set off on an early morning walk and wow,  what a sight I saw - even the sky had turned rhubarb in honour of this great Yorkshire product!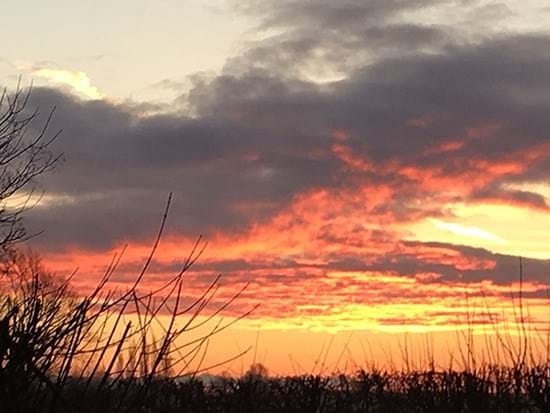 At Rudding Park we're big fans of rhubarb and grow our own in clay rhubarb forcing pots. I visited Adrian, Head Kitchen Gardener, to collect a small bag of one of his favourite stems - Brandy Carr Scarlet. Now there is a man who knows his his Champagne rhubarb from his Timperly Early! The colour and rigidity of the rhubarb is excellent - we are lucky to have such stunning produce at our fingertips. I was given some quick before the Clocktower chefs got in there!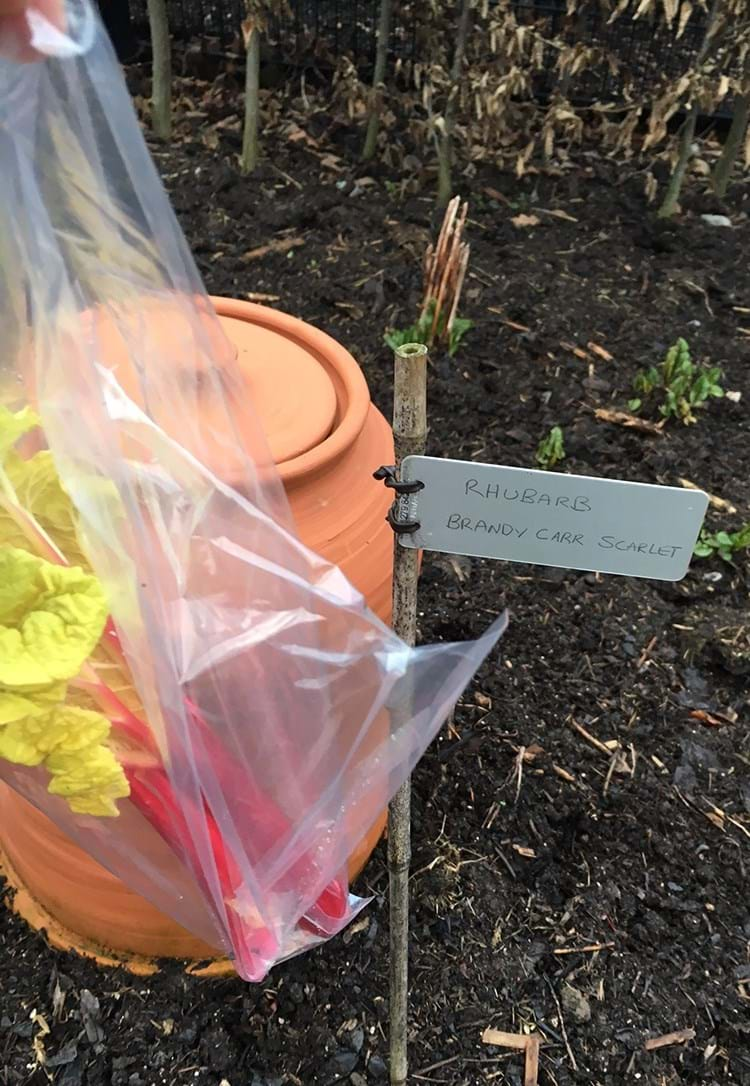 On arrival at the Festival,  I was thrilled to see my name in lights and amongst such a great line up  - many of them passionate 'rhuabarbites'.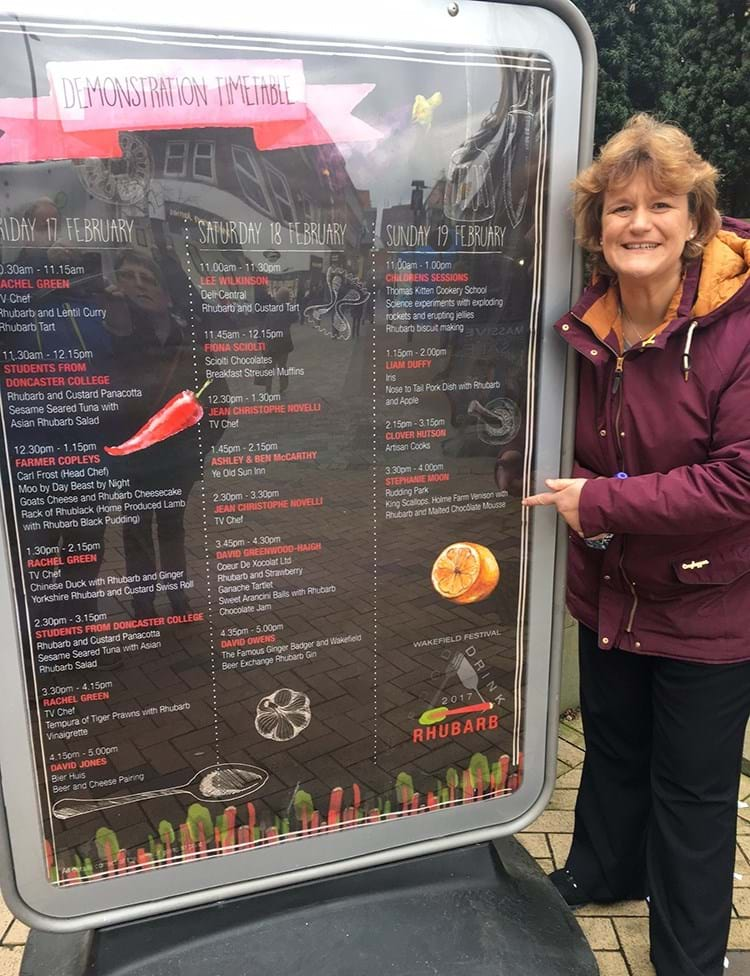 Doncaster College students and their tutors Adele and Chris did a sterling job of starting the Festival, along with the Mayor Harry Ellis and TV Chef Rachel Green. The students filleted and soused mackerel on stage and served it with rhubarb.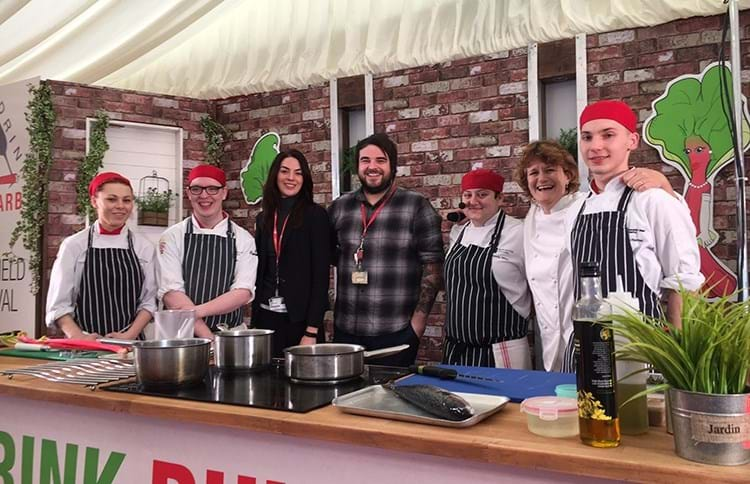 Jean-Christophe Novelli was in playful mood with his rhubarb and the crowd loved it. He was charming and even gave me a signed copy of his book which made my day! It was funny, in a packed audience of at least a hundred people, there were only eight men!
Jean-Christophe is really keen to make fresh and tasty food which is healthy too. This is something I know will be on the menu at Horto when it moves to its location in the new Rudding Park Spa. The aim of The Spa will be to support a holistic approach to health and wellbeing, so ensuring balanced options is key. I went on a hard hat tour recently and I can promise you it will be an excellent addition to the Rudding Park family. If you're interested in membership, call 01423 844850 to find out more. There are some fantastic benefits for Founder Members who join before 31 March! 
Joining Jean-Christophe on stage, David Greenwood-Haigh of Coeur de Xocolat had the biggest bar of chocolate I have ever seen. Despite the scale of this, he proceeded to make some lovely mini chocolate tarts. We then returned to Jean-Christophe Novelli , who served up a pan-cooked whole chicken breast with vegetables, rhubarb and a little chicken stock.
Continuing the chocolate theme, my great friend Fiona Sciolti showed me her rhubarb truffles, made specially for the show. It seems like rhubarb and chocolate is a winning combination as she was selling out fast on her stall!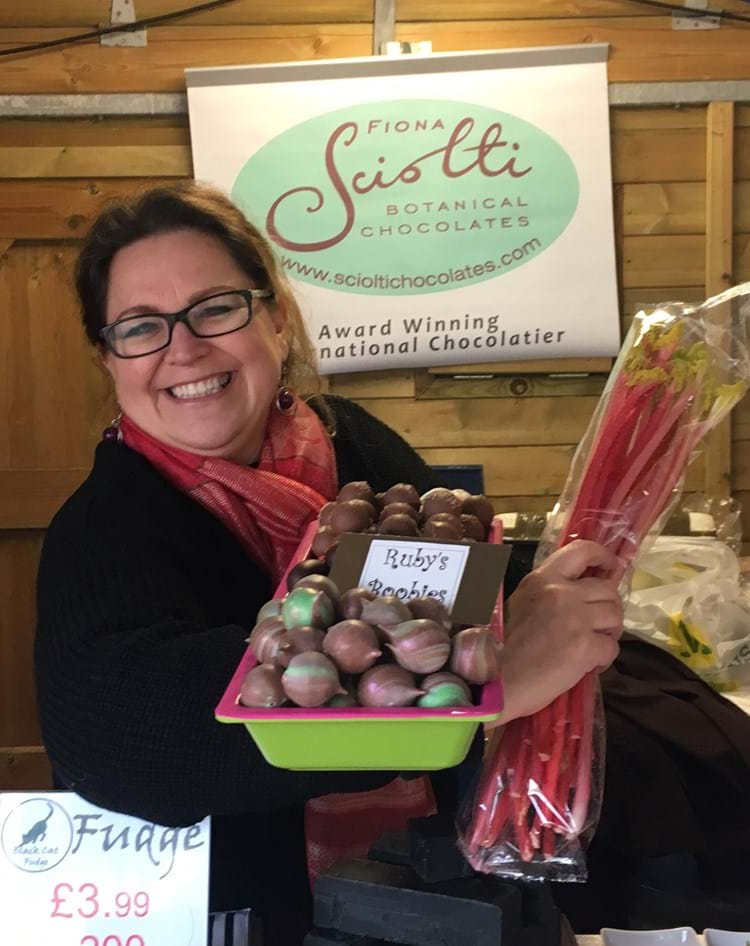 Another popular dish was Clover Hudson's fantastic rhubarb cobbler dish which went down well with the younger members of the audience, as you can see. Ruby Rhubarb, the shows one and only Dame, got in on the act and was hilarious - I had tears rolling down my face for this demo.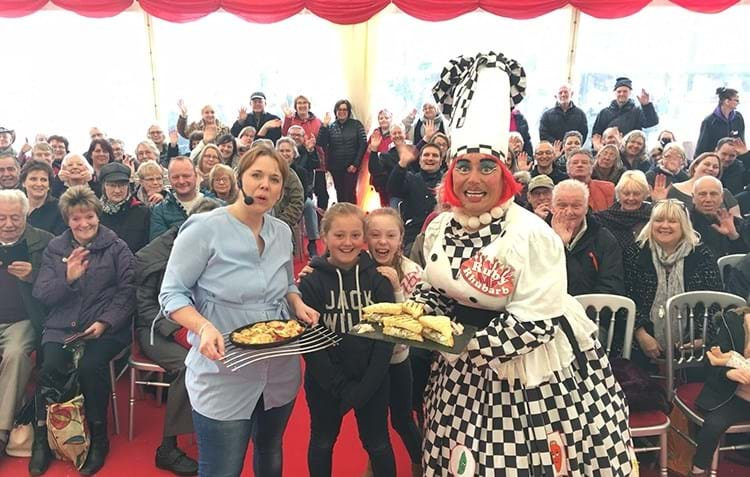 All these wonderful dishes wouldn't be possible without the efforts of the Rhubarb triangle's growers. Lindsay Oldroyd Hulme (on the left) is from one of the the best known family growers. I have been up to the E Oldroyd & Sons sheds and seen the rhubarb grow. It really is impressive and I can confirm that yes it cracks as it grows, and yes, it is grown in darkness and picked by candlelight!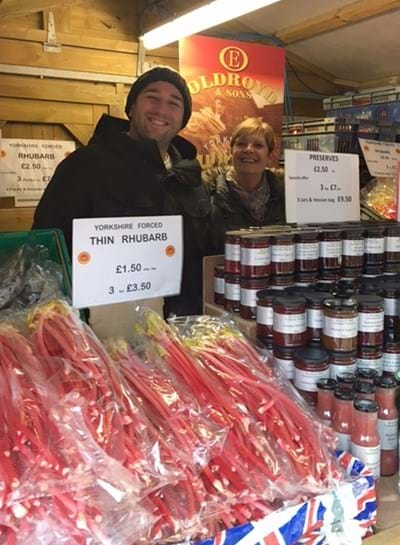 Next on stage and also local to Wakefield – Liam and the team from Iris restaurant did a super demo with Allums butchers of Wakefield, showcasing pork. I was surprised to see Ryan with them (on the right) who I think has grown since I last saw him!  Ryan is a former student of mine, now working at Manchester House with Aiden Byrne, having left Iris a couple of years ago. It's great to see young chefs coming through and doing well.  Our next Wild Cooks Blog is coming from Leeds City College. I'm taking Emma Ramsey, a young chef working in Rudding Park pastry kitchen, along to experience helping out at a demo as my commis chef. It really is important to bring on the younger generation to ensure our kitchens remain full of passionate chefs - something we take very seriously.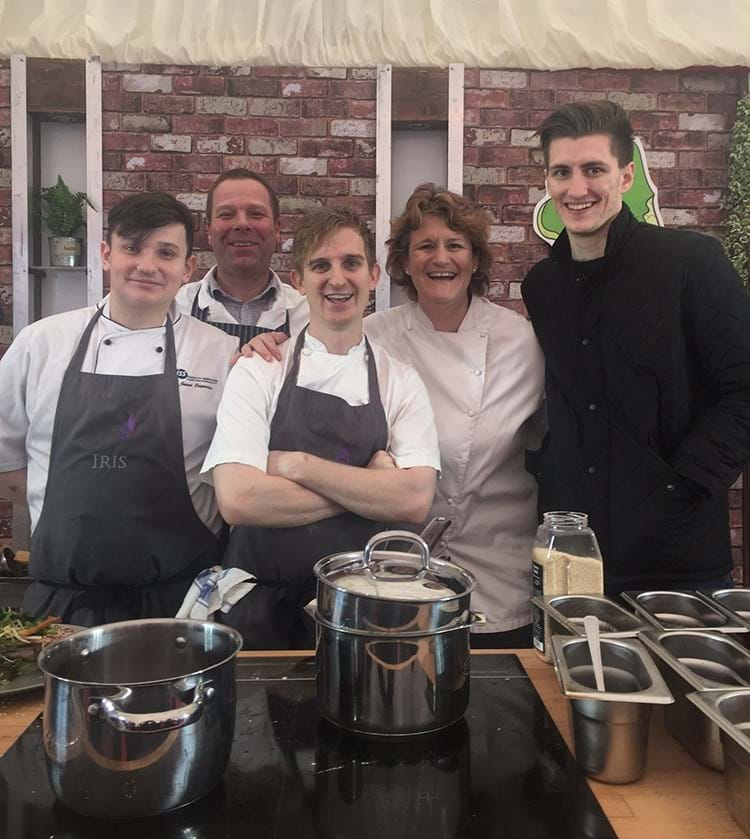 Back at the Festival, it was soon my turn to demo three dishes. The starter was a play on one of our Clocktower classics: scallops from the a la carte menu, with an addition of oven-braised rhuabrb and delicate curried spices. The next course was a Holme Farm vension dish with rhuabrb and tortellini and finally a malted chcolate mousse with salt caramel, meringue and chocolate soil.
I was the last demo of the day and by the time I finished and jumped off the stage, the audience were moving on so here are a few people who were asking questions about the dishes helping me hold them up for the photo.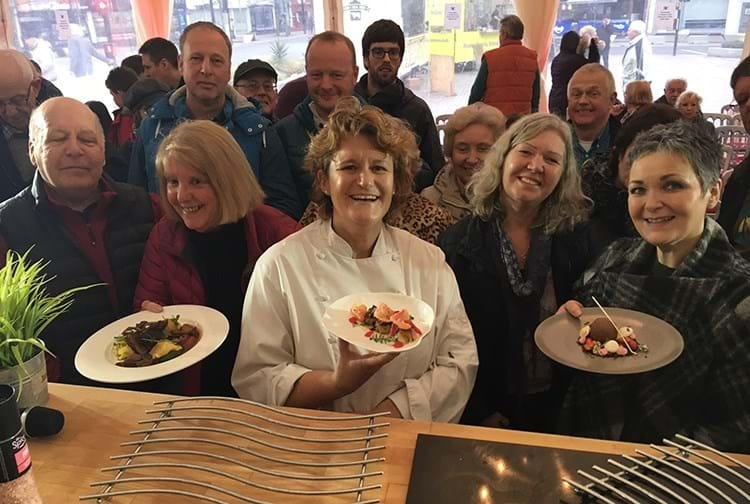 Rhubarb has to be one of my favorite things to cook with, it just shouts Yorkshire.
Simply Rhubarbtastic!
Steph x