From Deli Fresh to Yorkshire Tomato Heaven
Just in time for British Tomato Week (18-24 May), I met fellow foodie Elaine Lemm to visit Deli Fresh and see the produce on offer, including Yorkshire tomatoes!
Rob Ramsden from Deli Fresh always has an eye for new Yorkshire products and his enthusiasm is infectious. Blushing Yorkshire tomatoes grown with L.E.D. lights give an incredible taste and can be grown all year round. You heard it here first!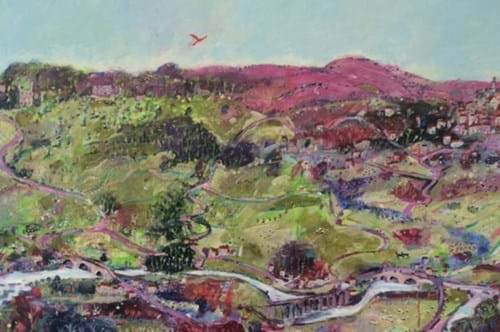 Richard Snowden's Yorkshire painting
As we started our tour of the Deli Fresh Head Office Depot, it was touching to see this painting by Richard Snowden, who was a former fruit and veg grower from Harewood. He has sadly passed away, but I met him years ago when I was looking for Burdock Root for my Great British Menu dish. He really helped me out, so it's nice to be able to include this painting of Yorkshire in our blog.
Before we started we looked at some new products Deli Fresh are stocking – seaweed noodles are ideal for the gluten free palate.
The team at Deli Fresh travel all over Yorkshire and beyond so it's no surprise to see that the factory is so large.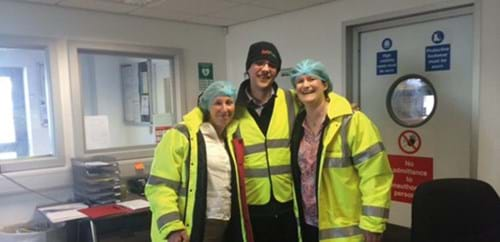 Foodie fashion
Dressed to thrill, in we go to the factory…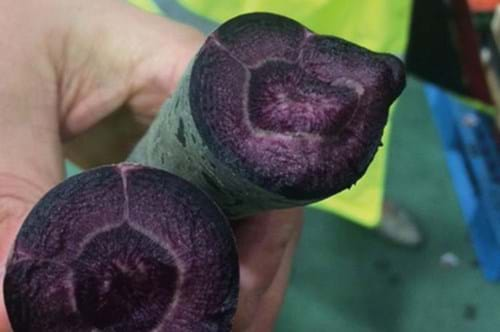 Purple Heritage carrot (as they used to be)
Sometimes you can find the unexpected; here is a heritage purple carrot the colour runs all the way through the vegetable, a really stunning purple wonder!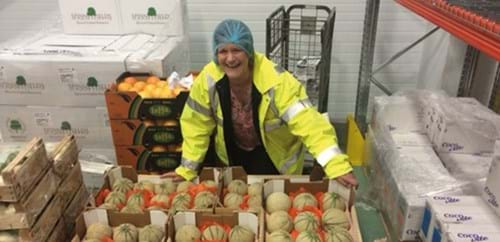 Fruity
Great melons Steph! However, this blog is about the Great British tomato and how it gets from Stockbridge growers near York to the kitchens of Yorkshire for our Chefs to use.
As we set off I was feeling excited to taste the tomato on the vine. Seeing the big tomato pallet was amazing. We then went to meet Nigel Bartle (member of the research foundation) and Martin McPherson, Science Director for Stockbridge. Martin is responsible for the L.E.D lighting used for growing tomatoes. As we walked around the greenhouses, I had so many questions to ask.
Why grow using L.E.D. lighting ?
Plants need different light for feeding and as we know we don't always get brilliant sunshine here in Yorkshire! At Stockbridge, L.E.D lighting such as blue, far red and deep red is used to emulate the brightness of the sun.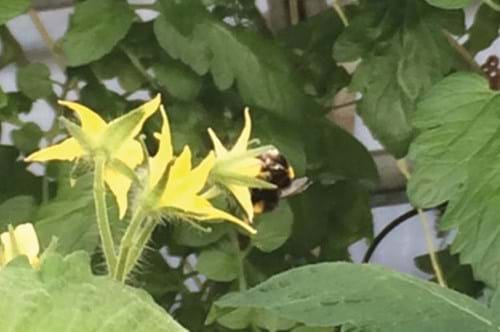 Bees in action pollinating the tomatoes for us!
Tomatoes need bees to pollinate them and these bumblebees were very active whilst we were at Stockbridge. Thankfully I was not wearing yellow – apparently if you wear yellow you get covered in a few minutes with Bees thinking you are a flower!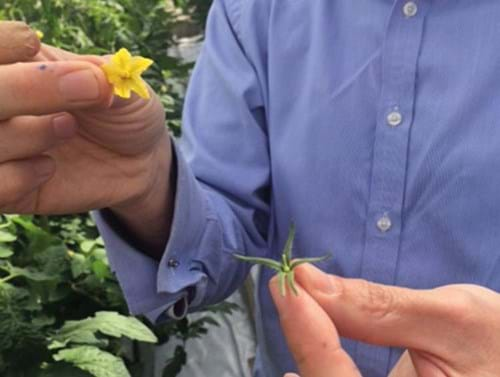 Here you can see Nigel with the flower and the nectar sticking out.
There were many varieties being grown and some even have an attitude!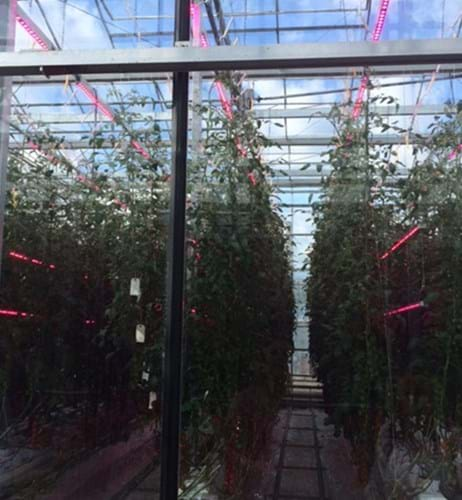 The maximum spectrum of light
These tomatoes are far higher than any plant I have ever seen.
The L.E.D. lightening was impressive. They are currently experimenting with different lights to see what time of day is best to leave the lights on, ensuring they optimise the sunlight through the roof of the greenhouse.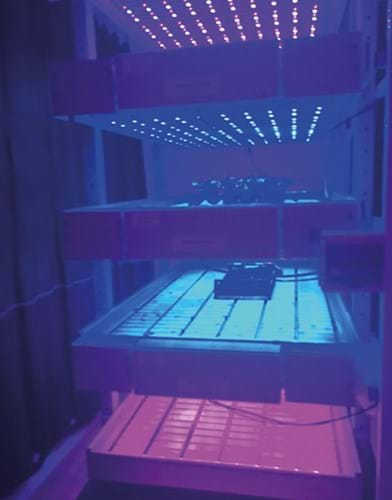 Basil gets the L.E.D treatment!
Before leaving, I asked Nigel if he had any tips for those growing tomatoes who do not have L.E.D lights. He said:
Always feed tomatoes when you water them.
Use tomato ripe to feed them.
Water tomatoes in the morning.  In his words "Would you go to bed with wet socks on?"
Lift them up so they are easier to pick.
Nigel said it is a con to have hanging tomatoes as a special variety as all tomatoes hang. Before now, I have to confess I have bought the hanging variety but I was not going to tell Nigel that!
I really enjoyed my visit to Stockbridge and Deli Fresh and felt enlightened by my afternoon. Thank you to all involved, I am now off to make some tomato chutney!
Steph x