Game for a Great Show - Day One
You'll find the best cattle, sheep, horse events, farm machinery and local produce at England's Premier Agricultural Event, the Great Yorkshire Show.
The show officially 'started' for me on the Sunday, two days before the opening – I was delighted to be asked to present the Preview Show with Will Smith on Stray FM. This was four hours of live discussion and exclusive interviews. This was great fun; I brought in a raspberry and vanilla cake and some Summer Cup Pimms which went down well with our guests.
In addition to show stalwarts Director Charles Mills and Operations Manager Nigel Morgan, celebrities Rosemary Shrager, Gino D'Acampo and Sir Gary Verity visited us, and local Cheese & Dairy Show host and Stray FM DJ, David Whittle also stopped by for an interview. It was a packed programme and I hope we managed to whet some appetites ahead of the show!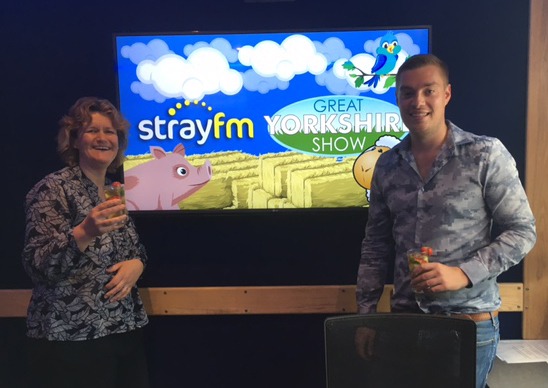 Will and Steph toast the beginning of the Great Yorkshire Show in the Stray Studios.
This year, I hosted the Game Cookery Theatre again. Tuesday saw a succession of great demos from fabulous chefs.
Dan Graham from the Talbot whipped up two dishes in an impressive 30 minutes, bringing our first game to the marquee along with a raspberry dessert which had lovely, light shortbread layers.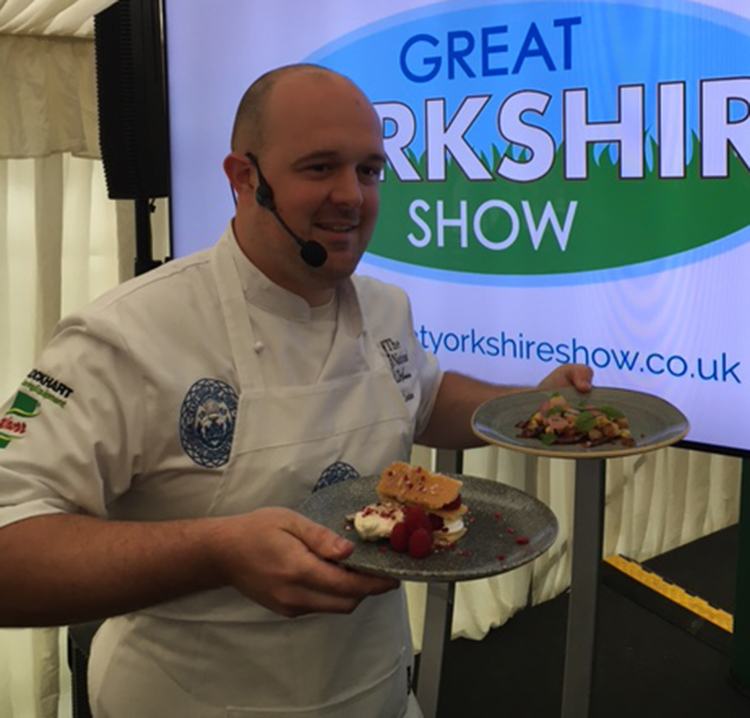 Next to the stage was Michael Carr, a young man on a mission! A former Commis Chef at Rudding Park, Michael started as a young trainee who had to leave the kitchen at 12 noon as he had worked his hours for that day! Now Head Chef at Restaurant 92, following a stint working for Gordon Ramsey, he is Harrogate Hospitality & Tourism Awards' Chef of the Year 2017. Michael served up a rabbit dish with edible soil and heritage carrots.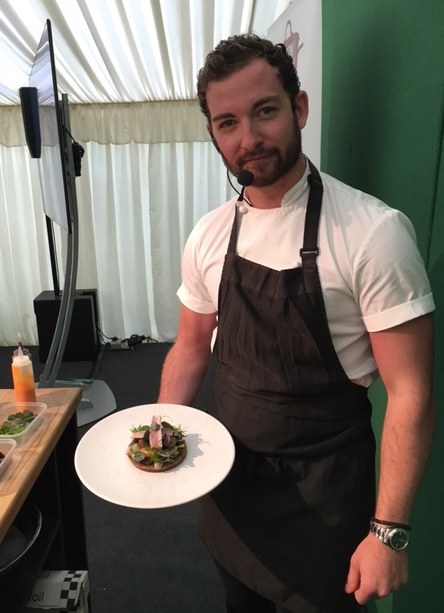 We were now in full flow and ready for our first Michelin star of the day - enter James Makenzie, Michelin star chef from The Pipe and Glass near Beverley. James has been a fantastic supporter of the Great Yorkshire Show for many years and his audience was as big as ever.
James created two dishes, including a simple partridge dish with a buttermilk crumb. James' son, Toby, was the first in the queue for a taste as you can see here!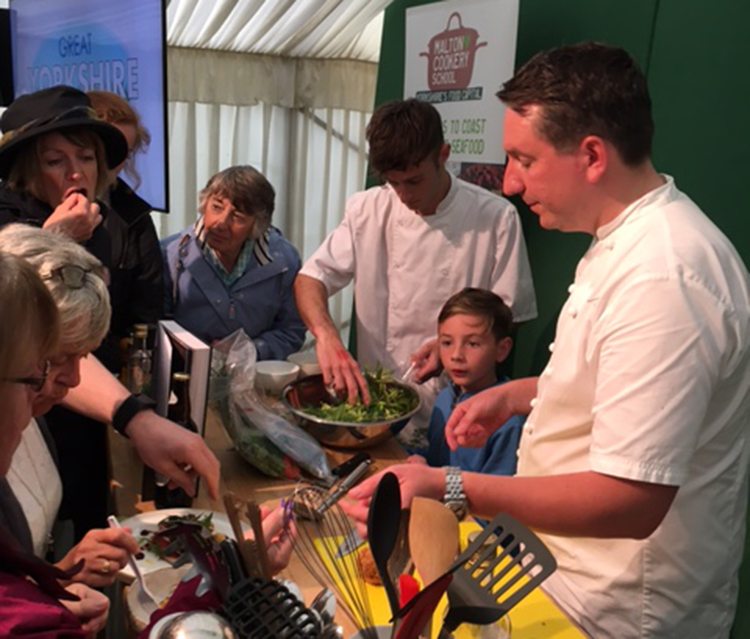 The high quality of the show continued, with Matt Healy, a Master Chef: The Professionals finalist. Matt cooked up a feast of venison served with chocolate jus.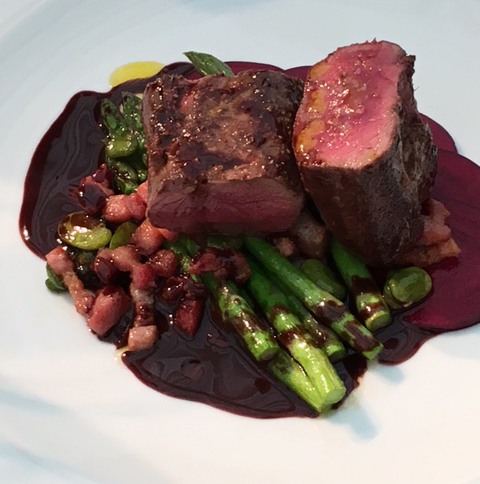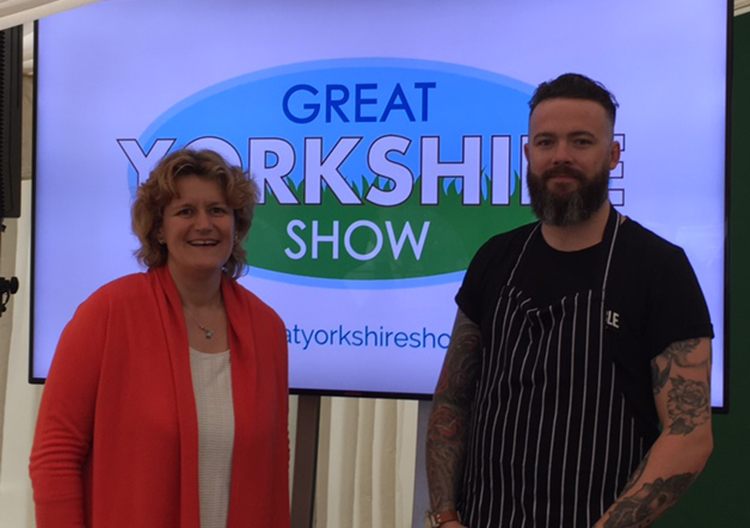 Andy Lawson from Bowcliffe Hall was up next with a quail dish to set the taste buds tingling. In a first for us at the Game Cookery Theatre, Andy also brought a popcorn machine to create smokey bacon popcorn. He showcased a nose to tail style of eating, cooking the whole bird and wasting nothing, which is in keeping with the Great Yorkshire Show principles.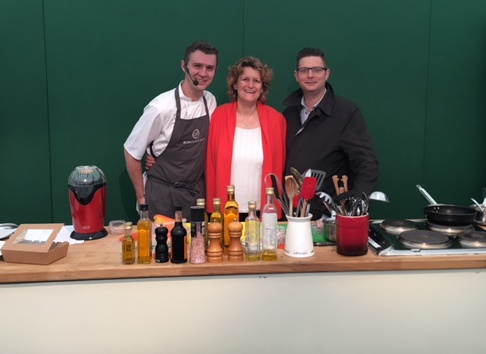 Bowcliffe's Director of Excellence, Simon Crannage turned up to support Andy and it was great to see him as we worked together many moons ago and have been firm friends ever since. Simon has just started at Bowcliffe following a move from Swinton Park.
Neil Bentinck is one of those chefs who you could say is 'hot right now' following various fantastic reviews in national press and if you have the chance to taste his food you'll see why! He was assisted during his demo by Sous Chef Sam Willis (left) – both with big smiles on their faces.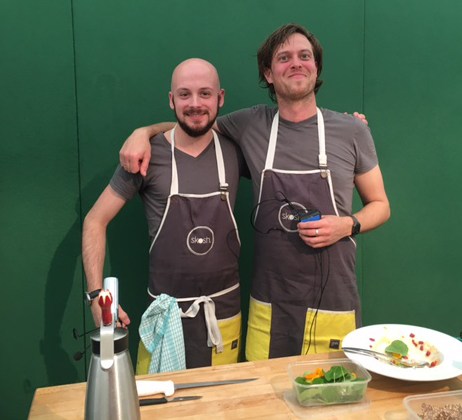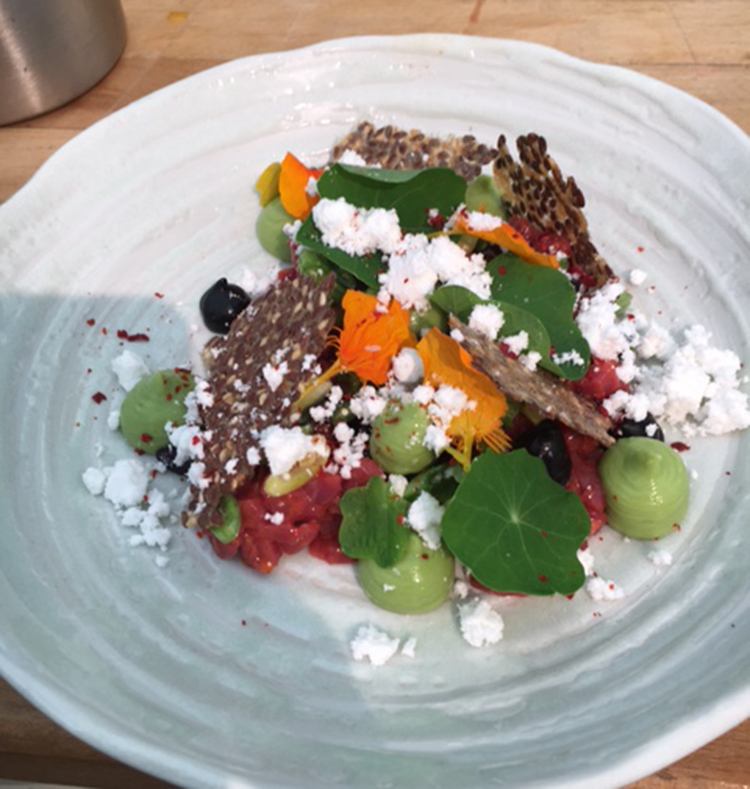 Neil and Sam cooked venison tartar with seed crisp, avocado puree and nasturtium - the flavours of this dish were immense.
Rosemary Shrager is in such great demand at The Great Yorkshire Show it's no wonder she drives around with steward Toby and has her own golf buggy! This could be the way to travel – although if you're the kind of person who prefers a little golf with your buggy ride, check out Rudding Park's Perfect Drive offer.
Rosemary teamed up with Simon Whitehead to create this rabbit dish: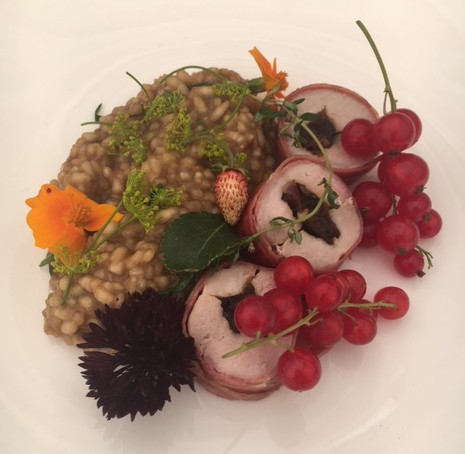 All the flowers and fennel came from Rudding Park Kitchen Garden. It was easy for Rosemary to source them as she was resident at Rudding Park during her Great Yorkshire Show trip. A little bird told us she particularly enjoyed Rory's mojito while staying too…
The rabbit was locally sourced and whilst the redcurrant serving was classic, a different twist was introduced through prune stuffing and Parma ham - it tasted lovely!
The last demo of the day was our very own Ronny Simpson from Horto – doing a great job standing in for Murray Wilson, Head Chef at Horto, who was on his honeymoon – congratulations Murray!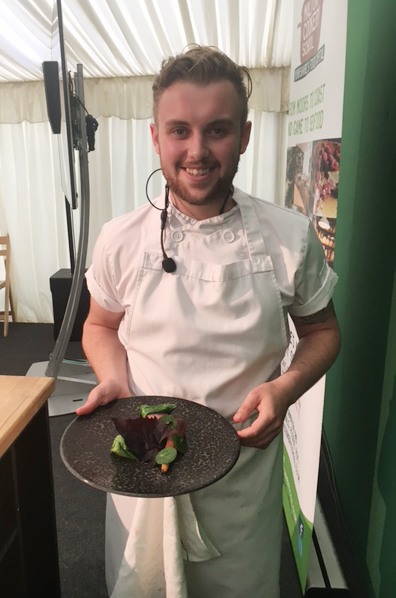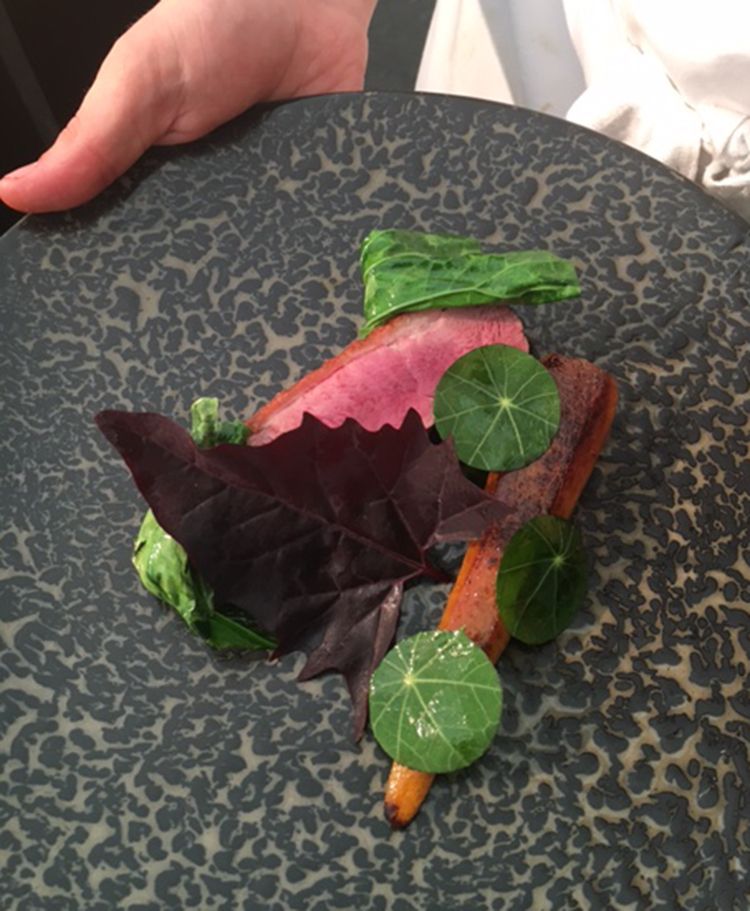 Ronny cooked a stunning duck dish with stuffed carrot, cabbage and spiced sauce.
Bring on day two – watch this space for more excitement from the Great Yorkshire Show to be published tomorrow…
Moooo! From the Moon…
Steph x