Hairy Bikers, Roux Brothers, Radio stations and Rudding Park!
Last month I was thrilled to interview Dave and Si, otherwise known as the Hairy Bikers! I do a slot on the local radio station called 'Flavours of the Week with Steph Moon', hosted by Will Smith (DJ from Stray FM) which airs every Thursday from 7pm on Stray Extra.
The Hairy Bikers were in Harrogate for the BBC Good Food Show – a great opportunity to find out a bit more about them, and what they think of Yorkshire food!
They were such good fun! Will and I learned that they love coming to Harrogate and have been here many times before for cookery demonstrations. Dave also told us that he always buys his cars in Harrogate – but not his bikes!
Will mentioned he had seen them recently on TV, appearing without too many clothes on.  Si explained 'It was much better to do the filming from behind us, but still pretty tragic!' When Will asked what visitors could expect from the show today; 'Well, no nudity' (Thank goodness boys!).
They told us they had chosen to come to the BBC Good Food Show in Harrogate because they love the fantastic artisan producers we have. Dave explained he particularly loves Yorkshire generosity, the flavours, the presentation and the portions. Si agreed, adding 'but they are tight with their money!'
The boys cooked two dishes each on the set. Si made an orange and fennel salad and a Saltimbocca dish using a great by-product of the milk industry, Rose Veal.
Dave presented two summery, healthy dishes. 'What am I cooking?' he exclaimed 'Vegetable pasta, erm…  I'm not selling it very well but it is lovely! The other dish is a cracking lemon roast chicken.'
A debate the followed between the three of us as to how to say the plural of grilled baby gem lettuces…
'It must be Lettuci' said Si.
To which I replied, 'I think it is just Lettuce boys.'
'Oh yes if you say so Steph…'
You can current see the Hairy Bikers on 'The Pubs That Built Britain'. The decision to present the show 'took us three nano seconds to think about.' The show started on Monday 18 April on BBC2 and there are fifteen episodes. 'We examine the rich history and tradition of watering holes dating from the English Civil War to the Liverpool Mersey Beat generation, the body-snatching Edinburgh pubs of Burke and Hare to the miners' pubs of South Wales. We've met some brilliant, eccentric and fascinating people along the way.'
It was great interview; they really are as much fun in real life as they are on the TV. I am even more of a fan now than I was before!
Will and I then walked backstage of the Supertheatre. I bumped into Alan, a behind the scenes Chef for the BBC. He was prepping for Michel Roux, but I remember him as the chef who helped me on the Comic Relief brief in the Great British Menu, he was my Sous Chef.
This meeting was our ticket to one of the best seats in the house as Alan let us watch Michel Roux from a Royal Box!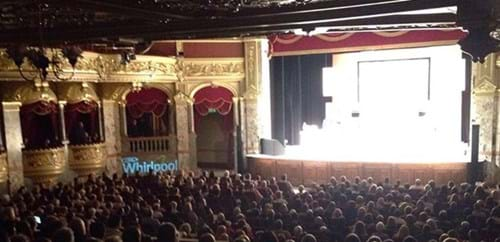 Will and I were enjoying the box and feeling very pampered when Michel Roux entered and greeted the room with 'Hello to Harrogate and some culinary royalty in the audience over there,' pointing at us! Michel Roux! I am sure that Alan arranged this to pull my leg but it was still an honour.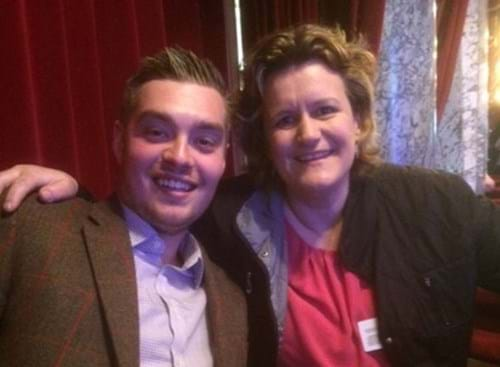 A great view for a great show – box side seats…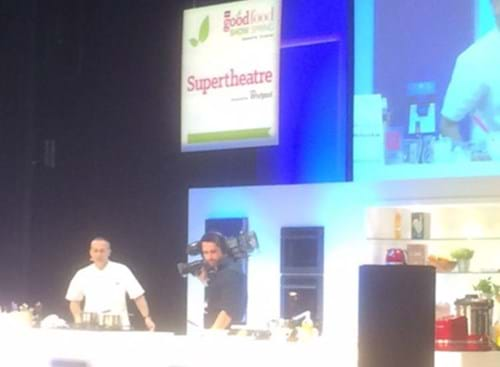 Here is Michel Roux making the soufflé with an added appearance from the cameraman… A real good laugh but some serious cooking underneath from one of Great Britain's finest chefs.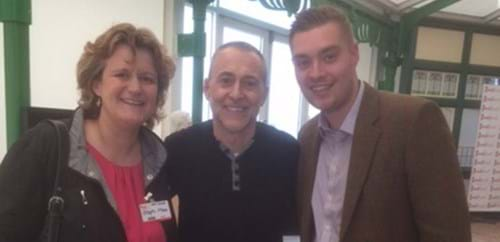 Later, Will and I were grateful to be granted a short interview with Michel. We kept things brief, but I managed to speak to him about the Roux Scholarship competition. This seriously tough culinary competition makes Master Chef look like play school in comparison!
Entrants have to be passionate cooks under 30 years old with an appreciation and understanding of the history of classical cooking – something the Roux family really believe in.
It's a fiercely fought contest. I would say the finals are as hardcore as doing the Great British Menu – although I never entered the competition myself, our chefs at Rudding Park have made it to the finals on a number of occasions.
The competition really resonates with me. At Rudding Park we teach our chefs to value the basics, as well as learning modern techniques. This gives them the skill to cook anything a guest requests!
Michel Roux spoke about the passion of the Rudding Park chefs and other young chefs entering and how they can all learn from the experience. I know that Matthew Wilkinson, Development Chef at Rudding Park would agree with this, having been in the Scholarship finals twice. He learnt a great deal from it and is very proud to have taken part.
Rob Hutchins was another young Rudding Park chef who subsequently left us to work with the Roux family and now works in an up and coming restaurant in Copenhagen.
The first chef to enter from Rudding Park, many moons ago was Rob McCune. Having gone full circle in the chef industry, he is now one of our talented kitchen gardeners. Rob and I both remember meeting Rick Stein and the Roux family at the Birmingham heats – a nerve-racking experience for him, but what memories! And the thrill of competing was amazing.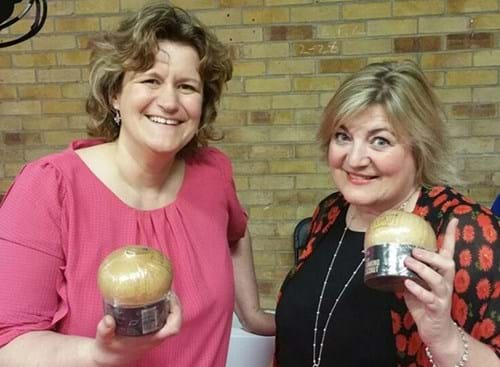 Lottie Duncan (BBC Presenter &  Author) and Steph – A lovely pair of coconuts girls! Sorry, I couldn't resist!
After Michel had dashed off for a taxi, the tables were turned: it was my turn to be interviewed on stage!
Lottie Duncan interviewed me on stage for the BBC Good Food Show itself. Francis Atkins and the Hairy Bikers had also been interviewed earlier, so I was in very good company.
We discussed the Rudding Park Kitchen Garden coming into its own this summer. Why not come to Rudding Park for lunch and visit the kitchen garden? We offer some fabulous experiences for garden lovers, including Plot to Plate and Kitchen Garden Tour and Afternoon Tea in the Breeze House. You never know, you might even meet former Roux Scholar entrant, Rob McCune!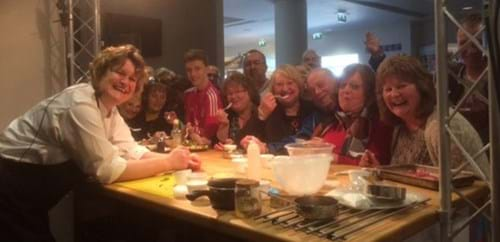 My last photo was taken the next day at the Living North Food Festival by Grace who managed the Cookery Theatre.
It's festival season! The next day saw me demonstrating three dishes served at Clocktower (all in just half an hour!) to a packed house. As I packed up to leave, the last few members of the audience were delving into the beetroot and goats cheese raviola, seabass with crab and chocolate praline mousse I created.
So all that remains to say is goodbye…from a very star struck Steph xxx